Every year the best-selling Lonely Planet travel guide raves to overseas visitors about the stunning experiences New Zealand has to offer. In the second of a series, reporter James Ihaka risks his new shoes to experience the joys of tandem skydiving.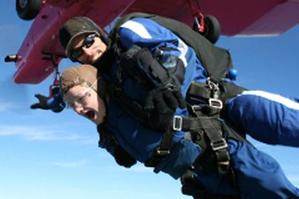 Bizarre things go through your head when you are ascending to 4500 metres and about to jump out of a small plane over Lake Taupo with an American strapped to your back.
I'm not worried the tandem parachute won't open or I'll be so petrified I won't be able to register the views.
But I am genuinely concerned my new shoes might get ripped off my feet as I hurtle towards the earth at 200km/h.
So, I'm about to hop on board a seatless Cessna with a group of Euro travellers as I chat with Stacy Carson, Skydive Taupo's marketing design manager, who in 1999 came to New Zealand from Wales, on route to a four-year working holiday in Melbourne.
Stacy, who worked for Sony in London and played in rock bands around Britain for nearly 20 years, has never left Taupo - the world's tandem skydiving capital which sees more than 30,000 jumps a year.
"This is the new rock and roll, man.
"You're going to love it and want to do it again and again," he says, adding that just four of the 60,000 people who have jumped with Skydive Taupo have said they would never return.
But I start to have doubts a few minutes later at 3700 metres when an instructor opens the sliding door at the back of the plane - sending a blast of fumes, engine noise and a rush of cold air inside as we let out a collective groan.
There are tight smiles from a group of Swedish backpackers who, within seconds, are tumbling out of the plane, each with the whoosh-like sound you hear when sucking things up with a vacuum cleaner.
I grab the oxygen mask and watch my knuckles whiten on anything I can latch onto as my tandem master, Steve Verner, tells me we are going to jump from 4500 metres.
Steve, who spends six months of the year skydiving in his native Chicago and the rest in Taupo, assures me, "You're in good hands, man," as the pilot makes our final steep ascent.
I'll admit that if my bowels were not frozen with fear I would have had an unfortunate accident as he moves us towards the exit.
But I take comfort knowing tandem masters in New Zealand must complete a secure 1000 jumps before they are certified instructors - in some parts of Australia it is a safe-ish 500, while in the United States it can be a Knievel-like 250.
I can't look down but I trust Steve, resting my head back on his shoulder and curling my legs out of the aircraft and under the plane, as instructed.
Suddenly, the drone from the engine fades as we gently fall away, speeding through the air.
My eyes are closed for the first few seconds as we plummet at 200km/h and if there is a sound, it is the one I remember as a child when trying to hear the sea in a shell.
I open my eyes to clouds and a dreamy, fleeting and terrifyingly beautiful sensation as massive doses of adrenalin, dopamine and serotonin surge through my body. I don't know how Steve is managing to get all of this on his handheld video camera or hold a conversation with me, but he expertly sends us into a spin - which freaks me out completely.
But as scared as I am, it's strange that I don't want the feeling to end and I'm now starting to understand why Steve has done this more than 15,000 times.
There's a strange mixture of relief and disappointment when the chute opens as I want the freefall to go on, just as Stacy said I would earlier.
Still, if the freefall doesn't (it will) take your breath away, the views above Lake Taupo certainly will.
"Welcome to my office, baby," says Steve, a line I'm sure he's used before but I'm not going to argue - the view from what is surely God's living room is magical. On a good day, I'm told, you can see Mt Taranaki and even as far away as Gisborne in the east.
But with a bit of cloud cover I'm happy to settle for a gob-smacking vista over my ancestral lands and mountains, Ngauruhoe and Tongariro.
Our floaty descent is so zen-like and peaceful that I'd be happy to stay there for a lot longer and when my feet finally touch the ground my head is still far, far away in the clouds.
Stacy later tells me the oldest person to have ever taken the plunge with the company was 91 years old.
"It was fantastic for her, she loved the experience," he said.
But after being as close to flying as I will possibly ever get, I would have to ask - why would someone choose to wait so long?
* Leap of faith
3700m jump - $250
4500m jump - $340
Packages range from $439 to $499 - includes the jump, DVD, photos, T-shirt and limo pick-up
Skydive Taupo: ph 0800 586 766
* Two to try
Sleeping: Tiki Lodge, 104 Tuwharetoa St
The deck at the lodge commands beautiful views of Lake Taupo and glimpses of Mts Tongariro, Ngauruhoe and Ruapehu and is best enjoyed with a cold beer and stories shared among other budget-minded and foreign travellers you are likely to meet there. I was welcomed with a warm "kia ora" from my hosts while the signs for the toilets - also in Maori - could have made for some interesting mix-ups.
The rooms are clean, functional and basic but maybe it's the snob in me or the fact that there was no television or fridge in my room that tells me my days in backpacker lodges are over.
Then again, it could have been the French family next door who thought it quite acceptable to have yelling matches at 12.30am or the perfectly audible toilet noises from the communal ablution block. Still, it's within stumbling distance of Taupo's bars and a friendly place to start adventures.
Eating: 255 Mapara Rd, Acacia Bay
What looks like a combined effort between Dr Seuss' landscape gardener and Kawakawa toilets designer Frederick Hundertwasser is actually L'Arte, a 10-minute drive from Taupo past Acacia Bay. The gardens are like a Grimms' fairytale - full of wild-growing herbs, exquisite gardens nestling among mosaic al fresco suites and wonderful and weird arrangements artist Judi Brennan has sculpted from iron, bronze and other materials. Lonely Planet recommends the antipasto dish (for two) which cafe owner Andrew Blewett said I would have no problems with.
But after seeing how fat I was on my tandem skydiving DVD, I went with the superb eggs benedict with salmon on wasabi potato mash with a flat white.