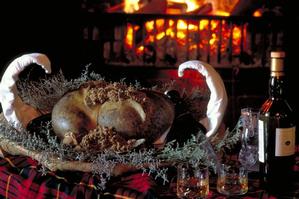 It's more than a little unfair that the deep-fried Mars Bar became a symbol of Scottish cuisine. For a start, there is some documentary evidence that the concept is Australian - certainly the phrase first appeared in print there - and though it is up on the board in many Scottish "chippies", it seems to me quite likely that the reality arose in response to the urban myth. My impression is that Scots eat them in about the same numbers as New Zealanders eat muttonbird or paua.
But in the dining room of the Kirkwall Hotel on the biggest island of Orkney off the north coast of Scotland, I discovered deep-fried haggis.
Now to some that may seem like double jeopardy. Perhaps haggis itself is sufficient affront to the sensibilities. The Scots will always try and convince you it's an animal but it's a confection of minced heart, liver and lung of a sheep (collectively known as a sheep's "pluck") mixed with onion, spices and oatmeal and boiled for hours. Traditionally, the casing was the unfortunate animal's own stomach, though synthetic casings are standard now.
Those of a more delicate disposition have probably winced and looked away already, which is a shame because they are going to miss the best part. The spicy, aromatic mince, extracted from its casing, is formed into balls which are deep-fried in batter. They are served on a creamy mound of clapshot, which is another Orkney specialty: a buttery, chive-laced mash of "neaps and tatties" (turnips and potatoes), which are de rigueur as an accompaniment for haggis. A dark, whisky gravy laps at the edges, so naturally the perfect accompaniment is a stiff shot of the local malt, Highland Park, the product of Scotland's northernmost distillery. It was enough to ward off any memory of the chill Arctic wind that had whipped across the North Sea and the largely treeless islands into the small settlement.
I had tried haggis before, at the deservedly legendary eatery The Ubiquitous Chip off the Byres Rd in Glasgow, and had been impressed. But here it was elevated to something else - an enchanting blend of the traditional paté, the vernacular cooking style (although the well-drained haggis balls were not greasy at all) and a white-linen environment.
In fact, I found it hard to go past haggis - "Great chieftain o' the pudding-race!" as Robbie Burns called it - in Orkney. One day I had it, locally handmade, for two meals: first, along with a similarly hearty wodge of black pudding, with the full Scottish breakfast in my B&B; and later in a beef-and-haggis lasagne at a small waterfront cafe. It would be wrong to say I'm crazy for the stuff - some versions can leave a film of lard on the roof of your mouth that is thick enough to constitute lunch - but it made sense somehow, as a way of eating that was in tune with where I was.
A mate of mine who's a bit of a foodie told a great joke once about Scottish food ("just like English food, but not quite as spicy"). But time has robbed that one-liner of accuracy. Certainly it is hard to get a decent cup of coffee in London or Edinburgh, never mind the smaller towns - though they do tea well in these places, with pots and tea leaves and other ancient paraphernalia - but in the 21st century Scottish cuisine is far from being a contradiction in terms. The country of five million is home to 14 Michelin-starred restaurants and it's not hard in any substantial town to find top-end dining - even if the prices are about twice what you'd expect to pay at home.
Naturally enough, fish, fowl and four-legged creatures make up much of the bill of fare. Aberdeen Angus cattle yield juicy marbled beef that has become legendary - the few steaks I tried were as good as any in New Zealand - and in the real posh places you'll be able to bag a grouse without firing a shot.
Highland salmon is a real pleasure for a New Zealand palate: more likely to be wild than farmed, it is actually a different species (Salmo rather than Oncorhynchus). In any case, the taste is more delicate and less oily, and most pleasingly for the visitor, it is always among the best-priced choices on the menu, typically cheaper than other fish and much better value than meat dishes.
Of the shellfish it is difficult to be so sanguine. At the Grainstore in Edinburgh, one of the capital's more upscale eateries, I ordered six oysters that had been harvested from Loch Creran (not a saltwater lake but what we would call a sound) in northern Argyll. The poor wee bivalves, each a ball of flesh scarcely bigger than your thumbnail, were swamped in the tiny spoonful of cheesy spinach beneath which they had been grilled. Likewise the mussels I ate in a restaurant on the Moray Firth: you could smell the sea from the kitchen but the shellfish were so tiny (about 30 struggled to fill a small bowl) that I felt inclined to report the restaurant to the authorities for tearing them away from their mothers at such a tender age. I tried to explain to the waitress what a Bluff oyster and a Coromandel mussel looked like. I was only using thumb and forefinger, not spreading my arms wide, but she still looked at me as if I was a fisherman who'd had one too many whiskies.
Whisky with food has never struck me as a good idea, but it proved to be the ideal accompaniment to salmon and haggis. It goes even better with a pint, of course, especially the sweet, dark beer that is locally popular. But the taste for traditional drinks may not have caught on with the younger crowd. In a student quarter of Edinburgh, on the King George IV Bridge not 20m from the statue of Greyfriars' Bobby, I ordered just such a beer and asked for a dram to go with it.
The young woman behind the bar lent forward quizzically. Her Scots accent was so broad I could smell the heather on it.
"What's a dram?" she asked.
Peter Calder travelled to Scotland with assistance from VisitScotland and Cathay Pacific Airways, but he paid the bill wherever he ate.