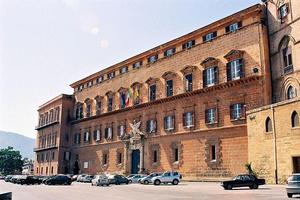 When it was all over I thought to myself, maybe Terminal 3 at Charles de Gaulle airport in Paris is an induction centre for Kiwis, the place where you go to sit and prepare yourself for culture shock - Sicilian-style.
I was sitting there waiting for a final call on a cheapie Windjet flight to Palermo. A mixed crowd of Sicilians filled the lounge: some of the women in furs and looking like Carla Bruni, others more like Henderson hotties in white, skintight, leatherette creations with high-heeled boots, and a short bloke dressed alarmingly in hat and spats.
Suddenly a scream, pitched as high as one could imagine, came from a far corner. A few heads turned, but nobody moved.
I stood up to look, and as I did, a young woman strode forth yelling at the top of her voice into a mobile phone, an arm waving in rage, fingers extended like an axe-head. She marched back and forth, pausing occasionally to let off another scream, followed by shrieks that I took for abuse.
It was the sort of performance you see at La Scala. But at La Scala they applaud. Or at least take notice. Not here. Not amongst Sicilians. It was the everyday, a girl having problems with her boyfriend.
And this was just the start.
Our flight ended up delayed. As each hour passed, tempers became more frayed. An angry crowd pressed upon the two Windjet representatives sitting at their desk.
A woman shouted out, "Basta! Basta!" which I took to mean "Bastard! Bastard!", but which turned out to be, "Enough! Enough!"
A leader arose amongst us - her husband. He gesticulated, called upon us to march to the secured terminal entrance and smash our way out.
A phalanx organised around the husband and wife and waved their arms and called out something like, "Join us!" and "We are out of here!"
The enraged mob marched upon the terminal entrance. Alarmed airport personnel took up positions like Horatio at the bridge. Frantic gendarmes came running. Everyone was shouting, especially our leader's wife.
The head gendarme called for calm. This was met with a torrent of demands.
He beseeched the mob, "Scusi, scusi - non parla Italiano!" ("I'm sorry - I don't speak Italian"). Petrol on the fire!
The top cop, eyes wide with fear, immediately did that thing that cops do in circumstances like this. He beckoned our leader aside, called for an interpreter and disappeared out the back for secret negotiations.
We were leaderless. Should we go forward? Should we go back? Should we just wait? Faction fights broke out! Fists began swinging. Then it all just defused, like a passing storm.
The Sicilian climate, I'd read, had shaped the island's landscape. Well, it would also seem to have had a bit of a hand in shaping the residents' temper. It's a violent climate: the temperature is 30C for six months of the year and then torrential rains rip down and then suddenly it's fine again.
Greg McGee in his recent autobiography tells the story of members of his northern Italian club rugby team refusing to go to Sicily because of the witches who lived there and secretly removed men's testicles. I found it very easy to believe. "Basta! Basta! Take off his testicles!"
And yet the families who run the small restaurants will go out of their way to ensure you're well-fed and entire neighbourhoods will turn out to share the distress at your rental car being stuck in the narrowest central city streets in Christendom and cheerfully urge you to press onwards.
I went in January. Great time to visit. The climate's mild (about 13-14C) and the place is uncrowded.
It rained for a few days, but the rest of the time was fine. And the rain can be extraordinary; the evening sky suddenly as black as iron and then lit with sheets of lightning as antiquated guttering spills out waterfalls above your head and footpaths overflow with muddy streams until everything suddenly lightens into silvery aluminium.
A few places were shut for the off-season, but there's so much to see it's almost a relief to have the field narrowed down a little.
You can walk out of a huge Greek hilltop temple and look down on vineyards curving gently away toward a volcanic crater as deep as Hades.
There's a town, Erice, perched vertiginously atop a mountain where there was once a Temple of Venus. Here Dedalus, who made waxen wings and watched his son Icarus fall from the sky, came to pay his respects and take advantage of the Sacred Prostitutes (who seem to have shifted to Palermo).
On the roadside there's yellow oxalis, the hills smell of rosemary, almond trees are in blossom and prickly pears grow up cliffs.
Racing cyclists stream past idling gypsies and on a Sunday men in suits and large fedoras mill about in town squares waiting for their wives to cook them lunch.
Palermo, the Sicilian capital, is a chaotic mingling of old and new, baroque buildings dripping with decorations alongside faded modern structures with shuttered windows and iron-railed balconies. Markets snake through the city like Arab bazaars.
In Trapani, an ancient Spanish and Arabic walled seaport to the northwest, there are waterfront joints advertising themselves simply as "Bar" and meant for tough proletarians. I ended up in a place called "Cafe", which turned out to be a sort of tea-joint for ladies.
There's a museum in Marsala (Mars el'Allah = Port of Allah) holding one of the rarest treasures in the world, the planking of a Carthaginian warship that sank during the first Punic War, 241BC.
But just round the corner is something more substantial - an Art Deco cinema to beat them all, the Cinema Impero, a great square monolith of an Odeon in solid marzipan cream and brown with streamlined pillars and opened by Mussolini himself in the 1930s.
You can't help but fall over laughing at its gay fascist modernity.
You can visit Catholic churches that have Arabic tiling across the chancel, you can find a domed cupola depicting Christ enthroned among his archangels with delicate calligraphy beneath endlessly repeating the name of Allah.
In Syracuse, the ancient coastal capital considered by Cicero to be the most beautiful city in the world and now crumbling into a vast decrepitude, you can seek solace in a cathedral with Romanesque stone walls and slowly begin to make out the shape of Doric columns emerging: this was once a temple to Athena.
So many cultures mingle here: Phoenician, Greek, Roman, Arab, Norman, Spanish.
Finally, in Selinunte, a coastal tourist resort empty in January, you can pull up a deserted chair on a vacant terrace leading down to the beach and spend the fag-end of evening watching the sky darkening in indigo and deepest pink.
The Mediterranean flops lazily in and, to the right, on a promontory lit by lingering rays, stands the outlined remains of a Greek temple. Follow the dark waters beneath it to the horizon and you're looking toward the old enemy, Carthage.
In the silence and the sea you can finish off a bottle of local red, a hunk of cheese and a jar of olives and consider life in almost exactly the same terms as others would have done at the very same spot some January two millennia ago.
CHECKLIST
Getting there: From Rome you should be able to get to Palermo cheaply on Easyjet. From Paris you can get a cheap ticket from Windjet. Ryanair flies from London to Palermo.
Where to stay: There is a good range of hotels for around $100-150 a double. In Palermo, the Hotel Regina is excellent, with big rooms, right in the heart of the old town. Contact it at htregina@gmail.com.
Travelling around, the best accommodation seems to be any place describing itself as "Bed & Breakfast", usually $100 for a double, substantial breakfast included and the owners are generally pretty entertaining.
Getting around: Car hire is about $65 a day. You can hire GPS for your car, but it can be sorely tested by the narrow lanes of the bigger towns. Major roads are excellent and well maintained, though crossing long bridges high over valleys, you can't help but wonder how much of the concrete beneath was watered down by Mafia building contractors.
The mafia: Mafia profits are estimated to be $320 billion a year. The description "Mafia" first appeared to describe bands of dispossessed peasants bent on revenge after land clearances. Subsequently, as large holdings became rented out, extended families among the peasants were hired as bailiffs to collect rents and enforce evictions.
The Mafia was given a huge boost at the end of World War II when
American occupation forces used it to put down local communists. Today it's said that 80 per cent of businesses in the capital Palermo pay protection money.
Further information: See sicilynet.it or sicilytourist.net.