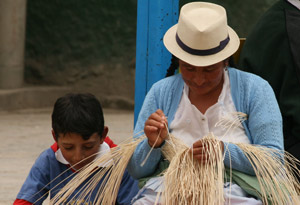 The old woman sat on a stool in the middle of the bustling Gualaceo Market, occasionally chatting with passersby or sharing a joke with her grandson, but all the time her fingers were busy weaving thin strips of palm leaf into a fabric.
I've no idea of her name, but she is one of the thousands of women who actually make the material for the Panama hats worn around the world which, despite their name, are not produced in Panama but several hundred kilometres south in Ecuador.
All around her other women, dressed in their trademark white hats and red skirts, were buying vegetables, handmade leather shoes and sacks of animal feed at the market stalls; across the square a procession of worshippers was arriving at the town's colourful new church; on either side the snow-capped peaks of the Andes mountains looked down.
But amid all the day-to-day drama of village life, she continued working with the palm fibre, fingers moving automatically, as she has obviously done most of her life.
I've had a Panama hat for years but I have to confess that until I visited Ecuador, I had no idea it had such colourful origins.
The hat's story begins with the toquilla palm which grows on the warm coastal lowlands - I saw one growing on the Galapagos islands - where its leaves are harvested for their fibres.
In a process which pre-dates the arrival of the Spanish conquistadors in 1532 and even the arrival of the Incas about 1450, the leaves are sent up into the Andes, to the villages around the city of Cuenca, where they are boiled, dried and split into narrow strips. Then the fibres are passed to local women, descendants of the indigenous Quichua people, to be woven into hats.
As we toured several of these mountain villages, places like Chordeleg, famous for its jewellery; San Bartolomeo, home to families of guitarmakers; Peguche, where they weave magnificent ponchos, belts and wallhangings; Otavalo, with its marvellous craft market; and Gualaceo, noted for its luscious peaches and beautiful orchids, we saw many hat weavers.
In Chordeleg, for instance, there were women weaving while standing on street corners, sitting by the roadside or while they walked down the road between shops and stalls buying provisions for their families.
One continued to work the strips of palm leaf as she sat on a concrete doorstep enjoying a snack with her husband and son.
My guide, Carlos, asked if I might take a photo of her at work. She looked reluctant but, after he explained that I wanted to show people in New Zealand where Panama hats really came from, she nodded. However I noticed that her husband and son moved quickly out of shot and she kept her eyes shyly lowered and her head down as I took my photos.
As we walked back down the road, Carlos commented that hers was a dying trade. "She is from the last generation that will do this work," he said. "It does not pay very well and the young people don't want to do it.
"It is estimated that there will be material for the Panama hat industry for another 20 years. Then, unless another source can be found, the industry will die."
The industry in question is largely centred on Cuenca, Ecuador's third-largest city, which lies 2530m, or about the height of Mt Ngauruahoe, up in the Andes.
This is a city famous for its ceramics, the superb blue domes of the Catedral de la Inmaculada Concepcion and its hats. Wander the narrow cobblestoned streets of the old city, filled with wonderful examples of Spanish colonial architecture, and you find little hat shops around every corner.
In one, its doorway blocked by a metal gate leaning against the doorframe, a wrinkled old man was hammering a woven hat into a new shape on a wooden mould. When I produced my camera and indicated that I'd like to take a photo, he snatched up a finished hat and hid his face behind it. I left him in peace.
Fortunately they weren't quite so shy at Homero Ortega, run by a family which has been producing Panama hats for five generations, where you can watch every step of the hat-making process.
This includes a room where thousands of unfinished woven hats produced by the women in the villages are stacked to dry; vats where the hats are soaked in bleach for 12 days to turn the fibres white; hand-operated steam presses where they are pressed up to five times to make them the desired shape; and a sewing room where each Panama is neatly finished. The completed hats in Homero Ortega's showroom are a sight to behold. And, I discovered, the way to assess their quality is by counting the number of fibres per centimetre in the material.
Top of the line are the superfine hats, which have a texture like silk and reputedly may be rolled up so tightly they slide through a curtain ring, have 15 fibres a centimetre, cost up to $1000 and take three to four months to make. Fine hats, which cost more like $100, have about 10 fibres a centimetre and take 15-30 days to weave.
Mine, I discovered, is a standard hat, costing only about $20 in Ecuador - though a lot more back in New Zealand - with only five strips of palm per centimetre.
Still, it does me very well. And in future when I wear it, the hat will bring back memories of picturesque villages high in the Andean mountains, markets piled with delicious fruit and vegetables, and above all the colourfully dressed women whose busy fingers transform humble leaves into the most sophisticated of hats.
Jim Eagles went to Ecuador with help from Lan Airlines and World Journeys.