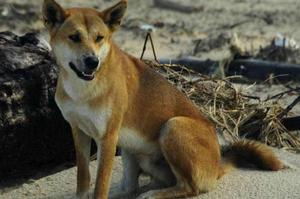 It was only because I unexpectedly copped several litres of water in the face that I saw my first dingo on Fraser Island so, in the end, I suppose I was grateful for the drenching.
The island, off the coast of Queensland, has an incredible variety of wildlife but it was dingoes I wanted to see more than anything else.
That's partly because, despite many visits to Australia, I had never seen dingoes in the wild and the Fraser Island animals are considered to be the purest strain - the least interbred with dogs - still surviving.
But it's also because there has been a lot of controversy about the island's dingoes, and how they are managed, which reached a peak in 2001 when a 9-year-old boy was killed by two males.
A sighting was by no means guaranteed because they are wild animals and there are only about 150 of them on an island of 163,000ha.
But the breakthrough came as we raced down the vast expanse of 75-mile Beach and splashed through Eli Creek which was flowing stronger than usual, resulting in a torrent of water pouring through the open window, all over me and my wife who was in the back seat.
When she managed to stop laughing, Gen, the ranger who was driving us round the island, pulled up so we could dry off, surveyed the scene and said, "There's a dingo."
Sure enough, just opposite where we had parked, a reddish-coloured, dog-like animal was climbing up the face of a sand dune.
"That," said Gen, "would be a female, probably about a year old, and if you look carefully you'll see there's a white tip on her tail, which is fairly common with Fraser Island dingoes."
When it got to the top of the sand the dingo turned back to look at us - possibly because of the excited clicking of my camera - then trotted along the edge of the dune before vanishing into the bush.
It was a magical moment and a taste of wild Australia not often seen.
Of course, until quite recently I could have avoided the faceful of water and seen dingoes from the comfort of my room at Kingfisher Bay Resort.
A friend, who stayed there some years back, told me that one of his highlights was sitting on his deck, sipping an early morning cup of tea and watching a dingo wander past below.
But when I mentioned this rather wistfully to resort manager, Ivor Davies, he responded vigorously, "Yes, and if you came out of the shower and found a dingo in your room right alongside where your baby was lying on the bed, that would probably be a highlight of a different sort."
That sort of incident is why, five years ago, a fence was built round the resort to stop dingoes wandering around.
Unfortunately, Ivor explained, because some people insist on feeding dingoes, many of the animals have lost their innate fear of humans and come to see us as a source of food. "We're trying to reverse that by keeping them out of the resort and trying to get across the message not to feed them ... but it's hard to convince some people."
Another problem is that dingoes are so clever that it's not easy to fence them out of anywhere.
Gen, our ranger, told of how, when the fence was first erected, the dingoes quickly learned to walk across the cattlestops.
"When the cattlestops were replaced with loose pipes they learned to commando roll across. Then we tried spiked bars and they discovered how to walk round the edge.
"Next we electrified the cattle stops and they learned how to tell when the battery was going flat and walked across when it was safe. The battery is now solar-powered, so it doesn't go flat, and they haven't cracked that yet. But I'm sure they will.
"I wouldn't be surprised to find them teaching their young, who are small enough to get through the fence, to open the gate latches from the inside. That's how smart they are."
I believed her. After all, by the time we got back she had shown us everything from whales performing just offshore to a 1.8m carpet python, and from white-bellied sea eagles to rainbow bee-eaters. Anyone who can find that much wildlife obviously knows what she's talking about.
But, if I had any doubts about the trickiness of dingoes, they would have been removed that night while we were enjoying a meal of bush tucker at the resort's Seabelle Restaurant.
Chef Cort was busy cooking some emu steaks - deliciously gamey, tasting a bit like liver - and ranger Brendan was explaining that the sauce had been made from the berries of the native rosella plant which tastes of rhubarb and berries, when we became aware that something was looking at us: a male dingo.
Brendan was in a quandary. "Should I finish the bush tucker presentation or get my gear and trap the dingo?"
While he was thinking about this the dingo, which had been quietly sitting about 20m away, vanished into the bush ... so we finished our meal, including crocodile with bush tomato chutney, kangaroo with lemon myrtle pesto, juicy brown pine fruit and yummy muntharry berries with a refreshing apple flavour.
So how did he think the dingo got in? "Probably someone left a gate open. But with dingoes you never know."
Later we went on a night walk round the resort guided by Brendan and saw lots more creatures: tiny microbats flitting over the resort's ponds, a glimpse of a water rat and lots of golden orb trapdoor spiders which jump out of their holes when prey - or a stick - touch the tendrils of web around the entrance to their holes.
Down at the wharf we saw toadfish, a large turtle in the water and, wow, a female dingo meandering down the beach outside the fence.
The next day I went for a walk on my own along one of the many tracks - in this case outside the fence, being careful to shut the gate - half hoping to see a dingo.
I didn't, though I did find more tracks on the beach, and spotted more birds, including a curlew with an incredibly long beak, a kookaburra which wasn't laughing and a swallow resting on a log.
When I got back, Ivor said a mother and daughter walking another track had just met up with an alpha male. "The male continued across the track a short distance into the bush, watched them go past, then left.
"That's great news. A few years ago it might have followed them - especially being two women ... men are less at risk - and become aggressive. But this one behaved just as we want them to. It's an indication we're starting to achieve what we want."
CHECKLIST
Getting there: Air New Zealand has regular flights to Brisbane.
From Brisbane you can get to Hervey Bay's Urangan Boat Harbour - departure point for the Kingfisher Bay ferry - by train, plane, bus or rental car (from Brisbane Airport).
Where to stay: Kingfisher Bay Resort is on the web at kingfisherbay.com or contact Go Holidays on 0800 464 646.
Further information: For more about Queensland see queenslandholidays.com.au.
Jim Eagles visited Fraser Island as guest of Kingfisher Bay Resort, Air NZ and Tourism Queensland.