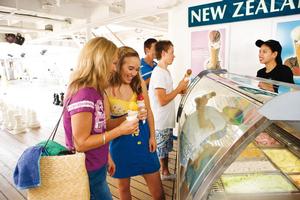 Water, water everywhere, nor any drop to drink ...
Well that's wrong for a start. On the Pacific Sun, en route to Vanuatu and New Caledonia, there's water and there's juice, there's tea, coffee (barista-made, if you want), wine, beer, spirits, and any amount of exotic cocktails; more than enough to quench the thirst of this Ancient Mariner (well, ancient to my kids, at least).
The amount and variety of food and drink on the ship is staggering - from a slap-up English (and several countries in between) breakfast buffet to a gourmet pizza (tiny prawns with porcini and rocket, anyone?) in the wee small hours; high tea with pastries and scones on at-sea days and amuse-bouches to accompany cocktails with the captain, although this privilege is for the lucky passengers who have cruised before - and a few interlopers (read: the press gang) who get to sneak in on their coat-tails.
The Sun has two fine-dining restaurants, and although daunting at first, one of the nice things about it is you may get to sit with other passengers - yes, complete strangers - share in their experiences and pick up tips from regular cruise-goers, including their favourite dishes.
My husband rapidly developed a favourite - pork belly with scallops in a gazpacho sauce - and proceeded to order it every time we dined in the restaurants. I was less predictable - I had something different every night, from a delicate Asian stir-fry to a rather more muscular swordfish steak.
We also tried the Steakhouse which, for a small surcharge, serves perfectly grilled steaks and seafood in the urbane surroundings of the ship's library: sort of like a floating private club.
Then, of course, there's the buffet. Long lunches always include, among other offerings, pasta, several casseroles or curries, vegetarian meals, fish dishes, a roast, salads and plenty of fresh fruit. If you don't get as much as you want the first time, you can always go back for seconds ...
Now I know all this sounds like a recipe for waistline disaster, and I do have friends who returned from a recent cruise on the same ship toting a little excess baggage, but on my trip, despite eating more than I usually do - sea air does have that effect on the appetite - I managed to lose weight. How? I only went to the gym once, and that was a fairly perfunctory visit. All I can put it down to are those brisk walks around the decks, up the stairs and through the lobbies - you can put in the kilometres without even knowing it.