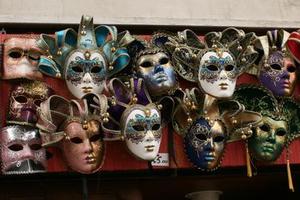 The gondolier who transported us through the picturesque narrow canals of Venice did not sing as we floated along. Nor did he play a recording of someone else singing which I had heard they sometimes did.
Because it was drizzling he didn't wear his traditional straw boater but hid it in a cupboard under the seat. And he didn't offer much in the way of entertaining commentary either.
Once we were seated in his colourful boat, with its shining black paint, red seats and gold scrollwork, he extended a meaty paw and said, "You pay me first."
Midway through the journey he pointed to a slightly dilapidated building rising from the water and said, "Marco Polo house". So that was where the great explorer and storyteller lived when he was at home. A bit further on he indicated a larger place and said, "Casanova house". Somehow it wasn't quite what I'd expected of the world's most famous lover. And that was about it as far as commentary went.
Oh, and he didn't smile either. I think perhaps he was in a bad mood because the rain was keeping most tourists on dry land.
When Isabella Dusi, who was showing us around, tried to negotiate a special price for a ride he just scowled and snapped out a refusal. "He's not prepared to budge," she reported. "Usually they'll bargain a bit but he's not interested. He says the bad weather is making business hard and he needs the money."
The half-a-dozen fellow tourists who had originally said they would come with us on a gondola ride had backed out as soon as they saw the slightly choppy grey water of the Grand Canal and felt the first drops of rain. That meant my wife and I had to fork out €100 - $200 - for a 15 minute ride or forget it.
Tough choice. We paid up and did so with a smile.
After all, this was Venice, La Serenissima, the city built on a marshy island in the sea which is slowly sinking back under the waves, where tourists have always gone for gondola rides.
It may be corny, cliche and a rip-off but, who cares, it's what you do in Venice, and it was great fun.
For a start, there was the pleasure of knowing that getting around the city this way is a tradition going back centuries - long before the tourist hordes descended - and that everything about the gondola we were riding in is fixed by law, including its black colour, elegant shape and unusual method of construction, which involves eight different kinds of wood cut into 280 pieces.
Our gondolier might be having a bad hair day, but his job is one passed down through the generations, highly prized for being both part of a proud Venetian tradition and a good source of income.
Furthermore, this method of transport is a fantastic way to see the real Venice, beyond the cluster of narrow lanes and souvenir shops where tourists are otherwise confined, the city where waterways take the place of roads, and boats fill the role of cars and trucks.
As we leaned back against the cushions and enjoyed the experience we noticed that many of the boats passing by - mostly small motor boats - were carrying people who looked to be heading to work or out for the day's shopping.
Then there were larger craft carrying things like furniture, cardboard boxes full of groceries, refrigerators, stoves - was that a goat? - racks of clothes, cartons of wine, crates of cabbages and anything else you might imagine a busy city would need.
On the larger canals at regular intervals came the vaporetto - water buses - which provide Venice with a remarkably efficient, reliable public transport system.
The multi-storey palaces and apartment buildings lining the canals were in various states of repair, some obviously still as luxurious as when they were built for a merchant prince 500 years ago, others battered by the years, with crumbling stonework, peeling paint and - a sign of the problems the city faces - sometimes water lapping over the landing area and presumably running into the cellars.
Later, when we farewelled our grumpy gondolier and took to the lanes there were more signs of the crisis facing this unique place.
It was raining, the tide was high and rising and there were obviously fears that Piazza San Marco, the magnificent open space which is the focal point of Venice, might flood so workers were out laying down the planks and blocks of wood which provide pedestrian access across the water.
In the event, there was no flooding but it was a reminder that in the past 100 years a combination of rising sea levels and subsiding buildings has caused the water level to rise by 23cm. The piazza, which 50 years ago only flooded half-a-dozen times a year, is now under water more than 50 times annually.
Approval has been given for a €2.2 billion project to build huge floodgates across the entrances to the Venice lagoon but - even with the special taxes which make a cup of coffee at one of the cafes lining the piazza roughly the price of a small car - finding the money is not going to be easy.
Still, in the meantime the piazza was dry and the sun even looked like coming out, so we took the opportunity to explore a city which has more historic and artistic buildings than anywhere in the world.
One of those is the Basilica di San Marco, overlooking the piazza, with its extraordinary mix of Byzantine, European and Islamic architectural influences.
It apparently had its origins when two enterprising Venetian merchants stole the remains of St Mark from Alexandria in Egypt, packed them in a container of pork, and shipped them home, a story told in one of the cathedral's beautiful mosaics.
The basilica built to hold those remains is certainly remarkable, but for me the best bit was climbing the staircase up to the base of the giant dome from where you can enjoy stunning views of the piazza, as well as being able to browse through the carvings, paintings and mosaics in the church museum, and see the four incredible bronze horses, probably cast for the Emperor Nero and ending up in Venice as part of the spoils of the 4th Crusade.
Almost as imposing as the basilica is the Palazzo Doge, headquarters of the Venetian republic and home to the Doge, its elected leader. We didn't visit the palace, but a friend who did said it was the highlight of his visit.
We did, however, spend some time on the Ponte Rialto, the legendary bridge across the Grand Canal, where it is easy to fritter away the time watching the boats in action below or admiring the magnificent Murano glass ornaments, jewellery and carnival masks sold in the shops which line the footpath (yes, we did succumb).
Then there is the Guggenheim Museum with its fabulous collection of 19th century paintings, the magnificent Church of San Giorgio Maggiore and its paintings by Tintoretto, the Museo Storico Navale where you can learn about the naval power on which the city's fortune was based, the Galleria dell'Academia which tells the history of Venice in pictures, the beautiful Paladian Church of Redentore, the wonderful baroque Palace of Ca Rezzonico ... and so many more.
In fact there is so much history and the population is declining so rapidly - in 60 years it has fallen from 170,000 to 60,000 - that there are fears the city is in danger of becoming little more than an open air museum run by people living on the mainland.
Still, we did see at least one genuine Venetian face-to-face. Isabella had told us they were easy to spot because "they always have a superior air, are beautifully dressed and covered in gold". And, sure enough, as we slouched along, munching on chunks of freshly cooked pizza, there striding towards us was a tall, elegant man, wearing a superbly cut golden-brown suit, glittering with gold earrings and a gold chain, his nose in the air and a slight sneer on his lips. A real Venetian!
Plus, of course, there was our gondolier: he was a real Venetian ... even if he didn't smile and sing opera like the fake gondoliers in the Venetian casinos in Las Vegas or Macau.
CHECKLIST
Getting there: Air New Zealand flies daily via Hong Kong or Los Angeles to London with connections to Milan and Rome with partner airline Alitalia.
Getting around: Dunedin foodie Judith Cullen organises regular tours of Italy with Isabella and Luigi Dusi. See judith-cullen.com.
The Dusis operate several tours of Italy and the Mediterranean.
Their longest running, now heading for its ninth year, is Italy In
Depth which is mainly filled with New Zealanders. You'll see an
opera and a medieval pageant,visit enchanting hill towns and
villages, eat fine food and see great art and, of course, go to
Venice. See montalcino-tuscany.com.
Jim Eagles got to Italy with help from Air New Zealand but paid his own way around Italy.