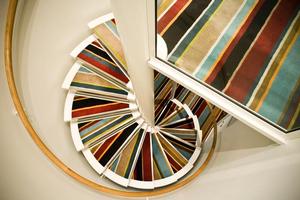 "Not the place to be if you're drunk," smiles Eddie, the affable doorman at Hotel DeBrett. We're in the lift of the boutique Auckland hotel and with its patchwork of mirrored glass covering the walls, it's like a kaleidoscopic Tardis.
One floor up our room awaits. Since we have a rare night away from our little girl, we plan to bliss out before dinner and then possibly hit the town.
As Eddie leads us through the labyrinth of the old hotel he chatters away like he's known us for years. The stripey carpet along the hallway is a beautiful mongrel mix of red, white, brown, fawn, and, best of all, lime green. The carpet, which continues as a stripey theme into our room, is just one example of the immaculate, and quite cool refit this place has been through.
The thing about Hotel DeBrett is that you hardly know it's there, nestled between the narrow lanes of High and O'Connell Sts.
I had heard of DeBrett's reputation for being the epicentre of the city's social scene at various stages over the years, I never realised what an elegant building it was, and that this old girl has been around since 1841.
When it opened it was Auckland's first hotel. The "Old Commercial", as it was known back then, operated for more than 118 years - getting rebuilt in 1925, which accounts for much of its Art Deco look today - until Dominion Breweries developed it into Hotel DeBrett in 1959.
Following its heady 60s period the next heyday was in the 80s, when there were four bars and a restaurant to choose from (much like there is today).
Peter Urlich, the former Dudes front man turned DJ, reckons back then DeBretts always had a feeling of "an oasis in the heart of the city. You could start off downstairs at lunchtime, work your way up into Delmonicos [restaurant] by evening and end up in the House Bar in the wee smalls. Gosh, you could stay the night if you were really lucky," he remembers with relish.
And fashion designer Karen Walker was also one of the 80s movers and shakers who frequented the joint.
"I recall, the morning after a great Buzzcocks gig, seeing the band standing outside DeBrett's holding their stage costumes on hangers and then getting into a super shuttle to go to the airport. Rock 'n' roll."
Its popularity dwindled after the 80s, and it became a backpackers. Then, in 2006, new owners, property developers John Courtney and Michelle Deery and hoteliers Arnauld and Su Kindt, hatched a plan to return it to its former glory.
Yet it's not over the top and mixes contemporary New Zealand art and design with old-school 50s couches and chairs. And walking into the lobby - with its well-trodden floor boards, modest front desk, and friendly blokes like Eddie to greet you - it's a welcoming and homely mood.
DeBrett's is also the perfect centre city base with the best fashion stores nearby, venues like the Civic, Aotea Centre and Vector Arena within walking distance, and around the corner in Vulcan Lane is music bar Cassette Number Nine where all the cool kids hang out.
Before dinner we head to the drawing room, a guests-only spot that looks out on to Kitchen, the hotel's restaurant, which occupies one end of the atrium. There are records and CDs to play, books and DVDs to borrow, and best of all, an honesty bar.
Dinner is delicious: let's just say the scallops and black pudding entree is one of the best things I've had to eat all year, and I've had a fair few steaks in my time, but tonight's beef rates as tops.
After dinner we retire - I never thought I'd use that term, but under the circumstances it seems appropriate - to the House Bar. It's a beautifully relaxed and refined space, ripe for conversation and with potential to get rowdy later on.
We're perched on the comfy retro barstools at the far end of the long, wooden bar, with other punters dotted around the place involved in their own civilised mutterings.
After half an hour our peace is broken by a thespian lot who come in carrying on about the play they are in, and, among other things, how they used to come here in the 80s.
In the face of this takeover we retire again, this time to our room for child-free bliss. The double glazing ensures that, even in one of the busiest parts of Auckland central, it is silent. So you see, there really is no need to leave.
* * *
Hotel DeBrett, 2 High St, Auckland.
Sunday Live Music: While the music plays enjoy any main with a glass of wine for $30, or a kitchen platter for two with a glass of wine each for $35.
Pre-show dinner: A choice of main course and a glass of wine for $30, for diners who want to be out to a show/movie/concert by 7pm.
The Show Must Go On: Have your car valet parked, enjoy a pre-show dinner with a glass of wine, post-show drink in the house bar, and a night in a boutique suite for $390, or Loft suite for $590.
Further information:
See hoteldebrett.com
Scott Kara was guest of Hotel DeBrett.