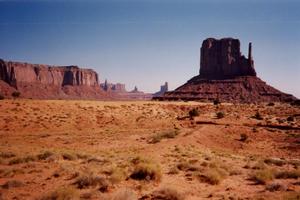 My girlfriend and I are going to California (LA and San Francisco) and then on to Las Vegas. We're probably going to hire a car in Las Vegas and head for the Grand Canyon, but we'd like to see some other amazing sights in this region. We'll have about two weeks for this driving holiday. Where do you recommend we go?
Jason Schulte
In two weeks you can get a taste of the Southwest's most famous city, canyon and scenery. After spending a few lost days in Vegas, you'll be keen to head out into the desert for some peace and quiet.
Begin by heading east to the Grand Canyon. You'll need a couple of days to explore this awe-inspiring place.
If you trek all the way down into the South Rim you'll have to spend the night on the canyon floor before heading back up. This is a great experience.
From here you'll head northeast through Monument Valley, the backdrop to all those Westerns we grew up on.
Heading into this region is a surreal experience one minute you're in the middle of a drab, flat landscape, then suddenly you're transported to a fantasyland of crimson sandstone towers soaring skyward up to 365m. The most famous formations are visible from the rough 27km dirt road looping through Monument Valley Navajo Tribal Park.
Then head into Utah's southeast corner where you'll see some of the most stunning national parks in the country. Hike in Canyonlands National Park where vast serpentine canyons tipped with white cliffs loom high over the Colorado and Green Rivers.
In addition to entrance fees, permits are required for overnight backcountry camping, backpacking, mountain biking, 4WD trips and river trips. If you are planning to visit in spring or autumn then reserve well ahead (nps.gov).
Travelling further north you'll hit Moab, an island of civilisation in a sea of stunning wilderness. This is the adventure capital of the region and makes a great base for visiting Arches National Park and Canyonlands National Park.
Take your pick of things to do here white-water rafting, hiking, mountain biking, horse riding, skydiving, rock climbing, canyoneering. It's the Queenstown of America's Southwest.
Make sure you have time to watch a sunset in Arches National Park. An easy drive makes the spectacular arches accessible. Fiery Furnace is an excellent guided-tour-only area of the park, where you weave your way through narrow canyons and soaring fin-like rocks.
Though they look stable, arches are always in flux; eventually they all break and disappear. Listen carefully and you may hear spontaneous popping noises in distant rocks it's the sound of arches forming. Run like you stole something if you hear those popping noises overhead.
Heading back you'll take Hwy 12 before it hooks up with the I-15 and takes you back to Vegas. You'll pass plummeting red rock canyons, giant cream-coloured domes and deep-green alpine forests.
Quick river trips
My wife and I are doing the winter thing in Finland next February/March. We have plans to visit Helsinki, Rovaniemi and Kemi, as well as Tallinn in Estonia. We have some time afterwards and were looking at doing a small cruise on the Rhine or Danube. The well-known tour companies appear to have nothing under 10 days. We have about five to spare. Any ideas? We are also looking at a ferry trip from Helsinki to Warnemunde (Rostock) in Germany. Is that feasible at that time of the year?
Frank Weiss
In Germany the romantic Rhine carves a deep path through slate mountains and meanders through realms of castles and terraced vineyards. The stretch between Koblenz and Bingen is seriously beautiful. There are a number of companies running river cruises most months of the year, though you'll find that they don't begin until May, or April at the earliest. And as you say, they tend to be at least six days' duration.
Another option in the Rhine region, and one that's available at all times of the year, is to travel up and down the river by passenger boat.
This way you can stop at villages of your choice and stay where you wish. Koln-Dusseldorfer links villages all the way from Mainz to Koblenz and you are free to hop on and off as many times as you like along the way (about $75/83 downstream/upstream).
Winter services are limited, however, so you should check its timetable first.
Other passenger boats include those run by Bingen-Rudesheimer and Rossler Linie.
In Bavaria you can take a short passenger trip from Kelheim to Weltenburg via the stunning Danube Gorge. A trip up the gorge (mid-March to October) costs $6.50/11.50 one-way/return.
You can travel between Helsinki and Germany by ferry all year round. Finnlines has a daily service from Helsinki to Travemunde (34 hours) costing from $330 per person in a four-bed cabin.
Go to ferrycenter.fi for more information. Tallink Silja Line operates services from Helsinki to Rostock.
The trip takes 24 hours and fares begin at $630 per person in a double cabin with a 60-day advance purchase.
It also operates five times a day between Helsinki and Tallin (two hours, around $33 one way). There are also a number of budget airlines operating in the region, including Blue 1, which flies from Helsinki to Berlin and Hamburg; although fares of less than €1 do exist on some of its routes, you're more likely to pay $50 to $100 (plus $35 tax). Book ahead.