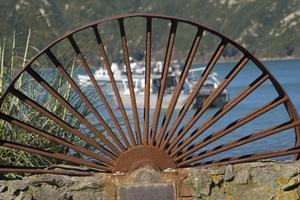 The 28km journey between Picton and Blenheim need not be a dull, truck-ridden, slog down SH1. An alternative road, in just over twice the distance, navigates a landscape where wool, whales, war and Wesleyans made a potent first impression.
First, however, you have to find it. Picton has big signs directing traffic to the interisland ferry terminals, Blenheim or Nelson, but not to where we're going. When we finally see a sign it's old and faded, and almost apologetically points east to Port Underwood.
The road first noses north through Waikawa, where bellbirds sang for breakfast at our motel, to Karaka Point. This headland, neighbour to The Snout in Queen Charlotte Sound, is where Rangitane and Ngati Apa thought they had made an impenetrable pa-site.
They had - until the musket arrived.
When Te Rauparaha's waka fleet, decorated with the hair, hands, and heads of the vanquished, and armed to the teeth with muskets, swooped through the Marlborough Sounds in 1829-30, this pa become a slaughter site. Remarkably, seven ground pits these people used to store kumara, dried fish and fern root have survived.
Turning east, the road starts to climb and, like many Marlborough Sounds roads, offers amazing ridge-top views: in this case a blue flat expanse cradled by encircling limbs, their fingers forming snug bays.
On the left at the bottom of the descent, Tumbledown Bay Rd clings to Port Underwood. Eleven kilometres down this road, at Ngakuta Bay, a few days before Christmas 1840, Wesleyan missionaries Mr and Mrs Samuel Ironside were "expeditiously and unceremoniously landed on the beach" among scores of English, French and American whalers and hundreds of Maori.
Distance and terrain proved no barrier and Mr Samuel preached the Gospel throughout the Marlborough Sounds as far west as D'Urville Island. Within two years he established Wesleyan centres at Nelson and Motueka. On one day, he baptised 163 adults and married 40 couples "who had been living heathens".
Ironside was equally successful with Maori and they converted to Christianity in large numbers. Within three years, Maori had built 16 churches.
Samuel was on a roll but just when it seemed he was going to save the whole nation, Maori and Pakeha had a deadly battle at Wairau, just over the hill. Many Maori left for Kapiti and the Ironsides moved to Wellington.
We move on to Oyster Bay down the unsealed Port Underwood Rd. Like most of the bays in Port Underwood, it bites deeply into the land, offering protection from Cook Strait and quick access to it. These advantages influenced Jacky Guard to open one of New Zealand's first whaling shore-stations here in 1829.
High numbers of whales, right whales in particular, migrated through Cook Strait with their young, and a multitude of Cook Strait shore-stations exploited that. Just from Port Underwood up to 80 whale boats would be in the hunt and right whale stocks still haven't recovered from the 20 years of plunder.
At the time, not everybody was impressed and naturalist Ernst Dieffenbach predicted the whaling industry "have felled the tree to obtain the fruit".
When Guard went to Sydney in 1830 he brought back a wife, Elizabeth, the first Pakeha woman to live in the South Island, and their two children were the first Pakeha born here.
Nine years later, Guard bought Oyster Bay. Today, there's a lodge, a backpackers', about six homes and, down by the seven moored fishing boats, an inconspicuous plaque commemorates the shore whaling industry.
The road on is slow with climbs, twists, dust and corrugations. On occasions, it sounds like the pots, plates, and cutlery in our mini-campervan were so fed up they tried to throw themselves out of the vehicle.
Between the gaps in the trees, we see Horahora Kakahu Island. It was here Thomas Bunbury witnessed nine chiefs signing the Treaty of Waitangi in June 1840.
Along with a handful of signatures he collected earlier at Banks Peninsula and Foveaux Strait, Bunbury decided that "on the ground of cession by the several native chiefs" he took possession of the entire South Island for the British Crown.
At nearby Ocean Bay, 10 years before that, George Unwin found he was a better lawyer than farmer when his cattle enterprise failed here. Not so 24-year-old Frederick Weld. He thought Marlborough's dry hills would suit sheep and took a punt by importing 2500 merinos in 1847.
It was an inauspicious beginning when a storm forced him to land at Ocean Bay, necessitating 19 days of droving to his 23,000ha leasehold property that would become known as Flaxbourne, the South Island's first large sheep station, near today's town of Ward.
Within 10 years of Weld's import, New Zealand exported 550 tonnes of wool. Being successful with sheep, Weld grazed on politics, briefly becoming New Zealand's Premier in the 1860s.
Retracing Weld's footsteps in 2007, we pass Robin Hood Bay to arrive at Whites Bay, our campground for the night and nearby Blenheim's playground.
The dozens of day trippers depart, leaving a clutch of campervans among the bushy DoC campsite.
Exploring the bay, we find a rocky outcrop with a peculiar rock formation just under the water's surface that causes the ocean to rush one way and, as the surge retreats, rush the other, hypnotising us for, well, who knows how long.
And with Blenheim less than 15 minutes' drive away, who cares?
CHECKLIST
Port Underwood: Picton to Blenheim via SH1 is 28km or via Port Underwood is 65km. The road is winding, unsealed in places, and needs time to enjoy. If you wish you can hire a campervan for the trip - ours was delivered to our Picton motel door - from motorhomerentalsnz.co.nz.
Further information: For more about Marlborough visit destinationmarlborough.com.