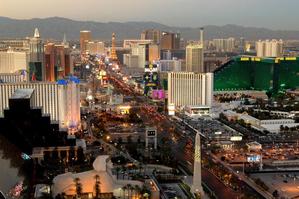 I'm not sure what my son had in mind for his 6th birthday, but I'm pretty sure it didn't require getting a new passport.
I suspect he may have been hoping for something involving fast food, and as it happened the cabin crew on one of Air New Zealand's fabulous new Boeing-777s was able to oblige.
Okay, so the adult food wasn't quite so fast. But given that a lucky last-minute break at work meant we were all heading to Las Vegas, none of us were complaining.
Goodness knows, if I'd had to count down any more sleeps with my over-excited children in anticipation of our sojourn to the States, I might have snapped and gone off the idea altogether.
As it was, I got a little tired of defending my plan to puzzled friends.
Being the kind of glass-half-empty person who prefers to avoid Sky City because it depresses me, I have to admit Las Vegas wasn't exactly at the top of my bucket list. But a colleague who had already been there persuaded me that my 4- and 6-year-old boys would have the time of their rather short lives, and a quick browse of the internet convinced me he was right.
The truth is, Las Vegas is a lot like Disneyland on P.
This might be a good time to confess that my first stop on my official OE at the not-so-tender age of 21 was Disneyland. Unfortunately, it was about 15 years too late, and Clive James' superb essay on the place was rather too fresh in my memory (if you think P.J. O'Rourke's Holidays in Hell was a hoot, then you really should grab a copy of James' Flying Visits).
It took less than an hour for the Disneyland police to track me down and threaten to arrest me for wearing an offensive T-shirt, which is a whole other story. But, needless to say, I am the kind of person who is more likely to get divorced in Vegas than be married by someone who bears a remarkable resemblance to Elvis.
But this trip, as I kept reminding myself, was not all about me.
With five days and four nights to fill, it seemed an almost impossible task to narrow down the list of things to do so we wouldn't be rushing from one attraction to another.
I suspect the list we eventually came up with has resulted in my elder son being treated as a budding novelist when he wrote about his holiday back at school. His essay, after all, included tales of mind-boggling magic, grumpy white tigers, friendly dolphins, exploding volcanos, musical fountains, jousting knights, helicopter rides, authentic teepees, and cowboys with real guns.
We dined in a castle, rode in a gondola, and panned for gold. We watched strange blue men do clever things with plastic tubes and paint.
And despite the fact that my boys' eyes lit up every time they passed a row of pokie machines, we didn't gamble on anything except the weather being warm.
I knew, of course, that Vegas was famous for its shows. But I had no idea just how many acts there were to choose from. The week we visited, the concert choices included Paul McCartney, Elton John, Bette Midler, Cher, Jon Bon Jovi, Kenny Rogers, Barry Manilow and even Britney Spears (who could be forgiven, surely, for not ever wanting to go back to the place after the fuss her last visit caused).
Yes, they might all be has-beens, but at least they were the genuine article, which is not always the case these days.
The range of permanent fixtures is even more impressive. There are, for example, six completely different shows by Cirque du Soleil. And dozens and dozens of others, including several that are perfectly suitable for children.
I must admit, if I had known beforehand that a giant bear was going to leap out of an apparently empty tent during the matinee performance of the Mac King Comedy Show, I probably wouldn't have taken the kids along. On the bright side, it looks like they're not going to pester me anymore about taking them camping next summer.
That said, Tournament of Kings was a big hit. Even though the 4-year-old was terrified by most of it, he still talks about the night we had dinner in a castle and watched men on horses fight each other, egged on by a jester and a wizard.
And the Blue Man Group was wondrous. After years of living in Europe, and attending local arts festivals, I thought I was getting pretty jaded. But this internationally lauded show was superb, and is one of the few performances I have seen that can truly live up to the claim of being delightful for both young and old.
Vegas hardly seems like a budget destination - after all, people go there specifically to spend money, and often rather a lot of it - so it was a relief, then, to discover that there are also lots of things for kids to enjoy that are free.
Older kids, of course, would love the adventure rides, which make Rainbow's End look tame. Mine were a bit young for that. But like me, they loved the Bellagio fountains, which, believe it or not, perform a rather sexy water show. The Volcano at the Mirage, which regularly erupts with plumes of smoke and spectacular fireballs, is also particularly impressive at night.
The shopping malls are also destinations in themselves - the Forum Shops at Caesar's Palace alone make Sylvia Park look like a corner dairy.
About a kilometre in, the Fall of Atlantis is an impressive show that also performs on the hour - although I have to admit, Milo and Jamie enjoyed the aquarium where it is based even more than the animatronics.
Despite its more recent attempts to refashion itself as a saucy, sexy paradise (even Cirque du Soleil has come up with an x-rated show), Vegas is still a fabulous place for a family holiday.
For a start, you don't have to go through Los Angeles' ghastly airport to get there. Travelling through San Francisco, even with small kids, is almost a pleasure.
And it's not just the fake castles and festive atmosphere that Disneyland and Vegas have in common - there is something weirdly and reassuringly benign about both destinations.
Although Las Vegas Boulevard is a bit like Courteney Pl and K. Rd relocated to Surfers Paradise, I have to say I never saw anything remotely unsavoury at any stage. Despite the plethora of bars using every marketing trick ever invented, and the dozens of immigrants who line the streets giving away cards advertising the wares of improbably gorgeous hookers, I never saw anyone drunk, or behaving badly.
Although I had read that unemployment in Vegas had reached 10 per cent, there were still plenty of tourists on the streets in mid-April, if not in the shops. And this was at least a week before the big bout between Ricky Hatton and Manny Pacquiao, when apparently you couldn't get a last-minute park for your private Lear jet at McCarran Airport for love nor very, very large amounts of money.
Yet even at night, when the queues for the public buses that ferry punters from one casino to another got annoyingly long, the crowds were surprisingly child-friendly. Most visitors to Vegas are Americans and, as far as I could tell, tend to be the sort of middle class, middle-aged types who are there for a well-earned break.
They certainly don't appear to be the sort who go mad on jugs of margaritas and pash the nearest thing in trousers. But having seen goodness-knows-how-many movies set in Vegas, from Ocean's Eleven to Bugsy, it's possible I may have been in the wrong places at the wrong times.
I have to admit the city is so much bigger than I imagined - which is the opposite of the usual silver screen phenomenon.
The big news when we were there was that MGM Mirage had tipped some more money into its massive CityCenter resort and casino development, to prevent the $15 billion project from going bankrupt.
To give you some idea of the scale of the place, it is jointly building the city-within-a-city with the Government of Dubai on 27 hectares of land, right in the middle of the Strip.
The weekend we left for Vegas we had spent with friends at Whatipu Lodge, on Auckland's wild west coast. It was a journey from the sublime to the ridiculous.
But it would be far too easy to be cynical about Vegas, and its absurd fakery and extraordinary excess. This trip was all about the kids, and although at the time I rather wished I was sipping cocktails in the Venetian with a sugar daddy instead, in hindsight I'm rather glad I wasn't.
To see it through a child's eyes is to see Vegas the way it is was probably intended (well perhaps not originally, but certainly now) - a magical, fantastical and surprisingly safe place where reality is rarely allowed to intrude.
The 6-year-old can now skite that he has seen the Statue of Liberty, the Eiffel Tower and the Trevi Fountain. He can also truthfully claim to have stayed in Monte Carlo (for that was the name of our hotel), and to have glided on a gondola beneath Venice's Bridge of Sighs.
They might have all been facsimiles, but for a boy already obsessed with the idea of journeying to places far away from suburban Titirangi, our trip was a chance to satiate - for a while, anyway - his appetite for adventure.
Meanwhile, the 4-year-old fondly recalls Cherry Coke, auto-flushing toilets, and the hotel's "crazy river" (aka a "lazy river" to you and me) in which he and his brother spent an entire afternoon floating on tubes. In his world, I guess, that is also about as good as it gets.
Of course no overseas holiday would be complete without the Kiwi Moment - when it is brought home to you in poignant fashion what a small world it is, after all (which, unfortunately, reminds me of another Disneyland memory that I'd prefer not to share).
For this trip, that moment was sitting by one of the Monte Carlo's three magnificent pools, listening to an American DJ blasting out one of South Auckland's greatest success stories - Savage's mega-hit Swing.
That, and the United Airlines hostess who instantly picked we were Kiwis - by my son's silver fern cap - and recalled with fondness the 18 years she had spent living in Panmure and Mt Wellington.
Surreal indeed. But it was the Air New Zealand hostess, whose name I admit I've forgotten, who really impressed us. Informed on our departure from Auckland that it was Milo's birthday, she not only announced the fact to the whole plane - to his not-so-secret delight and embarrassment - but she also cobbled together a big bag of lollies and other goodies that my son still treasures.
I just hope he's not expecting the same treatment for his 7th birthday. He doesn't know it yet, but afternoon tea with his grandparents, who live in Mangawhai, might be as exciting as it gets.
Karyn Scherer visited Las Vegas as guest of Air New Zealand and Las Vegas Convention & Visitors Authority
CHECKLIST
Getting there: Air New Zealand has daily flights to Las Vegas in-conjunction with partner airlines. Airfares in Pacific Economy are available from $2433 per person return plus airport and government charges.
What to do: You can find out about Heli Usa at heliusa.com and about Grand Canyon West Ranch at grandcanyonranch.com
Where to stay: Monte Carlo Resort and Casino is on the web at montecarlo.com
Further information: To plan a visit to Las Vegas see visitlasvegas.com