Women fish divers help make this island a gastronomic delight, writes Jim Eagles.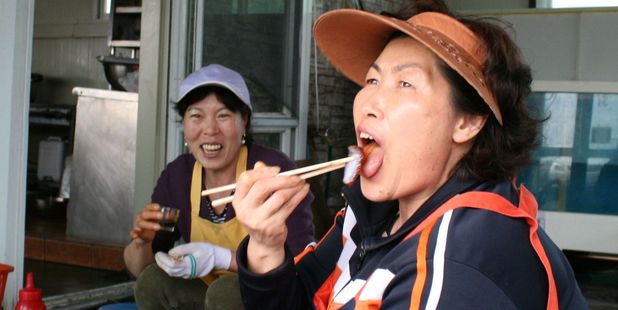 A trio of Jeju Island's famous women fish divers were relaxing in their hut, chewing on chunks of freshly harvested sea cucumber and sipping on red wine as we wandered by, and they waved us over.
"Here. You try," they chuckled, extending chopsticks dripping with purple blood from the morsels of cucumber.
It was chewy and salty, with a seaweedy sort of taste, but not unpleasant.
"Want drink?" one of the women asked me as she produced a bottle and a plastic tumbler. "Wine!"
The wine seemed very low alcohol with a blackcurrant sort of flavour and proved a pleasant way to deal with the sea cucumber's iodine after-taste.
As we sipped and chewed and joined in their laughter at our clumsiness with chopsticks we also took the chance to examine the catch stored in their plastic tubs of water.
Apart from the sea cucumbers, there were bright orange sea squirts, tiny abalone (paua), the mere possession of which would get you arrested in New Zealand, an octopus which seemed to be in the process of squeezing the life out of a small snapper and some repulsive looking things like large earthworms.
Jeju is famous for its seafood - in fact for its food in general - but it is apparently even better known as South Korea's honeymoon capital.
Guide Hyun Sook Park - who prefers to be called Honey - said at one time 96 per cent of Koreans had their honeymoons on the island.
"All my brothers and sisters came here when they were married."
But these days many Koreans are heading further afield "to places like Thailand, Philippines, Malaysia or Indonesia".
And where did she have her honeymoon? "We went to Australia."
To be honest, I don't blame them. Nice though it is, Jeju is not my idea of honeymoon heaven, and I don't envisage many Kiwi newlyweds heading that way.
The famous Sunrise Beach where lovers come by the busload is a rocky shore where, according to Honey, the water is "so cold no one can swim".
And the equally famous view of Sunrise Peak from a lighthouse, where newlyweds can watch the rising sun hand-in-hand, was largely obliterated by a hotel being built smack in the foreground.
But the island is extremely picturesque, with lots of gloriously weathered volcanic cones soaring impressively out of protected forest, there are some intriguing temples and caves with ancient Buddhist statues, and it has some great walks.
And there's that food. The island's waters seem to be teeming with sealife, much of it unique, and they certainly know how to prepare it.
For a start, it is fresh. While I was checking out Sunrise Beach I noticed three red floats bobbing offshore and realised they were attached to three of the female divers, or haenyo, who were busy harvesting seafood.
These amazing women regularly freedive to depths of 20m and stay underwater for two minutes at a time, while collecting conch, squid, abalone, sea cucumber, seaweed and other tasty goodies.
These days they wear wetsuits and masks but nevertheless the hard work involved means few young women want to take up diving and there are fears that after a tradition dating back several centuries the haenyo may die out.
As I mused about the possibility that in a few years it might not be possible to see these divers in action, one of them headed to the shore and climbed up on the rocks, dragging a huge catch bag.
A man I presumed to be her husband arrived with a tractor and trailer, the diver climbed aboard, and the harvest was taken away to be sold within hours of being landed.
It's easy to try this ultra-fresh seafood even if it's not always what you are used to eating. Some of the divers, like the three we met, sell direct to the public as soon as they get ashore.
And around almost every corner you find elderly women with plastic bowls of seawater filled with live sea creatures all waiting to be eaten.
We met one such trio halfway through a walk round the dramatic rocky coast and Honey negotiated for us to get a sample platter comprising - I think-sea cucumber, sea squirt, a couple of infant abalone and what they called catfish but which looked to me more like a baby shark.
The deal done they instantly chopped the creatures into small pieces, rinsed the still wriggling portions in fresh seawater, popped the lot on a plastic plate along with a blob of hot sauce, and handed it to us with a set of chopsticks.
I didn't think much of the catfish but the rest was pretty good... and you couldn't get seafood any fresher.
That evening, at a tiny, family-run restaurant at the base of one of the most spectacular volcanic cones, Seongsan Ilchulbong, we tried the island seafood cooked - well mostly - and it was even better.
The local specialties include a sliced raw mackerel, called the barley of the sea, which was very good; okdom-gui, a pinkish fish which is seasoned with salt and roasted over a charcoal fire, which almost lived up to its billing that "once you try okdom other fish seem tasteless in comparison"; and a fish soup filled with tiny abalone, local clams, king prawns, chunks of fish and other things I couldn't identify, which I thought was superb and which had a young chap from Helsinki going, "Oi, oi, oi, oi, this is amazing".
But it's not only the seafood that is tasty. For lunch one day we went to Daeyoo Land, which specialises in hunting, shooting, horseriding... and eating game.
The focal point of our meal was pheasant shabu-shabu, thin slices of seasoned pheasant meat cooked at the table in boiling bowls of soup, accompanied with the dozens of side dishes of specially prepared vegetables, pickles and spices that are a part of most Korean meals. It was delicious too.
That night we had strips of prime beef rib cooked at the table over a glowing bucket of coals...
but I'm starting to put on weight just thinking about it so I think I'll stop writing about the food.
Instead let's go for a walk to one of the island's many volcanic caves, at the top of a steep rocky stairway, resided over by a statue of the Buddhist goddess of mercy.
The priest in charge of this shrine created a bit of a kerfuffle by taking a long bamboo pole and drawing attention to several snakes on the rocky surface above.
When things calmed down we discovered he was actually talking about rock formations that looked like snakes.
The cave's most important feature is the tears of the goddess, which fall from the roof above her into a small pond, which devotees catch in tin cups and drink.
Honey explained if I caught seven drops and drank them I would have good luck and good health, and in response to a question added, yes, the goddess would also save me from putting on weight due to overeating.
And do you know what? When I got home my wife said she thought I had lost weight.
CHECKLIST
Getting there: Korean Air flies direct from Auckland to Seoul.
Jeju: Fathom Asia offers three-day eco tours to Jeju.
Further information: See visitkorea.or.kr and jeju.go.kr.
Jim Eagles visited Korea as guest of the Korean National Tourism Organisation.