Greenland is a playground for the adventurous all year, writes Sarah McElrea.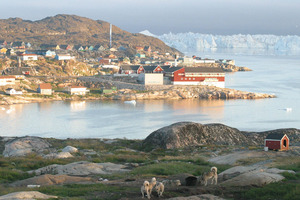 It is not everyday that a girl gets the chance to wear polar bear. At the remote Inuit community of Qaanaaq, members of the community parade in their traditional attire, while village elders describe the different hunting techniques needed to obtain the various skins on display. Now, they signal to me, it's my turn.
Curious to see what the clothes are like, I heave on the hunter's cream trousers, crafted from the skin of a polar bear, with the fur still attached and worn on the outside. It is coarse, much coarser than any other fur I've felt.
Then I am engulfed by the sealskin jacket, complete with a hood trimmed in beautiful Arctic fox fur. I feel a little bit uneasy about this, but remind myself that using animal furs is part of the Inuit culture and technique for survival in a harsh land.
The weight and warmth of the skins has me overheating within moments. Boots of reindeer skin laced, I head outdoors to cool down and to experience the Arctic hunter's outfit in the elements for which it was designed.
Outside, the sound of howling huskies fills the crisp air.
Straining at their chains as we approach, the huskies seem impatient, eager for the return of winter, so they can once more race across the frozen ocean on hunting expeditions.
Our guide singles out one white dog with a large chunk missing from his ear and a scar on his shoulder.
"This dog," he recalls, "is a champion. Last winter he fought off a polar bear that was lurking around our camp, and he lived to tell the tale."
In a land where dogs outnumber people two to one, the 129,000 sled dogs - at last count - are still vitally important for transport and hunting.
Some Greenland communities, including Qaanaaq, which is the world's northernmost native community, have banned the use of snowmobiles and motorboats for hunting.
Local hunter Jimmy explains, "Our huskies are even more important with the thinning sea ice. They allow us to travel over much weaker ice than we can travel on with a snowmobile."
Huskies are the only breed of dog in Greenland permitted north of the Arctic Circle. If they are taken south they are not allowed to return - it's a one-way ticket - in an attempt to keep the husky bloodline pure and free of disease.
Greenland is a playground for the adventurous all year. In the winter it is possible to go sledding across the frozen Arctic Ocean, camp on the ice or even join traditional hunting parties.
In summer, when the ice has broken up and the daylight is endless, it is possible to cruise almost the entire western coastline and explore the many fjords and quaint colourful towns.
With the world's second-largest ice cap and multiple glaciers covering three-quarters of the country it is not surprising that the population is entirely coastal.
Scattered up the west coast, Inuit and Danish people [Greenland is part of the Kingdom of Denmark] live in communities of brightly coloured houses, perched on the rocky terrain and huddled around small natural harbours.
Further down the coast, Ilulissat Icefjord is one of the biggest drawcards.
Cruising among its towering icebergs is breathtaking. This magnificent area has been granted Unesco World Heritage status.
Home to the northern hemisphere's most active glacier, with more than 70 cubic kilometres of ice calving off the Sermeq Kujalleq glacier annually, there is no shortage of sculptured icebergs around Ilulissat. This glacier is now retreating at an alarming rate, having shrunk 15km over the past four years.
We risk a brief but exhilarating swim in the freezing fjord before hauling a block of glacial ice into the boat, warming ourselves afterwards with the finest single malt whiskey, which goes perfectly with 10-thousand-year-old pure glacier ice.
A lone fisherman in a 10-foot dinghy hauls his long-line among the icebergs. It is a treacherous job, but the lure of halibut is great and the large pile of fish thrashing about in his boat testament to just how prolific these waters are.
You might think Ilulissat is an unlikely holiday destination. However, with activities including iceberg cruising, helicopter sightseeing and hiking, the township has a thriving travel industry.
On the outskirts of Ilulissat's township, igloo-shaped buildings dot the hillside. Japanese couples come to stay here in winter, believing that to conceive beneath the Northern Lights is not only lucky, but increases the chances of conceiving a son.
This draws a few chuckles from my companions, who wonder if studies have been undertaken to determine the success rate.
Back in town, we meet a bunch of lively women with weathered faces, aged beyond their years, accompanied by their young children. There's not a pushchair to be seen. Instead the children are carried on their mother's back, warm and close in the hoods of traditional jackets called amauti.
They lead us to their community hall where a feast awaits. For those feeling brave, there is ample opportunity to sample local country food, tasting raw seal, caribou stew and arctic char, the favoured local fish, a relative of salmon.
Wishing to maximise the cultural experience, my friend chews on a local delicacy, a cube of muktuk or whale skin - a culinary experience that results in a very upset tummy.
The culture in Greenland is rich. Carvers down the coast in Sisimuit bring to life bones, tusks and antlers as delicate carvings of animals and traditional tupilaks. Beautifully handcrafted garments made of sealskin hang in the stores but are off limits for many travellers, as in many countries, including New Zealand, products crafted from marine mammals are prohibited.
In recent years there has been a heartening revival of cultural traditions as younger generations embrace their cultural heritage.
We witness fierce competition between young men demonstrating traditional kayaking skills which were once a matter of life or death for the Inuit hunter.
They show off their incredible endurance, paddling upside down beneath the frigid water, and flipping in their kayaks as they perform multiple "eskimo rolls".
We visit the summer campsites of their ancestors, the Thule people. Actor Pakak Innukshuk, who stars in the film Fast Runner, and culturalist Aaju Peter transport back in time. Dressed in traditional sealskin clothing, they sit in the remains of a two thousand- year-old Thule sod house singing hauntingly beautiful songs in their native language, Innuktitut.
Cameras ready, we excitedly hike off in the late evening across the tundra to look at the flora and fauna. It is ten o'clock and the soft summer light is magical. On our way we stop to feast on the wild blueberries, bearberries and crowberries.
In an incredible encounter we meet a herd of 10 musk oxen, with brown bedraggled skirts of thick keviet, reputedly the warmest natural fibre in the world. They look like survivors of the mammoth era as they slowly graze the lush summer growth.
A pair of white Arctic hare leap across the hillside as we climb up to an innukshuk - a stone cairn built in the shape of a person - which mark the way for travellers and serve as a guide for hunters.
The Inuit name for the world's largest island is Kalaallit Nunaat.
It was called Greenland by the Viking, Erik the Red, who became the first European to visit its shores in the late tenth century after being banished for murder from his home in Iceland.
Deciding to colonise the land Erik tempted people to join him, speaking highly of this "Green Land".
About 500 people set sail and followed him to Greenland, settling primarily on the western coast.
Struggling to survive the harsh winters, many of these settlements failed, with people returning home feeling short-changed by Erik's creative real-estate promotion.
If Greenland's glaciers and ice cap continue to retreat, then perhaps the naming of this island by Erik the Red over one thousand years ago may sadly become apt.
Having explored these Greenlandic waters and shores over three summers, I dream of one day returning in the winter months to head out on the frozen waters with a team of dogs and experience the thrill of a hunt with my Inuit friends.