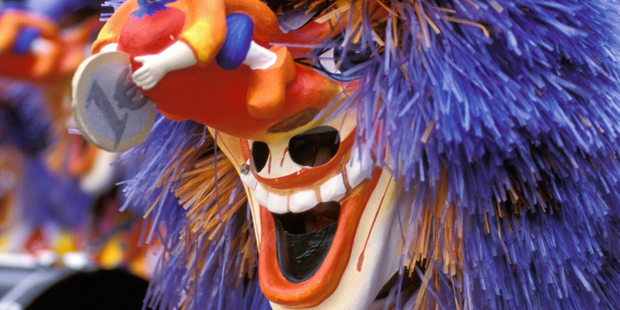 Three days of partying are underway in the Swiss city of Basel as it celebrates its annual carnival, or Fasnacht.
Festivals to drive out the winter are common in Europe, but Basel's celebrations are unique in that they take place after the start of Lent (the 40-day fast in the Christian calendar that precedes Easter).
At 4am yesterday morning thousands gathered in the cold streets for Morgestraich, the first celebration of what locals call "die drey scheenschte Dääg" (the three most beautiful days).
Masked musicians belonging to so-called Cliques queue up in the dark with their drums and piccolos, waiting for the call to commence festivities. All shops and businesses turn off their lights and the street lights are extinguished.
Many of the Cliques have huge lanterns which are wheel-mounted or carried by up to four people - they also provide the only light in the streets.
At the call "Morgestraich, vorwärts marsch!" (Morgestraich, forward march!) the drum rolls begin and the musicians start their processions through the cobbled streets of Basel's old town.
Spectators line the parade routes for as long as they can bear the cold and then head into local restaurants to sample Fasnacht specialities such as Mehlsuppe (flour soup), Zwiebelkuchen (onion quiche) and Käsewähe (cheese flan).
The following 72 hours are a riot of colour and music as singers deliver satirical verses, costumed Fasnacht participants throw sweets to passers-by and brass bands march around the streets.
"Basel is normally a serious city," Dominik Wunderlin, curator at Basel's Museum of Cultures told the swissinfo website ahead of this year's Fasnacht.
"It's a city of commerce and trade and people don't always have lots to smile about.
"On these three days you can certainly let off steam, although visitors from outside who know other Fasnachts are usually astounded how deadly serious Fasnacht is here."