More people are travelling to learn about their family heritage. Cathrin Schaer heads to Berlin to find out if she is really related to war heroes or German royalty.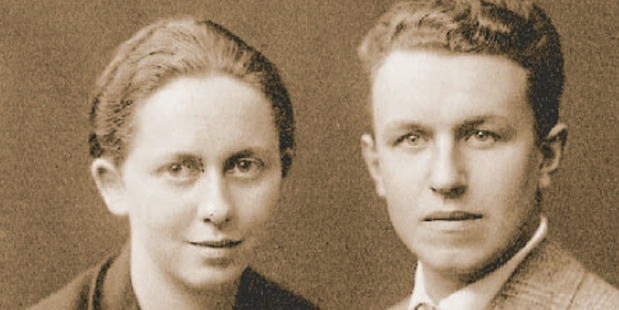 Some people travel to relax, to eat fine food, to sunbathe, to experience different cultures. I went on holiday to find my dead grandfather.
That is, I wanted to retrace his, and my grandmother's, steps in Berlin during World War II.
For most Europeans history is a constant companion, it's in the buildings, it's on the underground trains, it's there wrapped around every single neck like an invisible scarf, comforting some, choking others. But for a transplant like yours truly, a German who grew up in New Zealand, it is different again.
Seems silly, really. Blame it on an eight-year-old's desperate desire to assimilate, but I knew more about Maui, Hone Heke and Captain Cook than why the Nazis came to power or what part my family may have played in that world-changing drama. Which is why, now that I'm older and able to return to the city I was born in, I hoped to find out more.
And I am not alone on what has already been described as the genealogy highway.
As travel becomes more niche-oriented, one of the biggest is genealogy.
Elizabeth Parkes, a genealogist who runs New Zealand Genealogy, from Nelson, agrees. She believes the internet has made researching your history a lot easier and recently, she writes, she has seen more ordinary people getting into this.
People, who are not guided by a professional need or membership of a society, are looking to identify with their roots and to pinpoint places of significance. Until lately, Parkes notes, it was only members of genealogical societies who took this step.
Indeed a study on the growing popularity of genealogical research from California State University estimated that of all the folks who had started to look for their roots, nearly 90 per cent of them had travelled at least once in the past five years, in pursuit of their lost kin.
Travel operators have also figured this out. There are reunions for several thousand people with the same surname who are invited to meet at aptly named agencies like Routes to Roots, based in New York. Your guide does your research for you before organising flights to, and accommodation in, the village where great-great-granny went to school.
While a lot of New Zealanders have British roots, every case is different and in my case, I had a little bit of a head start. My grandfather had actually written his memoirs, albeit in German.
Some of his war-time story was in there but some of the book was also intensely political too, meant for a different era. Additionally, upon his death, my mother had managed to get hold of the letters he and my grandmother had written one another while he was in a prisoner of war camp in the United States.
So I knew that he had been opposed to the Nazi (short for National Socialist) regime, and that, as a result, he and my grandmother had ended up incarcerated by that regime.
After this, my granddad had been conscripted into what was called a Strafbattalion, or a punishment battalion full of political dissidents and poets and other Nazi nay-sayers. They were then sent off to Africa to become, as far as I could figure out, cannon fodder.
So the first thing I did when I got to Berlin was to start reading about the era.
After trawling all the tourist bookstores on Unter Den Linden and Friedrichstrasse as well as Dussmann, one of the largest bookstores in Berlin, I had at least half a dozen illuminating paperbacks, non-fiction and biographical, to get through.
Second stop was the Topography of Terror exhibition in central Berlin.
What looks a little like an archeological excavation stands on the former site of the SS and Gestapo administrative headquarters. They were bombed toward the end of the war and the area wasn't excavated again until the 1980s. Yet the pebbled trail is crowded with visitors, reading signs and looking at pictures that show what it used to be like.
It was here that a lot of dastardly plans were hatched, including some that doubtless affected many of the Anzacs and their families. It is also a memorial for those who became victims and who, through their actions stood for a different Germany.
It was to the smaller, basement prison in this building, where political opponents were questioned and often tortured, sometimes even murdered, that my grandparents were brought.
After a little bit of searching through the photocopied log book of arrests that was saved, I discover both of their names scrawled with neat flourishes in Indian ink.
It looks as though they were arrested at home in the early morning of April 7, 1936, because their names are entered into the book at 7.15am and 8am respectively and their home was a good hour away from this central city building. The same guy has signed for all the arrests. It feels weird to find this in an exhibition.
Later on, after I've found my way to the library attached to the Terrors exhibition, just around the corner and four storeys up, I have a similar time-warping moment.
I look up from the books I'm struggling to translate and directly down into the broad, leafy lanes beneath me; there's no one on the street and, really, for all you could tell, it could have been 1936.
Coming from New Zealand where we were not really used to it, it's rather odd glimpsing your own family's part in history. Time slides away, causing your breath to catch and, for a chilling moment, you imagine how your forebears must have felt.
A young married couple in bed, that too-early knock on the door a forewarning of what was about to happen, that sense of dread as they were separated and taken to different rooms in the headquarters.
On another level, I'm thinking what would I do now, right now, if those streets were filled with men in brown uniforms rather than camera-toting tourists?
Further research brings no easy answers. I meet with my grandparents' friends still left alive, spend days in that upstairs library looking for records of the early concentration camps where my grandparents did hard time as well as mentions of my granddad's punishment battalion. I roam the streets of central Berlin with a whole new perspective.
In many ways, what I discover does change my life. Even today, I'm still asking questions.
At what stage do you take a stand against something you think is wrong? How much do you risk? Would I have done as my grandparents did? And, hey, what will I do next time a topic like, say, the Iraq war, some local political party's racism or even some ridiculously small bit of social injustice, comes up?
Sure, it all sounds implausibly weighty and not much fun but, to be honest, it's some of the most thought-provoking and enjoyable travelling I've done.
Travel for genealogical purposes might sound naff, but as thousands of ancestor-hunters have figured out before me, when you're walking down the same streets your forebears did, you can quite easily end up off the well-beaten tourist track and feel far more connected with your destination.
No matter how small or big your research, the thrill of the chase definitely adds a fascinating dimension to the road you're on. It's the sort of travel that does broaden the mind.
And while I didn't find that I was distantly related to some countess, the other good things I did discover on the ancestral trail were that I like beer and wurst and German baking almost as much the rest of my family.
CHECKLIST
Getting there: Cathay Pacific offers daily flights from Auckland to Frankfurt via Hong Kong.
To get to Berlin from Frankfurt, catch the train from right outside Frankfurt airport. The trip takes around four hours on one of Deutsche Bahn's high-speed inter-city express trains. If you buy a ticket more than three days in advance from Deutsche Bahn online you could save around half the fare.
The other option is to fly from Frankfurt to Berlin using one of the budget airlines like Air Berlin.
TIPS FOR DIY RESEARCH
Elizabeth Parkes of New Zealand Genealogy offers these handy hints for genealogical travel.
• Do as much research as you can before taking that trip. You want to try and make sure you're heading to the right place in search of the right surname.
• There may be a lot of information you can get online or at the local library. It is also often possible to order various certificates online.
• Having said that, be careful online. The internet has created a perception that research is easier. But it is crucial that original resources, or copies of those original resources, are investigated.
• Find out in advance which records offices you should be visiting. You may need to make appointments.
• Try to contact the people you want to talk to beforehand - you don't want to arrive to find they've just taken off on a two-week holiday.
• Some experts also recommend finding a focus for your travel. Just packing up an old kitbag and heading out to find out about your family sounds exciting but it could end up a waste of time. Keeping focused increases your chances of a fruitful roots-gathering expedition.
Cathrin Schaer travelled to Germany with Cathay Pacific.