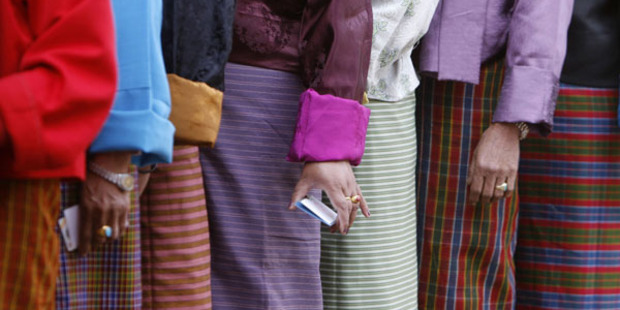 Life might be a little tense in the households of some of Bhutan's first democratically-elected government ministers.
The ministers are among the 45 members of the Blissful Dragon Party that recently won the country's historic first fully-democratic parliamentary elections. (Incidentally, as there are only 47 seats in the new parliament this makes the opposition the world's smallest elected opposition party).
Coupled with Bhutan's elections is the enshrining of the country's new constitution of the freedom of the press, which Bhutan's three newspapers are embracing with enthusiasm.
During the week in which the new ministers were sworn into office one of the papers ran a double-page spread profiling not just them, but the new prime minister, the speaker and the deputy speaker.
In order to flesh out their "strengths" and "weaknesses" categories, reporters approached several of the ministers' wives.
Among the weaknesses they catalogued were "loses temper easily", "eats too much", "chews too much doma" (betel nut) and, most revealing of all, "snores in bed".
(Incidentally, the swearing-in ceremonies - which involved what seemed like most of the population of the capital Thimpu presenting ceremonial scarves to all the ministers on the one day - created probably Bhutan's first and only traffic jam. I became ensnared in this on a small tour bus. However, it was a highly entertaining gridlock. While we and everybody else made our way through the city at a snail's pace, ministers and other dignitaries, diplomats and monks, waved and smiled cheerfully at us, while policemen wearing white gloves attempted to untangle the chaos.)
The article was enjoyed hugely by Bhutanese readers and it was a talking point for days.
A friend of mine, who is related to the minister with the snoring problem, told me a few days after publication of the article that his relative had taken the expose with good grace. However, details of any changes in the matrimonial sleeping arrangements were not available.
The popularity of the story made me wonder if perhaps we could try the same thing in New Zealand.
I suspect our ministers' partners are too well schooled to let anything slip that would be remotely as interesting as the foibles of the Bhutanese ministers.
I can also only imagine the outcry if the comment "listens to his wife" had been categorised, as the Bhutan Times did, in the "weaknesses" column.