The Belgians take their beer seriously, and none more so than the Trappist monks. William Little makes a pilgrimage to the top monastic breweries.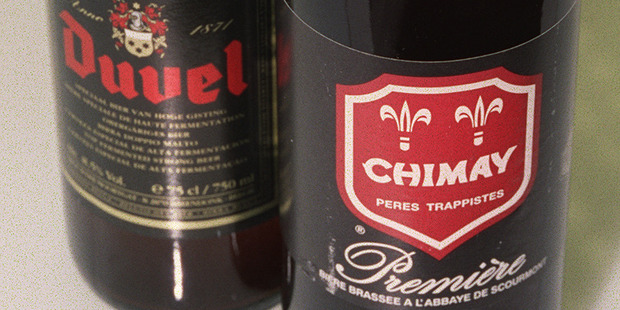 Brother Jules is angry. He is looking at his watch in agitation and gripping a wrench tightly.
I've arrived in Achel, one of Belgium's six Trappist breweries (the only other one in the world is just across the border in Holland), as part of a pilgrimage across the country to appreciate its fine beers and the monastic way of life. Yet just over halfway through day one, I've discovered that the monks' secretive life also extends to road signs to their holy homes - there aren't any.
I've been driving up and down country roads, becoming increasingly lost, and it has made me late by an hour-and-a-half. Brother Jules is less than impressed.
My interpreter, Lucien Jans, is using his best Flemish to calm Jules down. Jans tells me that the monks lead such an ordered and secluded life that they don't necessarily appreciate any difficulties in finding the place.
Brother Jules, a former baker who became a monk when his wife died eight years ago, was put in the brewery because he knows a thing or two about yeast - an essential part of the beer-making process - and his annoyance fades as he gets on to the intricacies of this.
Many of Belgium's finest brews can't be bought outside the region in which they are made. So a trip here is essential if you take beer seriously, and many Belgians treat beer much as the French treat wine.
Trappist beers are in a league of their own, rightly feted for their complex flavours. The monks brew with an eye for quality rather than quantity, and this is what makes them so special. A typical pils lager takes three days to brew, but a Trappist beer can take two to three months, with secondary fermentation taking place in the bottle.
Brother Jules tells me that the Trappist breweries still make only as much beer as will provide an income for their needs. Once it runs out, that's it.
Achel itself is the only Trappist monastery that has its brewery and cafe inside the abbey. This means that in Achel you can sip your beer quietly while watching through large glass windows as Brother Jules, wrench in hand, goes about making beer.
It also has a well-stocked shop selling most Belgian beers, and their individual glasses.
Every so often you see Brother Jules run out to go to prayers - seven times a day, in fact. The monks' first daily commune with their maker is at 4.30am, but visitors can join Brother Jules and the others at prayer in the abbey at a public service at 2.15pm every day.
Belgium's six Trappist breweries are spread across the country - three in northern Flanders (Achel, Westmalle and Westvleteren), and three further south in Wallonia (Orval, Chimay and Rochefort).
I arrived in Brussels and spent an evening sipping beer in Le Grain de Sable, a typically cosy and atmospheric bar, before heading north to Flanders, making a quick stop at Westmalle monastery on the way. The monastery itself doesn't allow visitors, but its cafe, Trappisten, serves beer, and on request the manager will play a DVD about the making of the beer. The Westmalle monks make a bottled beer called Extra for their own consumption, and it can be bought only at the Trappisten cafe. The bottle doesn't even have a label.
The monks also make cheese, which you can buy if you walk up through the fields and bang on the big wooden door of the monastery. Brother Gatekeeper opens up and will invite you inside in order to exchange hard cash for a giant slab of their cheese, which, not surprisingly, goes down well with a draft of Westmalle.
Later that evening at Ter Dolen (De Dool on road signs) castle - which comes with turrets and an enormous romantic log fire - I learn that Belgians need little excuse to brew beer. As if on cue, Jans presents me with a glass of the castle's own beer, which they started brewing in 1992 for visitors and locals, and plies me and my girlfriend with the beer until we stumble to bed.
Leaving Flanders the next morning, we travel south to Rochefort in the Ardennes, where the wooded hillsides and valleys offer a rustic playground for walkers.
The Rochefort Trappist brewery is not open to visitors, nor does it have a cafe. But you can drive in and take a look around. I watch the barley malt being pumped down a wooden chute into an old-fashioned tractor. The mist is rising and, as if on cue, an old monk treads slowly across the yard. We stay in the Malle Poste in the centre of Rochefort and drink local beer in another atmospheric drinking den, the hotel's candlelit cellar bar.
Our next stop, Orval, is the most accessible of the monasteries and the most impressive, with a complex of mustard-coloured buildings surrounded by forest. There is an exhibition in an 18th-century cellar and the well, from which the water is drawn to make the beer, lies among the ruins of the original 12th-century abbey. The monastery has a guesthouse for those interested in learning about monastic life. But with prayers all day long and little conversation, it is only for the truly committed.
Next stop was the picturesque town of Chimay. The Abbaye Notre Dame De Scourmont is set on a gentle hill overlooking farmland and woods. Visitors are free to wander the secluded garden in the middle of the abbey and visit the church. The nearby Auberge de Poteaupre serves, like Westmalle, beer that is made especially for the monks' own consumption.
From here there are two options: head back to Brussels or, if you are very organised, make for Westvleteren, the smallest of the Trappist breweries. Just a few kilometres from the World War I town of Ypres Salient, it is a good base for a combined beer and history tour.
The beer itself is sold in just a few shops, and you can buy it in bulk only from the monastery door. Recently, punters have even had to start calling up to reserve their casks.
Back in Brussels, I open the boot of the car and realise that my plan to stock up on the best of the beers has a catch. I can't actually carry it all. Perhaps it's best I drink it all before I leave. This beer is blessed, and the more you taste it the more reluctant you will be to leave any behind.
FURTHER INFORMATION
* For more information on Flanders see visitflanders.co.uk.
* For information on Wallonia and Brussels see belgiumtheplaceto.be.
The breweries' websites are:
achelsekluis.org
trappistwestmalle.be
sintsixtus.be
trappistes-rochefort.com
orval.be
chimay.com
- OBSERVER