Catherine Masters reports from the internet room on an ocean liner worthy of its regal title, while a string quartet plays at the door.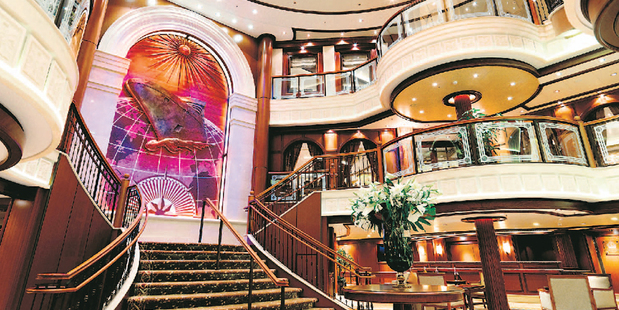 An elderly English gent sporting a Hawaiian shirt he picked up on a stopover in Honolulu holds out his hand, flashes a wicked grin and says, "Hi, I'm Jack, but you can call me John."
It's 10.30am and the daily shuffleboard tournament is about to get under way. Twenty or so people have arrived on deck 11 for this most traditional of ocean liner games.
Did I say game? Actually, this is serious competition for some of these folk.
Most are 60 plus and anyone under 60 is considered young on the Queen Victoria, the newest of the Cunard ocean liners, partway through the maiden world voyage which will see her dock in Auckland on Friday.
Jack isn't taking the game too seriously though. This could be because he's already the reigning quoits champion and urges me to come along to that later in the day.
At shuffleboard, you pick up the rules pretty quickly. You get handed a long stick and have to whiz a flat disk along a painted grid with numbers marked off at either end.
Partners are picked randomly and you battle it out in a draw, seeing who can pick up the most points while trying to knock out the points of your opponents.
I draw Graham, another shuffleboard novice, who at 50 is one of the youngsters.
We're in the middle of the Pacific Ocean with no land in sight. The sea is a broody navy blue and it's overcast and quite choppy, none of which matters to the shuffleboard, because the Queen Victoria is flash as anything and has state-of-the-art stabilising technology.
Graham and I are absolutely hopeless. We're completely outdone by the elderly folk who offer friendly advice. "Don't push, just lunge" says one spritely old girl.
We score zero points but somehow still make it to the semifinals before being knocked out by a pair in their 80s.
I had to race off to the Shrove Tuesday Pancake Challenge so can't tell you who ended up winning. But I can tell you the pancake challenge was a huge success.
A big chunk of the ship's 2000 passengers had crowded around one of the pools and were rowdily clapping and cheering as two crew teams in silly clothes raced up and down the deck flipping pancakes in frying pans to the music of Benny Hill.
This is day two of my short stint on board the Queen Victoria and I'm no longer worried about getting cabin fever even though we won't spot land for three more days.
I've already found I'm having a hell of a good time taking part in activities - of which there is an extraordinary range - that I didn't think I would find myself doing in a million years.
Pre-shuffleboard I had wandered past a country-and-western line dancing lesson where 100 people were stepping "right, left, right, roll forward and back, left, right, left" with the instructor.
Later in the day, I might take in the botox-in-a-bottle seminar offering information on all the benefits of botox without the pain. Then maybe I'll do the pub quiz at the Golden Lion - just one of the 15 bars and lounges on board - where you can get a traditional British pub lunch with a nice pint of ale.
Possibly, I might follow this with a jive dance lesson or just watch the matinee movie screening in the Royal Court Theatre (where Rick Sonata sang Frank Sinatra last night) with its plush seats and private boxes.
Then, of course, there's my date with Jack at the quoits competition on deck 10, or perhaps the seminar on how to prevent gum disease which I'm quite sure will be well attended by the ship's main clientele.
Later, and I have to say I'm quite keen on this, I might take in the afternoon bingo.
However, if I don't want to do any of that, I could play the pokies in the casino or hang out in the coffee lounge or eat yet again at the ship's 24-hour buffet or have a drink at yet another of the bars which I managed to get around in a rapid pub crawl after boarding.
Most of the bars were empty as a lot of the passengers were checking out Honolulu for the day, some of the war veterans on board heading off on a tour of Pearl Harbour and the war museums. Jack told me this was what he did and was nearly moved to tears.
For many, cruising is a way of life. Some have been on one or two ships before but some have taken dozens of cruises and one woman has been on 100 different ships.
They joke they are spending their children's inheritance but they come because it's a great way to travel when you are getting on in life.
There are 1000 staff to the 2000 passengers so they are incredibly well looked after and it's safe.
You'll find some of the older ones dotted around the boat, sometimes asleep with a motor scooter parked nearby.
Of course, there are younger passengers on board too who have saved hard for the trip of a life time or possibly a honeymoon.
And though 2000 passengers is a lot of people, this ship is so big it hardly ever feels crowded.
There are so many nooks and crannies, lounges and sun rooms you can still find privacy.
Except at dinner time when everyone dresses up and arrives at the Britannia, a vast and elegant restaurant, decorated art deco style.
Cunard ships are decorated according to themes and on this one you will find Queen Victoria (and Albert) everywhere. There's an art gallery and they even have some original etchings by the pair.
The cruising life is not for everyone and many will not be able to afford it.
A price example: for a trip from Los Angeles to Sydney you will pay around $4000 per person for an ordinary room and around $67,000 for a grand suite in the exclusive upper class section of the boat.
This section is for the seriously wealthy who want privacy from the bulk of the passengers.
I accidentally discovered this part of the ship located on deck 11 as I wandered around getting lost yesterday taking one staircase too many and not noticing a sign saying I should not enter.
There I saw only one other passenger, a lovely elderly American lady wearing a long black dress as she reclined on a deck chair.
She had a mass of wrinkles, lip stick and eyeshadow and was as friendly as could be. She was very glamorous and ordered a gin and tonic telling me not to worry about getting lost, she'd been on board a month and still got lost.
I didn't know then she was one of the elite passengers, whose privacy is carefully guarded, but now I know I reckon she had the look of a faded movie star.
Must away now, it's nearly time for quoits.
QUEEN VICTORIA
Size and shape
1007 state rooms, 718 of which have balconies
294 metres long
90,000 tons
54.6 metres above water
12 decks
Cost 300 million to build
Further information: See cunard.com
Catherine Masters is travelling on Queen Victoria courtesy of Cunard.