Poisonous snakes, menacing monkeys and crocodiles: Diana Balham's childhood dream comes true.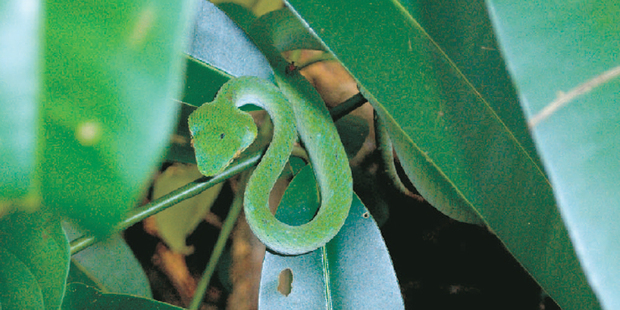 Borneo. It's a word that has held an exotic fascination for me since childhood: the steaming jungles, the bizarre creatures, the sheer, middle-of-nowhereness of it. And now here I am, standing on a boardwalk over a swamp looking up at an animal that looks like a cross between a computer nerd and a Terry Gilliam cartoon.
The poor darling is a male proboscis monkey: he has a hairy tummy, a ginger Donald Trump comb-over and a nose like a pink cucumber. They are endangered, but not because they can't attract the ladies. However, they are plentiful here in Bako National Park in the Malaysian Borneo state of Sarawak.
Bako, Malaysia's oldest park, is a short drive north of Kuching. You then take a trip up the wide Bako River in a motorised longboat.
On either side is thick, green jungle and I just know it's full of the weird, the wonderful and the best-left-alone. We pass secluded beaches and weathered sandstone stacks of rock, some rearing up out of the ocean.
Our welcoming committee at the little jetty is a gang of ne'er-do-wells with long tails and eager expressions. They are macaques, a naughty breed of monkey that is more likely to be thinking, "I wonder what's in that backpack?" than, "Hi tourists. I hope you have a lovely day."
They converge on our party of three looking cute but a little menacing and Edgar, our guide, hustles us off to the park headquarters. (He tells us later that he was pounced on by a group of them the week before and is clearly still shaken by the experience.)
Near the path, we spy a tiny green snake with a triangular head. It is coiled around a branch. We have a quick look but Edgar says it will still be there this afternoon. It is a pit viper.
It's hot, 37 or 38C, apparently, and about 450 per cent humidity, but I am so excited to be walking through my "childhood" Borneo that I don't care. We see tiny squirrels shimmying up trees as we head down a track to Telok Paku, along a boardwalk over a mangrove swamp.
That's when we first spot the proboscis monkeys: like a lot of plain folk, they are shy and hide their homely faces from us as we approach. If the macaques are the all-night-clubbing good-timers of monkey society, these sober-looking chaps must be the Amish people.
Out of the swamp, the track follows a jungle path through a green and mysterious world. We scramble over enormous tree roots and up steps cut into the earth, climbing and descending a trail that simply follows the contours of the land and occasionally coming to a lookout point.
It's not an ambitious walk, but the humidity makes the going tough and, by the time we reach Telok Paku, a beautiful, sandy and almost deserted beach, we are dripping wet and looking longingly at the ocean. We haven't brought our togs, dammit, but the temptation is too great and, after checking with Edgar, we slide in wearing T-shirts and knickers.
Fine sand moves under my feet but no sea snakes, sharks, stonefish (to my knowledge) and I emerge feeling refreshed and elated. Edgar is having a fag and watching us with detached amusement.
Back at the visitors' centre, we have another look at the wee pit viper. Edgar says he doesn't know if it is poisonous, so we get up close and personal, just stopping short of giving it a friendly pat on the head. A couple of days later, we are told that it's the second-most venomous snake in Borneo, after the king cobra.
Later that day, after unwittingly escaping from the little green jaws of death, we are whisked off to the Kuching Wetlands National Park for an evening cruise on the Santubong River. As we wait on the jetty, salamanders, called mudskippers, jump out of the ooze and crawl around on their fins.
We climb into a small boat and motor off down the river. It's late afternoon, but the haze from fires in the Indonesian Borneo province of Kalimantan has brought a weird darkness to the day and an orange ring around the sun. But we sit on squabs up the front eating fresh pineapples and watch the metallic grey river slide by.
Mt Santubong, the "Sleeping Princess", rises out of the sea in the distance and Edgar tells us a story about how she was turned into a mountain after getting pregnant by her sister's boyfriend.
Soon we spot a couple of freshwater Irrawaddy dolphins, but they are shy and won't perform like their New Zealand counterparts.
We come upon groups of proboscis monkeys as well as macaques and the energetic silver leaf monkeys, which are bounding about in the trees. In the Malay village on the other side of the river, the inhabitants are preparing to break their Ramadan fast for the day.
Night falls as we navigate the waterways in search of crocodiles. Fireflies switch on their lights and our boatman shines a brighter beam on the riverbank. We see fresh croc tracks in the mud. Suddenly, a large log erupts into life and crashes down into the water, shattering the quiet.
It's nearly 8pm when we get back to the jetty. Edgar spirits us off to Kampung Buntal, another fishing village, which has an ordinary-looking but well-regarded restaurant. At Lim Hock Ann Seafood, we park our plastic chairs on the wooden deck on stilts. The waiter brings us oyster pancakes, fish bladder and octopus soup, jungle fern, squid, sweet and sour groper and butter prawns. It's all delicious.
We are wrapped in the warm blanket of a tropical night, sipping green tea and looking out at the ocean. It's enough to make even a proboscis monkey happy.
CHECKLIST
Getting there: Malaysia Airlines flies Auckland to Kuala Lumpur daily except Tuesday and Sunday.
What to do: Visit Bako National Park, which was established in 1957, the year Malaya became independent. To get a better look at the wetlands, see Santubong Wildlife Cruises.
Further information: See sarawaktourism.com.
Diana Balham visited Malaysia with assistance from the Sarawak Tourism Board and Malaysia Airlines.