Brett Atkinson wanders Oman's exotic labyrinths of crazy, colourful contrast.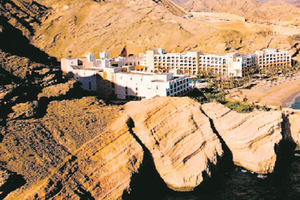 It's definitely not the sign of a cultured traveller, but when I'm somewhere with a vaguely Middle Eastern ambience, I often have cinematic flashbacks from Monty Python's Life of Brian.
Sitting in the beautifully preserved theatre at Aphrodisias in central Turkey, I should have been thinking about glorious Roman tragedies. Instead all I could think of was the hapless Brian offering "Wolf nipple chips and dromedary pretzels for only half a dinar."
In the deserts fringing Dubai I kept expecting Spike Milligan to pop up as the ragged individual who finds Brian's shoe in the sand. And now at the Friday goat market in the town of Nizwa in Oman, it wouldn't surprise me if a bearded John Cleese started advising the gathered throng that "No one is to stone anyone until I blow this whistle!"
My initial response in Nizwa is not surprising as the busy Friday morning scene looks torn from the pages of history. The frankincense and myrrh gifted by two of the three Wise Men were most likely sourced from the forests of southern Oman.
Two millennia later, if you blur your eyes just a little - actually the Nizwa dust will do it for you - the scene still seems undeniably biblical.
Bearded men wear the signature Omani combination of a flowing white dishdasha and elaborately embroidered kumma hat, and Bedouin women with hands prescribed with henna look after their families' four-legged purchases and two-legged kids.
Sellers parade their animals around a big circle forming the bustling heart of the market. Every inch of the goat is checked. Teeth are obviously very important, and sturdy back legs must count for a lot.
The scene segues a few metres away to the labyrinth of the Nizwa souk; a twisting and turning marketplace selling everything from vintage Lee Enfield rifles to fresh rose petals, saffron and cardamom.
A tiny stall selling mobile phone covers provides a modern twist, and a telltale Nokia ringtone finally breaks the illusion of earlier times.
The contrast is a handy metaphor for the surprising mix of traditional and modern that defines Oman. Only a few hours earlier we had been picked up at The Chedi, a beachside boutique resort in the Omani capital of Muscat by guide Hilal, a wise-cracking half-Swahili local with just a tinge of an English accent (`I've got friends in Milton Keynes, a'right?').
As we leave the city, Muscat stretches out with rows of whitewashed villas that manage to look impossibly modern and charmingly traditional at the same time.
By Sultan's decree it's illegal to paint any buildings in bright colours, and it's the kind of cool vibe likely to show up in Freedom Furniture's next catalogue. Hilal is the same seamless mix of old and new. Dressed in traditional dishdasha, he juggles a cellphone and MP3 player while pushing our Toyota Landcruiser to 160 km per hour on Muscat's wide motorways.
Gas is around 60 cents per litre so the roads are studded with flash European SUVs and air-conditioned Japanese 4WDs. And unlike similar vehicles in Auckland, these ones will be taken off road into the mountains and the desert.
Back in Nizwa the goat market is coming to an end and it's time to put the Landcruiser to its real purpose. Goats are being readied for journeys to mountain villages via a wide variety of transport.
A dignified-looking older billy goat gazes with annoyance from the back seat of a taxi, and a younger goat is strapped legs akimbo to the handlebars of a motorbike.
Out of Nizwa the highway becomes an increasingly narrow, winding and unsealed road at exactly the same time the drop to the valley below escalates. Welcome to the Arabian peninsula's big sky country. Hilal pushes the Landcruiser up a tortuous series of switchbacks to the 3000 metre summit of Jebel Shams, Arabia's highest peak.
Falling away off the windswept ridge is Wadi Ghul, Oman's own "Grand Canyon" (the world's second biggest canyon after the real Grand Canyon, but without the security of walkways or safety barriers; just a vertiginous 2000 metre drop and a gaggle of young boys who emerge from nearby villages to sell carpets). Deep in the valley other tiny villages strive to be seen, some can only be accessed by foot on winding pathways barely wide enough for two goats. I hunker down in the surprisingly chilly wind of an Arabian winter and admire a view that's spectacular and unexpected in equal measure. And definitely no thoughts of silly walks enter my mind.
IF YOU GO
The easiest route to Oman is via Dubai with Emirates. Dubai is becoming a popular stopover for Europe-bound New Zealanders, and Oman is just one hour's flight away. A guided 4WD tour is a great Oman introduction, taking in overnight camping in the Wahiba Sands giant dunes, pristine beaches, and of course, the Nizwa Friday goat market.
Start and end your stay in Oman's capital city Muscat, at boutique style The Chedi, or the new Shangri-La Barr Al Jissah Resort, which features three hotels on an isolated beach.
Further information: See houseoftravel.co.nz.
Brett Atkinson travelled to Oman courtesy of the House of Travel.