Getting a family of five across the US by car is no mean feat, finds Danielle Murray.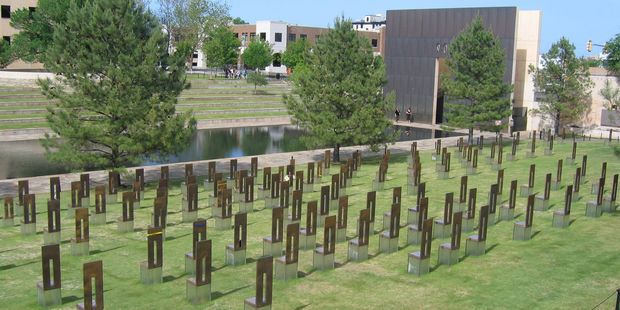 Of course, it wasn't my idea. There's a reason why people on the West Coast of North America don't drive to the East Coast. As a Canadian, I knew this. It's too far. And we had only 21 days.
But my Kiwi husband thought it would be more fun than flying and "think of all the things we could see on the way. The kids would love it." Reluctantly, I agreed.
And so began planning of the 11,200km trek across America and back in just three weeks. We went online, got some maps and plotted a route.
As suspected, it was a tight schedule. If we didn't cover at least 650km per day, we wouldn't make it. Road works, flat tyres, traffic jams, motion sickness and brawling children were not permitted. I was beginning to worry.
"Get portable DVD players," friends advised. "And iPods for each." Our brood are spoiled enough, so on their behalf we abstained.
But what we did do was go big on the rental car. If the kids couldn't actually touch, we figured, it would be harder for them to knock each other around ...
or off. And as we set eyes on our comfy and commodious seven-seater Dodge Grand Caravan at Los Angeles, we reckoned we were all set. No problems. East Coast here we come.
We should have known better. With three "tweens" in tow, something was bound to go wrong. We just didn't expect it on Day One.
No sooner were we on the motorway that our youngest, Bryn, complained of an earache. At lunchtime, he'd been advised to stop whinging. By late afternoon, it was obvious ignoring him would not make it go away.
We stopped an hour short of our target destination in Flagstaff, Arizona and set about finding a doctor.
"It's going to be a long night," I thought.
But no. Just a few blocks from our motel was a small after-hours clinic and across the street was an all night pharmacy. The whole process took us less than an hour and it didn't cost the farm.
To my husband's delight, also close by was a microbrewery and restaurant. Things could be worse, I thought to myself, as we settled into bed.
This was our introduction to the joys of American motels. There are plenty of them. And then there's the perks, like free breakfasts. Some better than others, it's true, but as long as sugar was on offer the kids didn't much care.
Crucially, many were also able to meet our essential requirement, an indoor pool in which to unwind after long days cooped up in the car.
The not so great thing about the motels is that while "kids stay free" most rooms only allow four people. You are more than welcome to bring along the family dog. But have more than two children and you'll have to leave some behind. Or get an extra room.
The American dollar may be low but it's not that low and we had to stay within budget. Enter a swish little sleeping bag, nice fluffy pillow and an undercover operation to slip an extra body into our room.
The kids, we discovered, share a penchant for espionage and fought every night as to whose turn it was to "infiltrate" the motel undiscovered. They also fought as to who got to sleep on the floor.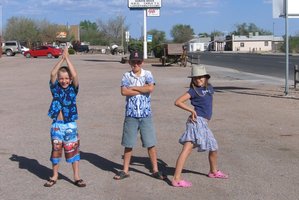 Anyway, the next morning Bryn was back to normal and we were on the road at dawn, determined to make up for lost time. We failed.
Once again, blame it on Bryn, but this time for different reasons. We must, he advised, keep to the Mother Road.
And why would an eight-year-old small-town New Zealand boy care about Route 66? Much less know anything about it?
Because of last year's Disney film Cars, that's why. The animated movie, based on many of the people and places along the old highway, is his favourite.
"How could we just whiz by," he asked, "and not take it all in?"
In a rare moment of solidarity, his siblings agreed.
Okay, so it was their holiday too, I had to remind myself. But suddenly, what could have been a quick drive on the interstate was now a slow ramble along a narrow two-lane side road at speeds well below the limit.
Route 66 was the country's first completely paved highway, an almost 4000km stretch from Chicago to Los Angeles, also known as "The Main Street of America" because it linked hundreds of small rural communities along the way.
Traffic teemed and gave rise to all sorts of roadside establishments and attractions: Tee Pee motels, drive-through diners, the world's first McDonald's, tacky tourist shops, reptile parks, barbed wire museums, Cadillacs buried face down in a farm paddock, and so on.
But things began to go sour when construction began on a new modern four-lane highway in the 1950s.
Within 20 years, nearly all of the original Route 66 had been bypassed and in 1985 the highway was decommissioned. And just like the economically depressed and lonely town of Radiator Springs in Cars the people stopped coming and the businesses went bust.
Had the kids not seen the movie, none of us would have known of the highway's significance. Or lived it. But we did and we all enjoyed it.
Still, I couldn't ignore the fact we were behind schedule. And with so many things to see it would not be easy to catch up.
For instance, Oklahoma City was not part of the plan. But it was on the way and, though the 1995 bombing happened before any of the children were born, we decided the memorial was worth a stop.
Where the Murrah Federal Building once stood is now a field of empty bronze and stone chairs: one for each of the 168 people lost.
Among those who died were 19 children from the daycare centre and my daughter Julie noticed their chairs were just a little smaller. And oddly, even though she and older brother Jack had been arguing just a few minutes before, once on site they walked together almost hand in hand, quietly taking it all in. Watching them, it struck me not only had my children grown in size but maturity.
Spending long hours boxed in together also teaches you things about your children. Like, no matter how big the box, they will fight. And talk. A lot. About anything. So you learn about their friends. You learn what music they like and what they don't. And so on.
Luckily the Grand Caravan proved to be as hospitable as we had hoped.
There was plenty of space for all and lots of room for the stuff we brought with us plus the stuff we managed to accumulate along the way.
Like food. As when flying, eating becomes a distraction, and in the Fast Food Nation it can also be a whole lot of fun.
Though we tried to stick to a healthy diet and stock up on lunch at the supermarket (baguette, tomatoes, cold meats), it wasn't always possible. The goodies just kept coming.
Sometimes it was just easier to have McDonald's, especially as it offers a family friendly dollar menu - hamburgers, cheeseburgers, double cheeseburgers, chicken burgers, fries, free refill drinks, and so on, all for just US$1 ($1.30) - and the kids never tired of it.
Dinners were taken either in our motel room (again a baguette but this time with hot roast chicken) or some steakhouse along the way.
The one time we broke with tradition was in Lexington, Kentucky, where I insisted we all have KFC for dinner. And it was the best darn Kentucky Fried I've ever had.
After dinner, we always made time for a swim.
We also made sure that, despite the big rush, there was always time for a bit of rugby at the many rest stops.
And every day had something special on the agenda.
While my daughter preferred the Wal-Mart experience, the boys really enjoyed a tour of the Corvette Assembly Plant in Bowling Green, and because my husband is into caving we spent hours walking through Mammoth Caves, the longest known cave in the world.
I got my history fix at Graceland and Gettysburg, site of the deadliest battle in the American Civil War, where Abraham Lincoln gave his famous address.
On our return leg we diverted to places like Niagara Falls, Wisconsin Dells which calls itself the "indoor water park capital of the world", the Badlands, Mount Rushmore and Yellowstone National Park.
At Yellowstone, we were lucky enough to see grizzlies, elk, wolves, coyotes, buffalos and even a moose. In my 30 years in Canada, I had never, not once, come across a moose.
The only part about Yellowstone I didn't like was when Bryn fell while running on the boardwalk near Old Faithful and cut his knee so deeply he needed stitches.
Once again we were fortunate there was a clinic nearby and we were in and out in less than half an hour, possibly because the staff were alerted to the in-coming wounded by his blood-curdling screams.
After Yellowstone, on the drive back to California, things got a bit boring.
Maybe it was because 25 days in a car were starting to take their toll. Or perhaps because the holiday was almost over, and as much as we didn't want to go home, we really wanted to go home.
But, all in all, it was a pretty good run. We all had a great time and the kids behaved better than expected.
Mind you, they live on a farm in the middle of nowhere and rarely get out. A trip to the supermarket tends to elicit the same reaction as a visit to Disneyland. In other words it doesn't take much to make them happy.
And would we do it again?
Absolutely. But next time, we're leaving Bryn behind.
CHECKLIST
Rental cars: We opted for British-based Gold Medal Travel which offers affordable car and van rentals from more than 200 locations in North America. Fully inclusive rentals include unlimited mileage, loss damage waiver, local and state/provincial taxes, homeland security fees, supplemental facility charges, airport surcharges and the ability to take the car over the Canadian or US border. Or contact Sheree Beaton at sbt@goldmedal.co.uk.
Getting there: Want to know how to get from A to B in North America? Take a look at freetrip.com. Just type in where you want to go and from where, and the site will provide a personalised itinerary plus total mileage and travel time. It also gives information on lodging, toll charges, petrol stops and national parks along the way.
HIGHLIGHTS
• The Oklahoma City National Memorial is open 24 hours a day, 365 days a year.
• Graceland is on Elvis Presley Blvd near Memphis International Airport in Memphis, Tennessee. Admission is free to the Meditation Garden (where the grave sites of Elvis and members of his family are located), open 7.30am-8.30am.
• Gettysburg National Military Park is in Adams County, Pennsylvania, a two-hour drive from Washington, DC or Baltimore, Maryland. It is best visited by private vehicle or bus, and entry is free. Licensed battlefield guides can be reserved ahead of time or on a first-;come, first-served basis.
• Corvette offers 1- 2-hour tours to its Bowling Green Assembly Plant three times daily. The plant is in Kentucky, off Exit 28 on I-65, and is approximately 60km north of Nashville, Tennessee.
• Mammoth Caves and Mammoth Cave National Park are at Cave City, Kentucky. Cave tours are available.
• Yellowstone National Park, America's first national park, is home to masses of wildlife and the famous Old Faithful geyser. Lodging is available on site but it is best to book early.
Further information: Route 66: Traveler's Guide and Roadside Companion, Route 66: The Mother Road and Route 66: The Lonely Planet Road Trip are available at Whitcoulls.
See also: Route66.com and HistoricRoute66.com.