Jim Eagles finds the ghosts of early women's lib. at Salisbury Cathedral.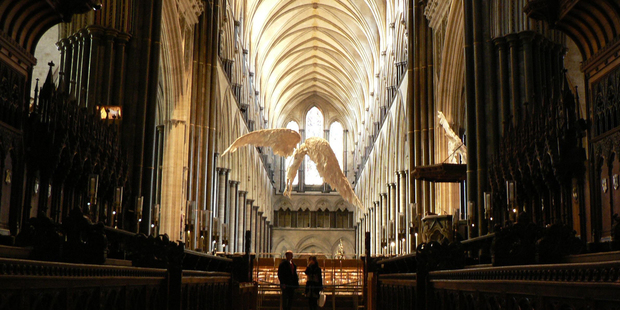 The magnificent cathedral in Salisbury isn't just notable for having the tallest spire in England. It's also where you can see some 800-year-old stirrings of the women's liberation movement.
The beautiful round chapter house where monks once held sway now holds the best preserved original copy of the Magna Carta which, as well as laying down a few basic rights for mankind also decreed - although not many people remember it these days - that widows could not be forced to remarry.
Maureen Ingrams, our guide through the cathedral and a widow herself, was very enthusiastic about this piece of liberation.
She pointed out disapprovingly the many ornate tombs of medieval nobles where the husband's effigy is higher than the wife's.
But she was also able to draw favourable attention to the tomb of Lady Catherine Grey - sister of Lady Jane Grey, who for nine days was married to Henry VIII - in which her brightly painted effigy is higher than that of her husband, Edward Seymour.
That probably reflects the fact that Lady Catherine was a woman who knew her own mind, even defying the formidable Elizabeth I to marry Seymour, and was imprisoned in the Tower of London for her temerity.
I couldn't help wondering if it was thanks to her continuing influence that in 1991, nearly 500 years after her death, Salisbury became the first cathedral to have a girls' choir.
However, the starring role in my women's lib perspective on the cathedral must go to the tomb of William Longespee, bastard son of Henry II, whose widow was one of the first to benefit from the Magna Carta's enlightened attitude to widows.
As Earl of Salisbury, Longespee was present when the cathedral's foundation stone was laid in 1220 and, although he did not live to see the building completed in 1258, he was the first person buried there.
Today his tomb, with his stone effigy on a painted wooden base, lies along the edge of the majestic nave.
Many powerful men wooed his widow, Lady Ela, who had a great fortune. But she did not wish to marry again - possibly because she had already borne eight children - and thanks to the charter signed in 1215 by her husband's half-brother King John she did not have to. She went on to found Lacock Abbey and become its abbess.
But the story doesn't end there, because rumours persisted that Longespee had been poisoned by one of the men eager to wed his wife.
When the cathedral was tidied up by architect James Wyatt in the 1790s and Longespee's tomb was moved, the opportunity was taken to examine his body. Inside the skull was a dead rat and that, when tested, was found to be full of arsenic.
And that's the thing about places like Salisbury Cathedral. Not only are they beautiful, impressive and moving to visit, they are full of wonderful stories.
For instance, if you're lucky enough to be at the cathedral when a service takes place - a beautiful experience regardless of whether or not you are religious - you might hear the choir sing that grand old hymn The God of Love My Shepherd Is. On the west front of the cathedral you'll find four new statues have joined the 60 already there, some dating from medieval times. One of those statues is of George Herbert - who wrote that hymn as well as many other hymns and poems - his efforts having been been acknowledged 300 years after his death by the Friends of Salisbury Cathedral.
The chapter house where the Magna Carta is stored has a 13th century stone frieze of bible stories that include Adam and Eve, Noah, the Tower of Babel, and Abraham, Isaac and Jacob.
The figure that interested me the most was above the seat once occupied by the abbot. It shows a head looking both ways, symbolising the concept that he should hear both sides of any argument.
The cathedral is celebrated for having Britain's tallest - and in my opinion the most elegant - spire at 123m. Less well-known is that the spire now leans 70cm to the south and 44cm to the west despite remedial work intended to hold it steady. In the nave is Europe's oldest working clock, built in 1386, which is said to have ticked more than five million times.
These days it doesn't tell the time because it has no face and the bell with which it once chimed the hour has been disconnected because - said the duty chaplain, who broke the rules by nipping over the barricade to heave on a pulley rope to show how the clock operates - "it made too much noise and disturbed the tranquillity of the cathedral".
Salisbury Cathedral has the oldest and largest set of quire (choir) stalls in Britain, made in 1236 with oak given by Henry III.
Examine them closely and you'll find that many in the front row are carved with musical angels, grotesque figures and strange animals added during restoration work in the late 19th century.
The Salisbury Cathedral close is the largest close in Britain, occupying more than 30ha, with beautiful lawns and magnificent medieval buildings many of which are open to the public
One is Mompesson House - for many years the residence of the Bishops of Salisbury but now owned by the National Trust - which featured in 1995 film Sense and Sensibility. The Wardrobe - apparently so called because bishops used to store their vestments there - these days houses the museum of the Duke of Edinburgh`s Royal Regiment.
Arundells, home of former Prime Minister Sir Edward Heath, was left by him to the nation to be preserved as a museum of his life.
The Medieval Hall, a 13th-century banquet hall, offers a history of medieval Salisbury in sound and pictures.
In the King's House you'll find the Salisbury and South Wiltshire Museum. Displays include some incredible ancient jewellery, including the famous Warminster Jewel and the glittering Monkton Deverill gold torc (neck ring).
From time to time visitors get the chance to inspect the magnificent Bishop's Palace, dating from the 13th century, which in 1689 played a strange but crucial role in English history.
The cathedral website explains: "King James II was about to join his army at Warminster, to fight William of Orange, who had landed with an army at Lyme Bay, when he had a great nosebleed which kept him in his bed at the palace for three days. In that period the King's generals had changed sides and James II was forced to return to London and later flee to exile on the Continent."
I'm sure Lady Catherine would have been made of sterner stuff. She wouldn't have let a nosebleed deter her from claiming what she wanted.
CHECKLIST
Getting there: Emirates flies from Auckland three times a day to Dubai, and from Dubai to several British airports. Call 0508 364 728.
Further information: See salisburycathedral.org.uk, nationaltrust.org.uk and visitbritain.com.
Jim Eagles visited Salisbury as guest of Visit Britain and Emirates.