A smiling goddess was just one of the highlights when Jim Eagles rubbed shoulders with the holy people in Nepal.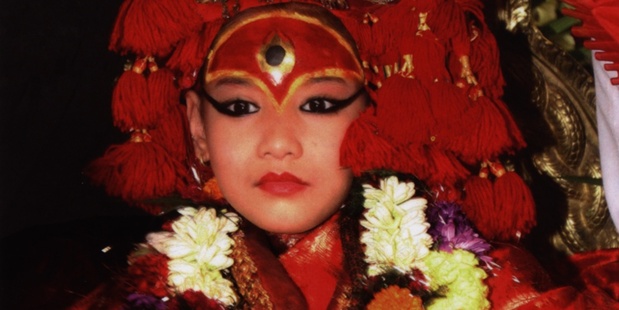 Suddenly, the face of the living goddess Kumari Devi appeared in an upper window of her temple - the Kumari Bahal in the heart of Kathmandu - and smiled down at me.
I've never been smiled at by a goddess before, and I wasn't quite sure of the proper response, but she had such a pretty, happy, childlike face that I couldn't help smiling back.
Initially, the goddess seemed slightly disconcerted, but then she seemed to like the idea and gave an even broader smile, before withdrawing to the privacy of her rooms in the top floor of the temple.
It's a fairly unusual experience to see a living deity, let alone to exchange smiles with one, but it typifies the Nepalese attitude to religion.
They are active in their beliefs - they'd need to be because there are some 330 million deities for just 27 million people _ and all the temples, stupas and shrines I visited were buzzing with worshippers.
But they also seem relaxed about sharing their places of worship with outsiders, so you can walk around, looking, learning and taking photos, in a way that's not often possible.
The only restriction to seeing the Kumari is that you cannot take photos of her.
When it was time for her appearance I was busy photographing the courtyard of her temple _ which is allowed _ and an officious old chap watching from another upstairs window called out to "put cameras away". I obeyed and next minute her face appeared at the window.
Strangely, a group of Australians who visited the Kumari Bahal later that day, reckoned she had "a real attitude problem" and "came out chewing gum and looking as though she'd had her cartoon-viewing interrupted".
I like to think that shows the goddess has divinely good taste and prefers New Zealanders, but maybe any moodiness just reflects the fact that she is only 9.
There are various stories of how the Kumari came to live in Kathmandu but most involve a Nepalese king offending a goddess and, to make amends, agreeing to create a shrine where she could live and be worshipped in human form.
Each incarnation is carefully selected from girls as young as 4 from a particular caste, on the basis of horoscopes, a list of 32 physical characteristics - among other things they're all pretty - ability to pick items used by her predecessor and sitting calmly through a noisy ordeal.
The chosen one retains her divinity until she has her first period, or some other major loss of blood, at which time she resumes normal human existence with the aid of a fat dowry from the state.
The temple where she reigns was built in 1757 and is covered with exquisite wood carving. In fact, the courtyard where she gives her audiences is so fascinating I was still exploring when the time came for the next one, and the officious chap up top shouted something to the effect that I should put some money in the donation box and push off.
I did as I was told, of course - you never want to risk making a deity angry - then found I could buy a photo of Kumari from a sari-clad woman outside for just NR20 (50c).
And that's another thing about Nepalese holy folk: not only are they accessible they're also very aware of commercial opportunities.
Apparently, the present Kumari went on strike in 1995, refusing to make public appearances, until her demands were met for a cut of the NR200 ($5) fee tourists are charged to enter Durbar Square, where many of Kathmandu's oldest buildings are clustered.
The area is also full of bearded, weather-beaten holy men with painted faces and wearing traditional robes, who are delighted to pose for pictures - and collect a modelling fee.
One old chap, with a magnificent white beard and bright red robes, spotted me lining up a photo of a statue outside one of the many temples to Shiva and immediately jumped in to liven up the shot, posing like the old pro he was, then equally professionally pocketing the fee within his robes.
And on top of that, many of the temple surrounds serve as specialist shopping centres, in some cases for the garlands of golden flowers given to the gods as offerings, as well as for piles of pottery, baskets of vegetables, assorted ironmongery and, in one case, a selection of barbers who give new meaning to the idea of a number one cut by shaving their customers' heads with cut-throat razors.
That mixture of a couple of dozen ancient shrines, throngs of worshippers, entrepreneurial holy men, eager traders and bustling shoppers - plus the adjoining Thamel Market area with its countless tiny shops full of gods and mandalas, pashminas and jewellery - makes this a fascinating area to visit.
Among the highlights were: The Kala Bhairab, a huge black stone image of the god Shiva at his most ferocious, waving six arms, trampling a corpse and garlanded with skulls. Tradition has it that anyone telling a lie in front of the figure will die, hence the local police station is across the road, allowing suspects to be taken for a particularly scary form of interrogation.
A group of youngsters using Kathesimbhu Stupa, a shrine to Hariti, the goddess of smallpox - someone you'd think would merit the greatest respect - as the goal for a game of what seemed a bit like Aussie Rules.
The statue of Hanuman, the monkey god, at the entrance to the Hanuman Dhoka, the old royal palace, now a museum, so plastered with flowers and red paste that his face is completely obscured. One of a group of women busy applying a new layer explained - I think - that the covering was just as well because Hanuman was a very jealous fellow and if he was able to see women walking past with their lovers he might well cause them harm.
The tiny Ashok Binayak, a shrine to the elephant-headed god Ganesh, which despite its unprepossessing size and position, has great significance for Hindus and attracts a large number of worshippers. The shrine should also be of interest to tourists because of the belief that a visit will ensure safety while travelling.
The 12th-century Kasthamandap, or wooden temple, from which Kathmandu got its name, said to have been built with the timber of a single tree. It was hidden behind a wooden fence while being restored during my visit but a self-appointed guide took great pleasure in pointing over the fence to "very interesting erotic carvings", a service for which he then demanded a tip.
The Wasya Dyah shrine, a lump of wood dedicated to the toothache god, covered with coins nailed there by sufferers hoping for relief. Just in case it doesn't work, the adjacent street is full of dentists who advertise their services with pictures of grinning teeth.
There's far more to see than I have space to describe. I spent almost a whole day wandering around - so engrossed I forgot about lunch - and still didn't see everything.
On top of that, there are dozens more sites worth seeing in the wider Kathmandu Valley. Three of the most fascinating are:
The Bhodanath, a huge Buddhist stupa built 1500 years ago, which is also a centre for the refugee Tibetan community. Apart from the stupa and several adjacent gompas, or shrines, it's worth visiting just to watch the endless parade of worshippers walking clockwise around its base.
The Swayambhunath, better known as the monkey temple, which provides a home for hordes of greedy monkeys, has a remarkable array of Buddhist sculptures and offers superb views over the city.
The Pashupatinath Temple on the banks of the Bagmati River, the most important Hindu shrine in Nepal, and one of the most significant shrines to Shiva anywhere. The temple is interesting enough but what really fascinated me was the sight of cremations taking place on the riverside ghats. The ashes afterwards were shoved into the already filthy waters.
At all these shrines, but especially Pashupatinath, the engaging mix of religion and commercialism thrives.
Apparently, a full funeral at the temple costs $3000, making it, according to my guide, "too expensive for many ordinary families".
The approaches are thronged with stalls and wandering salesmen offering all manner of goods, musical instruments and strings of beads.
And I've never seen so many holy men in one place, although the guides commented, somewhat cynically as they touted for their photos to be taken, "only the monkeys are genuine".
One star turn was an old chap who had grown his moustaches about half a metre long on either side and posed happily holding the end at arm's length.
But I liked the cluster of five holy men - three dusted with white powder, two dark brown, all with long hair and beards and all with red and yellow markings on their foreheads - who offered a group deal of NR50 (about $1) for the lot.
Where else in the world could you see a living goddess free and get five holy men to pose for photos for a buck?
Jim Eagles visited Nepal as guest of World Expeditions and Cathay Pacific.