Anya Kussler explores the ancient world of the pyramids.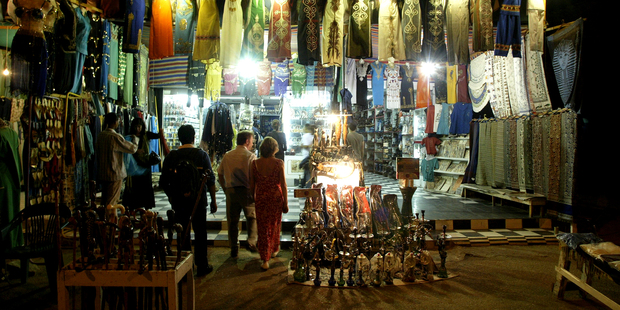 When visiting Egypt, there are ten things you absolutely must do.
1. See the pyramids
Going to Egypt without visiting the pyramids is like going to Paris and not seeing the Eiffel Tower. Built more than 4500 years ago as a tomb for the pharaoh Khufu and his clan, the Great Pyramid of Giza, its two siblings and various other adjacent temples and tombs are regally guarded over by the majestic Sphinx. The complex is the only one of the seven wonders of the ancient world that still exists. Standing a massive 230m tall on the outskirts of Cairo, it still boggles minds as to how manpower alone could have created this massive, almost perfectly symmetrical structure.
The best time to visit is early morning, before tourists arrive in droves, and before the sun becomes heat-stroke material (if you visit between June and August). By day, explore the plateau by foot, or atop a camel or horse; by night, watch the pyramids being hulled in a kaleidoscope of light and sound. The most authentic way to watch this magical performance is from the village next door - just ask the locals nicely if you can use the rooftop of their home as a viewing platform - and don't forget to thank them for their generosity with a gift of flowers or sweets.
2. Learn to haggle
Egyptians are natural barterers. They will charm you in a remarkable array of foreign languages (often without a hint of an accent) in order to sell you their wares - perfumes, papyrus, jewellery, rugs, scarves and spices. As a result, even the least gullible of tourists can find themselves being relieved of exorbitant amounts of cash. One way of avoiding this is to learn the rules of haggling - and have fun with it.
The basic barter rules are: 1. Determine your starting price (a third of the seller's opening bid is usually a good gauge); 2. Be patient, and never negotiate without a smile on your face; 3. Learn to say no (la shukran) if you're not interested; 4. Once you are invited to share a cup of shai (strong minted tea), negotiations are seriously under way; 5. Be prepared to walk away - the moment you do, you'll often get the price you're happy to pay.
Great places to indulge in a haggle are the Aswan bazaars and the Khan-Al-Khalili souk in Cairo.
3. Have an ahwa
Ahwa is the Middle Eastern-style coffee that's very popular throughout Egypt. This thick, strong brew comes in varying degrees of sweetness, and the most popular version is the moderately sweetened mazboot. Men traditionally drink Ahwa, but nowadays it's not uncommon to see women sipping a cup. Ahwa is delicious served with a dried date on the side, and drinking it is typically accompanied by a game of tawla (backgammon), heated political debate or a relaxing sheesha, the traditional water pipe smoked with fruit- or spice-flavoured tobacco.
4. Check out the mummies
The mummification process fascinates adults and children alike, and no civilisation mastered the art of preserving human bodies like the Egyptians. In the Egyptian Museum's Royal Mummy Room in Cairo, 11 of their best-preserved efforts are on display, many of them thousands of years old yet with toenails, hair and tongues intact.
Also worth a nosey is the Animal Mummy Room (the Egyptians believed that all living creatures were worthy of being farewelled into the afterlife). The piece de resistance here is a 4m crocodile, with its tiny mummified baby croc by its side. Other animal exhibits include a dog still covered in fur, snakes, cats and a fish the size of a small boat.
5. Visit a mosque
Cairo is not called the city of 1000 minarets just for fun - there is an abundance of mosques in this city, dating from the earliest periods of Islam up to modern varieties, and their marvellous, intricate designs are well worth a look. Most mosques that allow visitors are in Islamic Cairo, although the oldest of them all, the Amr Ibn El-Aas Mosque, is located in Coptic or Old Cairo (the Christian part of the city). When visiting a mosque, boys and girls, remember to cover up your knees, shoulders and arms - and take your shoes off before you enter.
6. Dodge the traffic
Crossing a road in Egypt's two major cities - Cairo (16 million people) and Alexandria (five million) - is every bit as safe as doing a somersault on a motorbike over a dungeon teeming with crocodiles. Supposedly, they have a three-lane system, but you're more likely to have at least five cars fighting for lane space, hooting ferociously, veering dangerously, running red traffic lights and putting dings into each other at high speed.
The only way to cross a road is by galloping across the moment you spy a gap or hoping a policeman is at hand to slow motorists down. It's lethal, and adrenaline junkies will love it.
7. Cruise the Nile
A trip down the world's longest river will allow you to catch a glimpse of the agricultural life, which is concentrated along its lush banks. The Nile will also take you to some of Egypt's most fascinating ancient sites, including the Valley of the Kings (see below) across from Luxor, and Kom Ombo near Aswan. The latter is the only Egyptian temple dedicated to more than one god - the crocodile god Sobek and the falcon god Horus.
If you are the adventurous type and/or on a tight budget, consider travelling by local felucca boat. Those who like their spot of luxury, own bathroom and privacy (still at a very affordable rate) are better off booking a trip on one of the larger cruise boats.
8. Go to the Valley of the Kings
Riding a donkey, the main mode of transport for many Egyptians in the less urban areas, is a lot more comfortable than you might anticipate. From Luxor's West Bank, trot along streams and native villages and into the vast, barren canyon that houses around 62 well-maintained, hieroglyph-covered tombs, where pharaohs and other folk began their journeys into the afterlife.
If you're not keen on donkeys, you might fancy a hot air balloon instead - and a bird's-eye, sunrise view of the Valley of the Kings is something you'll never forget.
9. Eat sweets
Egyptians have a notorious hankering for sinfully sweet pastries, and you're likely to develop one, too, once you sample the goods. One popular treat is baklava, filo-thin pastry filled with nuts, pistachios and lathered in syrup. Another is kunafa, a Ramadan favourite made from vermicelli-like batter atop a cream or sweet cheese base, or umm ali, layers of pastry filled with raisins and nuts, then soaked in milk and ice cream before being baked in the oven. Peckish yet?
10. Visit the desert
If you have time on your hands and want to experience the ultimate in desolate, wide-open spaces, don't leave Egypt without visiting the Western Desert. Also known as the Libyan Desert, this 2.8 million sq m land (or sand) mass stretches from the banks of the Nile well into Libya. The only habitable parts of this arid land are five isolated but highly fertile oases - Kharga, Dakhla, Farafra, Bahariyya and Siwa.
Get a local guide to accompany you when venturing into the desert - otherwise you might never find your way out. The best time to visit this part of the world is from October through March, as summer temperatures in the Western Desert soar well into the 50s (Celsius).