Jim Eagles delights in life on the edge of a Himalayan precipice and gets the cold shoulder from a couple of locals.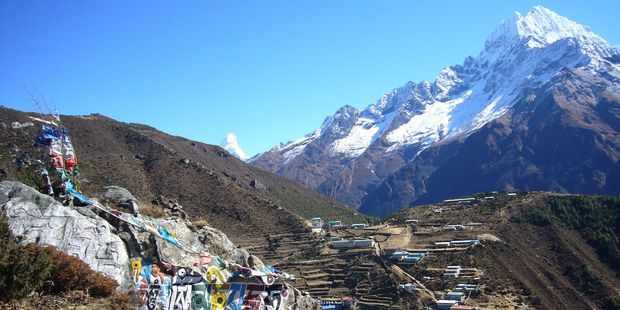 Down in the mountain bowl where the Sherpa capital of Namche Bazaar huddles from the icy winds of the Himalayas, the Maoist rebels were taking advantage of their peace deal with the Government to put on a People's Music Festival.
Fiery speeches were occasionally broken by crackly music and knife-wielding dancers.
High above, in the front yard of the Sherwi Kangaba Lodge, the soldiers of the Nepalese Army were providing a different sort of entertainment by hand-winching a crashed Russian helicopter upright so it could be carried away for repairs.
And on all sides the towering mountain peaks looked down with indifference at the peculiar behaviour of humans.
Namche Bazaar, 3440m up in the Himalayas, has always been a marketplace of goods, customs, beliefs and nationalities, and it must have seen many strange things in its time.
Its original prosperity was due to its position astride the trade route between Tibet and Nepal, through the 5800m-high Nangpa La pass, and even today many of the traders in its market are Tibetans.
These days, with the Chinese Government tightening its control and making cross-border trade more difficult, the town's economy depends on international trekkers like me passing through on the Everest Trail.
Political unrest in Nepal has made trekkers a bit thin on the ground lately - though the peace deal should change that - but even with its narrow lanes and scruffy bars largely empty it's still an amazing place to visit.
A couple of times during our long climb through the foothills of the Himalayas we saw Namche Bazaar in the distance, nestling improbably in a small valley high in the mountains, flanked by snow-capped peaks on three sides with a deep ravine on the fourth.
It proved even more extraordinary in reality. The stone houses of its 3000 residents - many also serving as guesthouses - run in a horseshoe around the steep, terraced hillsides, the small area of flat land at the bottom left free for its famous open air-market and occasional festivities.
We were staying at the top end of town in the Sherwi Kangaba Lodge, which meant we instantly became acquainted with the exhausting realities of life on the side of a mountain, where strolling back to your hotel after a quiet beer means puffing up 1500 stone steps while keeping a wary eye out for wandering yaks.
But it was well worth the climb, because we discovered that next door to our lodge was a Nepalese Army Base, its barbed-wire fences, trenches and sandbagged emplacements enclosing not merely a cluster of army huts but also the headquarters of the Sagarmatha (the Nepalese name for Everest) National Park and a viewing point from which most trekkers get their first glimpse of the mighty mountain.
What's more, outside the entrance to the army base was a crashed helicopter, sitting upright minus its engine. A few metres away in the front yard of our lodge was a second crashed helicopter lying on its side with its engine still in place. Both were being worked on by uniformed troops.
Apparently the first helicopter crashed because it was overloaded with ammunition. And the second crashed when it tried to lift the first one back to Kathmandu for repairs. Wonderful.
Adding spice to the occasion, the town was plastered with posters for the people's music festival, the English-language version proclaiming, "Look! the Red Men are advancing" and promising an opera showing "new cultural reflection, reality and glimpse of 10 years People's War" plus "political comedy pinch criticism of the system ridiculously".
To prevent any clashes between troops and red-scarved Maoists - who before the peace deal had been shooting at each other - the soldiers were apparently ordered to stay out of town while the festival was on (though they turned out in force the next day, presumably to make a point, wandering the streets with their guns on display).
To pass the time a few dozen of them assembled in the yard of our lodge and took turns hauling on a pump-handled winch until, amid huge cheers, the toppled helicopter was pulled upright. A few days later we saw one of the crashed machines being carried by helicopter through the mountains and later, when we returned to Kathmandu Airport, spotted the two wrecks outside a workshop.
To be honest, this was even better entertainment than the festival, even though the Maoist organisers made a big effort to make us welcome, from time to time breaking into English to "embrace foreign guests and music lovers".
It seemed to consist mainly of lengthy speeches, which the entertainment-starved crowd of locals received with polite attention.
The speeches were interspersed by folk songs, dances by half-a-dozen young men and women wearing camouflage overalls and wielding the traditional curved kukhri knives. The promised opera was a dramatic battle story including recorded machine gun noises.
I have to confess that after a while I wandered off to the market, which seemed to consist largely of piles of brightly coloured clothes spread on plastic sheets.
Most of the traders seemed to have "Tibetan beads" in their pockets which they offered to passing foreigners. From a tourist's perspective, there was more interesting shopping in the stalls lining the narrow lanes where you could buy your own kukhri, and all sorts of handmade clothes, carvings and jewellery.
But the highlight for me was just being able to wander the town's steep paths, exploring the Tibetan-style monastery, watching the passing parade of porters, yaks, mountain folk and trekkers on the main road to Everest; walking round the many mani rocks painted with Buddhist prayers and symbols, and drinking in the incredible mountain scenery.
Coincidentally, for much of my wander I found myself following two ancient Sherpa women in traditional dress, who were killing time by strolling in the sun, from time to time pausing to sit on a rock, exchanging gossip, and playing with their prayerbeads while gazing down the precipice on whose edge the town sits, or spinning the prayer wheels at the monastery.
Eventually I asked, through sign language, if I could photograph them - but they didn't like that idea at all and walked away with much firm headshaking and suspicious glances back to make sure I wasn't sneaking a picture regardless. (I wasn't.)
Interesting, I thought, that these two old women should be so fiercely protective of their privacy while the Maoists and soldiers, who might have been expected to be wary of having their photographs taken, seemed to almost welcome it.
CHECKLIST
Getting there: Cathay Pacific flies regularly to Delhi, via Hong Kong, and on to Kathmandu with Jet Airways. Travel agents have more details.
Getting around: World Expeditions' most popular introduction to walking in the Everest region is the 15-day Sherpa Everest Trek. This includes time in Kathmandu as well as trekking to famous Buddhist monasteries, visiting some of Sir Edmund Hillary's Himalayan Trust projects in the Sherpa villages of Khunde and Khumjung, and magnificent views of some of the world's highest peaks. Trips depart regularly from October to May.
Jim Eagles visited Nepal as guest of World Expeditions and Cathay Pacific.