The Taj Mahal casts its spell on Jim Eagles, who worries about its future.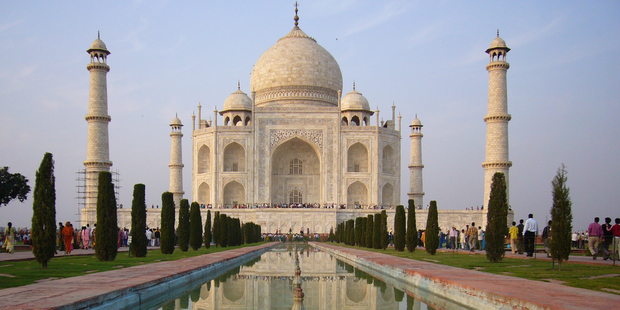 As you gaze with awe at the wonder of the Taj Mahal, it's good to know the Indian authorities are making a serious effort to preserve its classic beauty from the ravages of old age, mass tourism and environmental degradation.
This is, after all, one of the seven wonders of the world, a monument to love which has enraptured visitors for nearly 500 years, and certainly the most beautiful structure I have ever seen.
Yet, tragically, it is not entirely certain that my great-grandchildren will get the chance to marvel at its serene, symmetrical perfection.
For at least 20 years, scientific reports have warned that pollution resulting from India's economic growth is eating away at the Taj's pure white marble quarried from nearby Makrana.
Certainly when I visited a few weeks ago it was, sadly, easy to see discoloured marble sheathing, worn and cracked paving slabs and even damage to some of the beautiful mosaics.
But the authorities seem to be acting on the problem with encouraging determination.
Partly, no doubt, because some 70 per cent of employment in the teeming, chaotic city of Agra, where the population has boomed to 1.5 million as a result of the magnetic effect of the Taj, is reliant on tourism.
But it is also thanks to India's powerful Supreme Court which 10 years ago issued a stern instruction that this national jewel - a world heritage monument - must be preserved.
Among other things it designated a 10,000sq km area around the Taj where industrial activity should be limited, ordered several major industrial units to install pollution control equipment, and identified nearly 300 coal-based factories which had to switch to natural gas or move elsewhere.
Concern about the state of the Taj has also resulted in a campaign to persuade trucks and buses in the adjacent city of Agra to convert from diesel to CNG and to encourage greater use of pollution-free trishaws.
The internal combustion engine has been banned from approaching the monument at all, meaning visitors must now park about 500m away and complete their journey in a free, battery-powered bus (well, I say free, but as this is India foreigners are expected to give the driver a R10 tip, about 33c), and aircraft are banned from flying overhead.
These latter measures are not just aimed at saving the Taj from pollution but also from terrorists who, it is feared, might try to blow up India's greatest monument. As a result, the entrances are protected - fairly unobtrusively - by armed guards, and all visitors must go through a metal detector and undergo a body search. Are the Indian Government's efforts working? My Agra guide, Vivek, was adamant "the pollution problem has been solved".
But I saw plenty of ancient trucks and grotty factories still pumping muck into the air, and my visits to the Taj at sunset and again at sunrise found it swathed in a brownish haze (which, from the air, seems to hang over the whole of India).
Still, they are definitely trying, and making progress on several fronts.
To generate funds for restoration work, the admission fee paid by foreigners was six years ago bumped up from R15 (50c) to R960 ($32), though it has since been reduced to R750 ($25).
Frankly, it's well worth that to see such a uniquely beautiful structure, and it was good to see evidence of the money being put to good use upgrading the surrounding gardens and repairing one of the white minarets.
When you enter the mausoleum itself, you must now either walk barefoot or put on some funny white shoe covers designed to protect the marble floor from damage.
There has even been talk of removing the ramshackle souvenir shops lining the approach road, which might have the added benefit of saving visitors from having to walk a gauntlet of aggressive hawkers offering such goodies as Taj Mahal snowbubbles.
The Indian Government is also offering incentives to encourage retention of the ancient skill of marble inlay - mostly, apparently, still held by descendants of those who built the Taj - which these days is mainly put to use producing tabletops and carvings.
Wealthy foreign tourists who take home a beautifully inlaid marble dining room table can have the satisfaction of knowing that they are benefiting from reduced sales taxes on such products and helping to ensure the availability of another generation of craftsmen to keep the Taj alive.
But such earthly matters are forgotten when you walk through the impressive red sandstone gate of the Taj - itself a work of art - and gaze on the magnificent mausoleum which is the focus of so much attention.
Before you lies a perfect white tulip-shaped dome, surrounded by four lesser domes, flanked by four superb minarets, their symmetrical beauty multiplied by reflections in a series of ponds.
Arriving at dawn, when the rising sun was struggling to pierce the morning haze, I couldn't help thinking of some lines from the Rubaiyat of Omay Khayyam (though in truth, translator Edward Fitzgerald deserves much of the credit):
Awake! for Morning in the bowl of night
Has flung the stone which put the stars to flight:
And Lo! the Hunter of the East has caught
The Sultan's turret in a noose of light.
To be honest, I didn't see a noose of light lasso one of the Taj's white minarets, but I did watch as the reddish ball captured a tower of one of the redstone mosques - one built to be operational, the other merely a replica to preserve the symmetry - on either side of the mausoleum.
Symmetry was a crucial feature of the Taj's design and, as Vivek pointed out, it is breached only in one respect.
As you walk inside the building you'll find a magnificent carved marble screen enclosing two tombs (in fact what visitors see are only replicas, the real tombs are underneath, reached by a locked staircase).
In the centre is the memorial to Arjumand Bano Begum, better known as Mumtaz Mahal, wife of Shah Jahan, greatest builder of the Mughal emperors, who created among other things the amazing Red Forts in Delhi and Agra. And off to one side is the larger tomb of Jahan.
When Mahal died in childbirth the Mughal emperor was so distraught that he stopped a battle he was midway through fighting and poured all his energies into creating a fitting tomb.
Begun in 1632, it took 20,000 men working every day for 22 years to complete. Even when finished, its upkeep required the revenue from 30 villages.
But Shah Jahan paid a high price for gaining a form of immortality for his beloved wife because his grief so distracted him from the affairs of state that eventually he fell ill and was deposed and imprisoned by his son.
He was unable to realise his full vision for himself, which was for a black replica of Mahal's white tomb to be built on the opposite bank of the River Jamuna.
Only the foundations of this black mirror-image of the Taj had been started when he lost power and the project was never completed.
If you get the chance, it is worth going to the other side of the river, where the Moon Garden, established by Jahan as a backdrop for the Taj and a surround for his tomb, has been recreated.
Just getting there is a fascinating experience, providing glimpses of life in the narrow backstreets of India, where tourists rarely venture, as well as a view of Agra's public launderette, where items are washed in the river and laid out over a vast area of sand and shingle to dry.
From the Moon Garden you get a different perspective on the Taj, including a better view of how the two mosques, usually obscured by trees, fit into the overall symmetry of the design.
Climb through the barbed wire fence and walk down to the river - something which gave my poor guide a panic attack - and you'll see the Taj reflected not in the artificial ponds of its entrance walk but in the depleted, polluted waters of the Jamuna.
But, more importantly, in the garden you'll also find the recently excavated crumbling sandstone foundations which are all that remain of the second half of Jahan's plan.
It is an appropriate place to ponder on the tragic end to an emperor who achieved so much - including arguably the most beautiful building on the Earth - but was unable to realise his most magnificent vision or even to build his own tomb.
In his final years, imprisoned by his son in Agra Fort, Jahan's thoughts may well have echoed some other lines from the Rubaiyat:
The moving finger writes; and, having writ,
Moves on: nor all thy piety nor wit
Shall lure it back to alter half a line,
Nor all thy tears wash out a word of it.
CHECKLIST
Getting there: Cathay Pacific flies twice daily to Hong Kong with regular connections to Delhi. Check with your travel agent for further details or see website link below.
Getting around: World Expeditions' 15-day Northern India highlights trip includes Agra and the Taj Mahal as well as the ancient capital of Varanasi, set on the sacred river Ganges, the modern capital of Delhi; Hindu temples in Kajuraho; the pink city of Jaipur; village life in Orchha and the Swadi Madapur tiger reserve.
Further information: There are countless websites on the Taj Mahal but it's hard to beat the virtual tour offered on taj-mahal.net.
Jim Eagles visited India as guest of World Expeditions and Cathay Pacific.