Vicki Virtue is impressed with the friendliness of the people of Oman and the country's beauty and safety.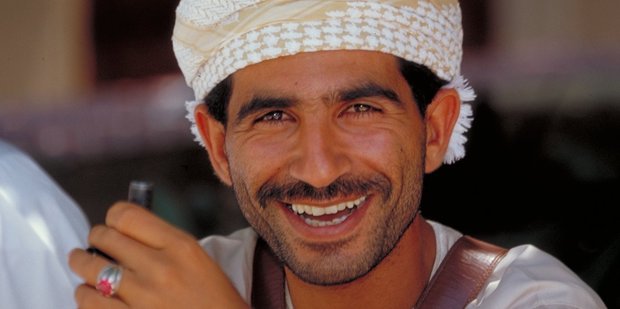 Would you like some coffee?" was an unusual question from a customs officer. Normally you're lucky if you get a smile. But at the Oman border it seemed checking my passport was more of a social opportunity than a security measure.
With so much talk about volatility in the Middle East, you could be forgiven for thinking the region is unstable and unsafe. But Ahmed's coffee offer was an example of the wonderful hospitality you find throughout the Middle East.
Oman encompasses the wonderful things the Arab world has to offer without any of the hostility its more notorious neighbours are renowned for. It is a beautiful, safe and peaceful country with kind and generous people.
Many of the safety concerns we've come to accept in the West don't exist. Welcoming a stranger into your home is an integral part of Omani hospitality. Likewise, we've been taught the risks of picking up hitchhikers, but in rural Oman where money is tight, cars are few and distances are great, offering a lift to a stranger is common and certainly not thought of as unsafe.
I experienced this extraordinary friendliness in the Hajar Mountains. This spectacular mountain range starts close to Oman's western border with the United Arab Emirates and runs across to the eastern side of the country, the dramatic arid mountains in stunning contrast to the surrounding flat desert landscape.
Jebel Akhdar, or Green Mountain, intrigued me because at first glance it didn't seem to deserve its name. But a drive up the mountain revealed charming old villages with lush terraced gardens full of apricots, pomegranates and roses.
Hundreds of these small settlements are dotted throughout the mountains, and walking through them was like stepping back 200 years. The box-like, sand-coloured houses are built by the farmers from mud and stone. The simple decorations carved into the wooden doors and window shutters and detailing on the flat roofs are indicative of Omani architecture.
Wandering along the winding stone alleyways between the homes I felt self-conscious. I could see the villagers watching me and wasn't sure how they felt about my presence, but when I offered a traditional Arabic greeting I was delighted to see their faces light up with broad smiles.
Inside the houses I could see stone floors strewn with Arabic carpets and cushions and pottery water jugs hanging from the windows. Even the terraced gardens are still irrigated by the ancient falag system, a network of stone channels and aqueducts cut into the mountainsides. Although many were built more than 1500 years ago they operate as efficiently as any Western mains water supply.
After exploring one village, I returned to my car to find two elderly men waiting for me. They wanted a lift. I was happy to oblige; after being tolerated by the villagers as I poked around their homes I was pleased to be of some use. I took my passengers to their homes about 5km away, where Ibrahim invited me to join him and his family for coffee. The houses in the town were more modern than those in the villages, so I was curious to see inside.
Ibrahim introduced me to his wife, sisters and their children. It is common in Arabic households for the extended family to live together. Their living room was decorated with beautiful Persian carpets and cushions. The Arabian Nights theme stopped there and the rest of the furnishings were somewhat kitsch.
A large, bright display of plastic flowers sat on top of a red metal stand in one corner, clashing with the blue floral prints on the cream curtains, and a large photo of their leader Sultan Qaboos was framed elaborately in gold.
Once we were all comfortably seated on the floor, Ibrahim brought in trays of fresh fruit and delicious spicy cardamom coffee. He left us women to chat together while he went for prayers at the local mosque.
Oman is an Islamic country and practising Muslims will often attend a mosque for prayers, especially on Friday, the Islamic holy day.
Because of the patriarchal nature of Omani society it is difficult to meet local women, so I was thrilled to have the chance to chat with Ibrahim's family. The role of women in the Middle East is still more confined to the home than that of their Western counterparts, despite their many advances, and they do more traditional jobs such as nursing and teaching. They will not go to bars and restaurants together, and shopping was the only time I saw women socialising together.
Ibrahim's wife and sisters were wearing the hijab, or headscarf. But despite the differences in our dress and social activities our lives were remarkably similar. Their daily routine involved juggling work and raising their children. What little leisure time they had was spent with their family. Sadly, this hospitality is a side of the Arabic world many tourists never see.
And if the region's warring reputation isn't enough, the persistent carpet sellers in Morocco will damage it further. Many an exhausted visitor has vowed never to return after being harassed in the country's bazaars.
But in Oman tourists are treated with respect. In fact, the only carpet seller I encountered was at the top of Jebel Shams, or Mountain of the Sun.
At 3075m this is Oman's highest mountain, and an impressive sight in the middle of the Hajar Mountains. From the top you get a breathtaking view down into Wadi Ghul, known locally as the Grand Canyon of Arabia.
There's no barrier and it's a long way down, but if you don't mind heights it's worth a look. As I was searching for the best vantage point, a local woman selling carpets offered to help. Handmade Omani carpets are basic in design and usually made of camel hair, with bold geometric shapes. Despite my rejection of her rugs, the enthusiastic woman was eager to clamber over the rocks and take me to the best viewing area.
Shopping in Nizwa souk (bazaar) was similarly hassle-free. Nizwa, a small town at the foot of the Hajar Mountains, is surrounded by a palm oasis. The 17th-century fort that dominates the town was built when Oman was under attack from invading Portuguese forces. Barely a village in Oman is without a fort or watchtower as a reminder of these past hostilities, when foreigners tried to secure vital Indian Ocean trade routes.
The souk is next to the fort. The craftsmen in the area are renowned for their expertise, so it is an excellent place to buy handicrafts. Silver khanjars are probably the most common souvenirs. These skilfully carved daggers are the pride and joy of the men. Antique silver jewellery and copper coffee pots are also popular.
The whole experience is a pleasure. The salesmen are happy to while away an afternoon chatting over coffee without expecting you to buy. And their best price is usually just that.
In fact, their bargaining skills seemed even worse than mine. I stopped to buy some halwa, a delicious traditional sweet made from dates, spices and rosewater. As I paused at the shop window, the elderly men chatting inside invited me to join them for coffee.
The language barrier prevented any in-depth conversation but my digital camera made them laugh. They were astonished to see themselves on the screen. I tried paying for the halwa but they insisted it was a gift. This was generous considering a container costs $20.
This kindness in the Omani people was humbling. Although the country has oil reserves and a good infrastructure, the average person is not wealthy. But what Oman lacks in glass skyscrapers and stretched Hummers it makes up for with its rich and interesting heritage, beautiful landscapes and extraordinarily hospitable people. It is a chance to experience Arabia at its best without too many fellow tourists.
CHECKLIST
Visas: New Zealand passport holders don't need a visa to enter Oman.
Currency: Oman's currency is the rial. It can be difficult to buy Omani currency outside Oman but most major currencies are readily changeable inside the country and all major credit cards are accepted. Your ATM card will most likely work in the ATM machine at the HSBC Bank in Muscat. The UAE dirham is also usable in some places.
Tipping: Tipping in Oman is not essential but it is recommended you tip 10 per cent to service staff such as waiters and hotel porters.
Getting there: Emirates fly to Dubai from New Zealand. You can then either connect with a flight to Muscat or get a rental car in Dubai and drive across the border. Make sure if you hire a car in Dubai the insurance covers you for travel to Oman and for off-road excursions. The trip from Dubai to Muscat via the coast road will take about five hours, and from Dubai to Nizwa in the Hajar Mountains, about seven hours.
Getting around: Travelling around Oman is easy. The roads are good and planes connect most towns with Muscat. There is little public transport so hiring a car is preferable. It's worth investing in a 4WD so you can explore off-road, where you'll find some of Oman's best scenery. Road signs are all in English and Arabic and if you get lost the locals are happy to help and there's always someone who speaks English.
The best road map is produced by the Ministry of Tourism. It shows many off-road routes not visible on other maps. Off-Road in Oman by Heiner Klein and Rebecca Brickson is a good book, available in most bookstores in Oman and the UAE.
Further information: Lonely Planet's Arabian Peninsula is an excellent book for planning your trip. Also check out omantourism.gov.om.