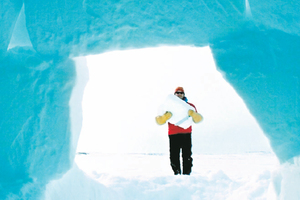 In winter in the remote Arctic village of Puvirnituq, Northern Quebec, temperatures range from -2C to -30C. There is nothing to see for miles except snow and ice. This is where the Gearing family are taking a break from suburbia.
Outdoors man Robbie knows the lie of the tundra, having done an Arctic survival course. He has brought his family here - wife Jacquie and 12-year-old daughter Jenna - to experience Inuit life in the freezer.
This includes the not-so-common holiday antics of building and sleeping in an igloo, fishing through sea-ice and learning to ride a ski-doo, or snowmobile.
NASTC, the Nunavik Arctic Survival Training Centre, was founded six years ago by Air Inuit, the sole operators in the province, in case their pilots had to make emergency landings in winter.
But in these days of adventure holidays, tourists are now beating a path to the Great White North.
Today, it's igloo building for the Gearings. It's a surprisingly straightforward operation: you just need the right tool, the right kind of snow and a good spot. Johnny Uitangak, an Inuit instructor, demonstrates before the family embark on their own igloos.
The blocks are cut with a pannaq, a cutter shaped like a giant spatula which "goes through the ice like butter," says Robbie, impressed.
He does most of the block cutting and lifting with Jacquie pushing the blocks into place.
"I want a nice tidy igloo," she says. "Not a lopsided one with big holes in it."
It is good igloo-building practice to build in an upward spiral, with slightly smaller blocks at the top. Each block needs three points of contact with the other blocks and then the holes between are filled with snow or smaller blocks. The perfect job for Jenna.
"I'm filling up the bits Dad's missed," she explains. "It's really interesting building an igloo. It's so clever and simple."
The Gearings take to igloo-building like polar bears to ice and manage to knock off two in the space of one afternoon, although one is quite small and later becomes waterlogged.
They discover even igloos are subject to the golden rule: location, location, location. "It's so rewarding," says a chuffed Jenna. "To think that we've built our own igloo that we can actually sleep in."
Later, in a lamplit igloo in the Arctic wilderness as night falls, Robbie says: "You feel very at one with the environment, although at the same time you are completely protected from the elements. Once you're sealed in it's like being in a cocoon."
Igloos are surprisingly warm and cosy. The temperature inside will never drop below -10C, irrespective of the temperature outside.
"We were all a bit amazed at how comfortable it was," says Jacquie. "And how quiet. You're completely protected from the wind. An igloo has a solidity, a kind of stillness, that a tent doesn't. I felt very safe.
"It's hard to believe you're inside snow," adds Jenna. "It's so warm."
Having the proper gear is vital. The family sleep on wicker mats and animal skins to protect them from the coldness of the floor and use good, five-season sleeping bags. The only disturbance in the night is a prowling dog which sparks fears of a polar bear attack but these are quickly allayed.
All Arctic activities depend on the weather so the following day it is time for a ski-doo ride inland and fishing.
Riding on ski-doos is every child's - and adult's - not-so-secret fantasy but you have to wrap up warm. The wind chill can plunge to -65C. Fortunately, the ever-watchful Inuit guides are on hand to lend seal skin mittens if required.
"I loved ski-dooing," says Jenna. "It's quite challenging, and my arms really ached afterwards, but it was so great. You have an amazing sense of freedom."
Despite its ruthless nature, the Arctic has a heart-breaking beauty. It is a photographer's paradise where wildlife abounds. The keen eyes of the Inuit guides soon spot an arctic fox and some caribou. Then a limping red fox.
At noon it is time to fish. The Inuits have developed an ingenious system of net fishing beneath the ice. A device is used which walks along the underside of the ice and enables the angler to hang a net between two holes.
Then one simply waits and hauls the net up through one of the holes. Robbie helps Inuit guide, Adamie Novalinga, bring the net up full of fish. Then everybody tucks into a picnic lunch of raw caribou leg, beluga, and arctic char, which is like the best smoked salmon you will ever taste.
"It's completely delicious,"says Jacquie. "Especially the caribou ... but the beluga did take a bit of chewing."
Jenna prefers the white fish she has just helped Adamie collect from the net. "It's amazing to think that we're doing things the Inuit having been doing for thousands of years. It's really exciting being with them. They have so much wisdom."
Hunger sated, the family set out for a local beauty spot, a headland 35km north. Even though there are no roads or tracks in the tundra the well-used trails are posted with markers every half mile or so.
It is surprising how much traffic you encounter in the wilderness on a sunny day. The Gearings bump into Inuit hunters and a couple of school teachers from Puvirnituq out with guides.
Later, the beauty spot does not disappoint. Miniature mountain ranges of sea ice loom out of the mist like the surface of an alien planet. An ideal spot for a cuppa.
A cuppa is a good idea for more reasons than one. It is easy to dehydrate in the Arctic. Bottled water freezes immediately and when walking you can end up sweating profusely under many layers. The Inuit answer is plenty of tea and they stop frequently to brew up.
Plan A was to go seal hunting on the sea ice the following day but, as frequently happens in the Arctic, arrangements must be altered according to the weather, so Arctic Family Gearing heads inland on ski-doos in search of ptarmigan, a grouse-like bird.
It isn't long before the Inuit guides find their quarry. Jenna, by now proficient on a ski-doo, follows the hunters, and four ptarmigan are bagged for dinner. "It's so real, compared to how we live at home," she says. "You catch something and you eat it."
The Inuits are baffled by our attitudes to animals. To them our farming methods seem cruel and unnatural. Vegetarianism is beyond their comprehension.
On the way back, guide Adamie shows the family a fox trap. "My people have been using this for thousands of years," he explains, and the Gearings get an inkling of how ancient the Inuits are.
Traditionally a nomadic people, their cultural heritage is the skill they pass on rather than manor houses, art collections and tea rooms.
"They are an incredibly humble people," concludes Robbie. "I think that's partly why I admire them so much. You could spend four years doing a degree in Arctic survival skills and still not have a fraction of the knowledge that the elders carry in their heads.
"The highlight of the trip for me was showing Jenna something of their culture. To have her experience something of their way of life, which is so different from ours.
"The Arctic is one of the few places you can go and see people who still live off the land. It's been great to show this to the family."
CHECKLIST
Arctic survival: Although remoteness is part of the excitement, an Arctic survival holiday is far from a package holiday with the Inuits.
If it is too warm, for instance, the ice becomes saturated making it too dangerous for igloo building. If a blizzard hits, you might end up trapped in a hotel for most of the week. And it won't be cheap. Flights from Montreal to Puvirnituq are expensive.
However, Air Inuit does a number of deals. The most popular is a week's survival course at the school. For this you will be taken by ski-doo inland to the NASTC camp and trained in basic survival techniques. This includes igloo-building, hunting and fishing, foraging for food, navigation, the psychology of staying alive, and more.
Other options include using a hotel in Puvirnituq as a base and picking and choosing your activities when available which should cost about the same.
Dog sledding will cost extra and the price can vary a lot, depending on the skill and experience of the driver.
Summer in the Arctic: It is also worth considering a summer Arctic holiday. During the summer months as the snow melts, Nunavik becomes much more accessible and is popular for hunting and fishing.
Further information: See the Air Inuit website, which has details of the survival school, on link below.