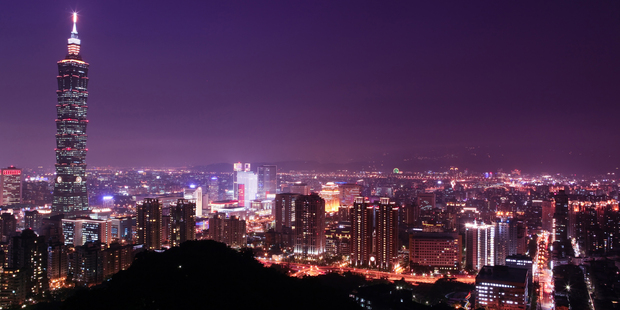 What was billed as a week-long luxury beauty spa retreat in Taiwan started off with a hiss and a roar. Of sorts.
The scene: We're at a spa resort in the natural hot spring region of Yangmingshan. The mists of dusk have descended, a soft rain falls. We've spent a long day in the mountains watching tai chi performed beside waterfalls, and were looking forward to our first beauty treatment: An hour of sensual massage in a candlelit room with classical music complementing the beauty of the hot springs outside.
What we got was an hour of ritual masochism in a fluoro-lit cupboard with strains of a very different kind of soundtrack. That the room I found myself lying in doubled as the storeroom told me this may not be the five-star luxury treatment I had hoped for. On the bright side, it did allow us to get to know the other staff as they drifted in to get supplies. There are few more levelling experiences than meeting a stranger when you are prostrate, buck naked but for paper panties, and covered in oil.
Our masseurs were friendly. To each other. I would have preferred Richard Clayderman's Greatest Hits in pan flute than the nasal conversation my masseuse was having in Cantonese with a colleague in the next room. When she wasn't talking, she provided a disgusting degustational symphony, munching on potato crisps and burping in rhythmic sequence. And just as her hands started working on my feet, it came: the short, sharp, percussive finale. My masseuse had farted. It was so loud my companion heard it from next door. At least I was downwind.
The massage itself was very good, although I have yet to work through how I felt about having my, um, upper front bits worked over in almost criminal fashion. But I was lucky. The screams from the girl next door sounded less pleasure, mostly pain. She said she felt like a rebellious bit of two-by-four that wanted to get off the workbench. She had the bruises to prove it.
It could only get better. And it did.
Taiwan is building a reputation for some of the top beauty and health treatments in the world. The number of health spas and resorts has exploded, with treatments from traditional to progressive. Medical spa treatments are one of the fastest-growing areas (see sidebar). Despite being known as a financial and material capital - the word "Taiwan" seems odd without a 'Made in' tacked on - the island is also very green and boasts stunning scenery. But for Kiwis, far more fascinating are the quirks and cultures of a country that has 22 million people and 44 million mopeds.
The bustle of Taipei, the capital and second-biggest city, tips its hat to its hypermarket reputation. As swarms of two-wheeling commuters, handkerchiefs round their mouths and noses like blue-collar gangsters, drone down the wide streets, poky cupboards selling steaming buns and entrail-like pickles start selling to workers from the early hours.
Mysterious padlocked doorways lead to unknown commerce and there's a 24-hour convenience store on every block. Even that most sacred of traditions is taken to a new level: weddings are a big deal.
Bridal shops with names such as Beautiful Marry Woman are as common as normal dress shops, and an entire day is set aside for the photos alone. On any given weekend, there are so many weddings, and the bride and groom get so dressed up, guests often go to the wrong wedding, realising too late they need to ask for their gift back.
Serious shoppers need to dedicate at least a day at the malls. Taipei's giant shopping complexes boast ferris wheels as marketing gimmicks. Taipei 101 is the world's tallest building and has the fastest elevators, which can hit 60.48km/h. For about $18, the view is worth it, but shoppers will be more interested in the floors of shops below. For tacky twists on traditions, Snake Alley offers you a range of items from snake blood to haemorrhoid creams, with a painful array of Before and After photos. A fantastic foot massage is just $10.
But the true triumph of consumerism belongs to the Shihlin Night Markets, open every night until past midnight. Each shop sells slightly different products, so comfortable shoes and patience are necessary.
Taiwanese are known as among the world's friendliest people. Some academics put this down to Taiwan being a tiny island of many immigrants, much like New Zealand. You may find yourself attended by a few too many sales assistants eager to practise their English. And Taipei is incredibly safe, so tourists can poke around to their hearts' content.
Of course, a country with such an ancient history is also replete with culture. Taiwan is a fascinating juxtaposition: a hub of new-world commerce overlaid on 1000-year-old tradition.
You can buy traditional noodles from the 7-Eleven. The devout offer sacrifices of Pocky and chocolate biscuits at intricately-decorated temples hidden between high-rises. Next to marble monuments to Chiang Kai-Shek, sit cheap-looking inflatable lanterns in the shape of canines: it is the year of the dog in the Chinese zodiac.
Kai-Shek, who was forced to take his government to Taiwan after he failed to oust the communists in the Chinese Civil War, is something of a god in Taiwan. He was president until he died in 1975, and never saw his beloved country recognised as a state.
Hardened shopper
And even the most hardened shopper among our group found the tour through 5000 years of creativity at Taipei's National Palace fascinating. As well as the world's largest Chinese art collection, one of its most famous treasures is in a glass display case on the first floor. It's a piece of pork. Afterwards, you can buy lucky friends and family a porky key-ring, a fetching pin of pork, or a life-sized pork postcard.
The hog does have a story behind it. Made in the Qing Dynasty, it was carved out of blended jade to look like a dish once made in honour of the emperor. But it's not the most precious exhibit. That honour belongs to a piece of rock carved to look like cabbage. And the cabbage also has a story: a present from the father to the emperor who was taking his 12-year-old daughter as a concubine, it represents purity and fertility.
I'm not sure what it says about a country's national psyche that holds pork and cabbage as national treasures - it may explain my masseur's flatulence - but food is prominent in Taiwanese culture. Stick to the savoury: My travelling companion described the popular sweet treat mochi, gelatinous rice cakes filled with soft centres such as red bean and taro paste, as much "like eating a testicle".
But every city offers top-quality Chinese for reasonable prices - a more than generous lunch in a good restaurant in Taipei will only set you back $20 - and good-quality Mongolian barbecues and Japanese cuisine are also easy to find. If you are staying in a Western-style hotel, don't miss the buffet breakfast.
The adventurous will love the delicacies on offer, such as the surprisingly tasty 1000-year-old eggs (boiled eggs preserved in salty water until the white becomes opaque and the yolk a disturbing black), sweet potato buns, seaweed salads and the infamous stinky tofu. The only dish left untried by our party was at Yangmingshan Resort. It was labelled (wrongly, we assume) "Assorted Cold Cats". Of course, most Taiwanese just have cereal for breakfast.
There's a lot more to Taiwan than the big cities. The size of the country - about half the size of the North Island - and good roads make day trips to villages and natural areas do-able, but getting around is not easy for those without a working knowledge of Mandarin.
A guide or a well-planned itinerary is recommended. We were ferried around by the irrepressible Beral from Taiwan Tourism, who did a great job miming ingredients in the various facial wraps and entertaining our endless questions about Chinese culture. (According to Beral, if you are born in the Year of the Rabbit, you will be blessed with long ears and the ability to run fast. I don't think she was trying to be funny.)
An hour or so from Taipei are the quaint towns of Sanyi and Qingge. The latter is famous for its wood carvings - sounds boring, but the larger-than-life bearded gods would make an impressive feature in any lounge. In Qingge, a quadrant of shops in folk-art architecture have been restored to their former glory and bills itself as the tea connoisseur's place to be.
Many shops offer authentic tea-drinking ceremonies - no gumboot tea and a biccie here - and tea sets of all shapes and varieties, even triangular, can be had. Driving on the outskirts of the cities also provides an interesting education in a phenomenon unique to Taiwan: betel nut girls. A stimulant, the betel nut is the saviour of truck drivers. If in need of a hit, a truckie will stop at one of the many glass roadside kiosks staffed by the scantily-clad girls. Despite being a conservative society, the outfits are eye-popping: by the time we hit the city fringes, bra and bikini briefs become acceptable office wear.
To travel further afield, flying is quick and relatively cheap. A half-hour flight south from Taipei will take you to Hualien County, home of the famed Taroko Gorge, where marble cliffs erupt from the river bed to the heavens. More awe-inspiring though is the feat of engineering required to put a highway from beginning to end. It's nowhere near as frightening as Skippers Canyon or the Gentle Annie, unless you notice the chunks of missing asphalt on many corners, wiped out by falling boulders.
The grey-stone beaches and dirty waves are reminiscent of New Zealand's West Coast, and this is also home to native Taiwanese, are believed to be related to Maori. However, the absence of man-eating mosquitos, and the eerie sight of camouflaged fighter planes, ready for an attack from China, indicate we are far from home.
Of all the natural attractions, Sun Moon Lake was the most memorable. Amid this traditional ink painting of calm waters and misty hills, stands the famous Lalu Hotel. It is pure indulgence, and at about $750 a night, comparatively cheap. Each room has a bath in the middle of the room so you have a lake view, the complimentary slippers are sturdy enough to take home, and with perfumed air conditioning even the toilet smells like roses.
The spa staff know enough English to get by, a welcome change to the charades at other places. Mine asked me whether my body "had any questions".
If you are of poor constitution, it might pay to have someone write your ailments in Chinese before you go.
Two-hour massages at five-star resorts is nice work, but if you can't get it, Taipei has a number of affordable day spas. We ended our week of pampering with a treament said to bring all the benefits of pounding it out at the gym.
Being Spa, next to Taipei's branch of Les Mills, is one of only a handful of places in the world offering the unique sandalwood bath. It is hard to convey how ridiculous five adult women in matching hooded parachute suits look but our stomachs got the best workout. We were then left to sweat in a grave of heated sandalwood chips, emerging like extras in Night of the Living Dead, strangely refreshed.
Our beauty spa experience ended with as many laughs but a lot more pleasure than it began.
As it looks to raise its profile as a tourist destination, Taiwan Tourism is pushing a new slogan: Taiwan: Touch Your Heart.
Looking at the mementos from seven days there - one pork postcard, a year's supply of glutinous rice cakes, two bruised companions, nine pairs of shoes, a football clock on a spring, Chinese phrases for "that looks painful/still alive/like fake leather" and herbs to enhance my love life, it also touches your funny bone.
NEED TO KNOW...
Shop: The Jhongsiao Commercial District boasts designer stores such as Armani and Versace on Dunhua South Rd, while nearby Jhongsiao on East Rd has the department stores Minyao and Sogo, found in most major cities. Ground yourself with a good range of Western labels after viewing the city at a height of 1.5km from Taipei 101, while next door, the New York New York Shopping Centre offers slightly cheaper wares. Taxi drivers will know where to go if you ask for the multi-storeyed, circular Living Mall. Try the winter sales: good-quality leather boots of every style can be picked up for less than $100. - while Dihua St has all those weird and wonderful Chinese remedies. All major cities have after-dark markets: in Taipei, do not miss the Shihlin Night Markets.
Eat: Basically anywhere. The malls have decent food courts, and the 7/Elevens sell an entertaining range of cheap and healthy noodles, tea-eggs, and various foods-on-a-stick such as corn and sticky rice cakes. And of course, there's always Starbucks and McDonald's. The latter's burgers are made with rice patties instead of buns: perfect for the gluten-averse tourist.
Relax: The Eedas Spa in the Grand Formosa in the Taroka Gorge has beautiful private rooms with jacuzzis overlooking the gorge and delicious-sounding body polishes like the Cocotan and Papaya Mint (1hr30mins for $140). The hot-stone massage (90mins for $150) comes highly recommended. You may choose to give the massages a miss at Yingmingshan, but for novelty value, try the hot sulfur pools, which vary in temperature and boast different herbal potions with special qualities: the most popular pool promises weight loss. If only spending time in Taipei, try one of the many day spas like Being Spa, where English is often less of a problem than in smaller towns, while the Lalu Hotel on Sun Moon Lake is definitely a special treat.
Getting there: Taiwan's national carrier EVA Air has a top safety record and great service. It operates four flights a week to Taipei in peak season (November-March) and is the only airline offering direct flights. A return ticket in economy will cost about $1600. Essentially a South Pacific island, Taiwan has a mild climate, hitting just over 30C in June and 18C in January and February. January is New Year's and the Lantern Festival, May is Dragon Boating season, July sports the fascinating Ghost Festival, while August is Moon Festival time.