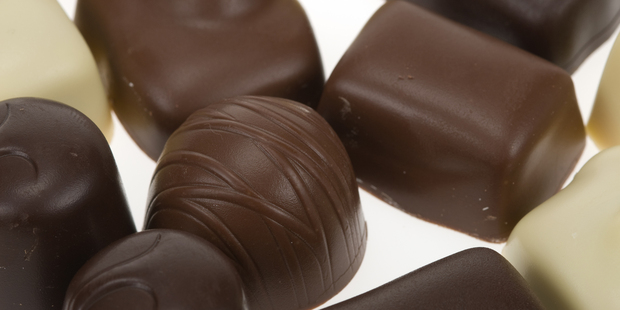 Some time ago a uniformed US air force officer from Nato headquarters arrived at Passion Chocolat, a tiny chocolatier in a suburban Brussels street, throwing staff into a panic by asking for 40 boxes of chocolate.
Their efforts were rewarded a few weeks later with a thank you note from the White House.
The popularity of Passion Chocolat is just one example of how Belgian chocolate is taking the world by storm.
Set up by a widowed mother-of-four in her own home, the outlet has become such a symbol of success that the Belgian prime minister, Guy Verhofstadt, took their chocolates on a recent trade mission to the US.
One other Brussels chocolatier boasts the US president as a customer.
Chocolatier Mary displays a photo of George W. Bush lingering over its praline counter during a visit to the Belgian capital.
Mary, a producer with no advertising budget or international profile to speak of, processes internet orders each week.
Airfreight exports go to the US, South Korea, Japan and India and have doubled for each of the past five years.
Though the Swiss can lay claim to a high quality chocolate, no nation lavishes as much time and attention on its chocolate as Belgium.
Internationally-known brands include Neuhaus and Godiva at the luxury end and Leonidas and Guylian in the cheaper price bracket.
But, in Belgium, chocolate is more than business; it is part of the culture.
Different chocolatiers specialise in specific fillings, such as manon, filled with cream or butter and often coffee flavoured; gianduja, a paste made from mixing ground hazelnuts or grilled almonds with white sugar and cocoa butter or chocolate; or praline a mixture based on roasted almond or hazelnuts, also with cocoa butter or chocolate.
Consequently, Belgium's chocolate industry is as varied as it is big.
With a population of around 10 million, Belgium produces 172,000 tonnes of chocolate a year and has more than 2000 shops.
Moreover it supports 290 chocolate-makers, 140 of which have fewer than five employees and seem to customers more like somebody's quaint front room than world-renowned businesses.
Passion Chocolat is the prime example of such small-scale operations.
A mother of four, Claire Macq nearly emigrated to Australia after her first husband died, but decided to open the business instead.
Though the chocolates cost €45 a kilo, customers are often queuing outside the shop by the time it opens- at the genteel hour of midday.
Across town in Rue Royale, Mary chocolates are also handmade, preservative-free and cost €48 a kilo - exactly three times as much as mass-produced (but good quality) Leonidas.
On the counter lie 10 large boxes of chocolate each containing 40 kilos, wrapped in special isothermal bags and awaiting airfreight.
"Most of the exports are going to the US and the most spectacular growth is in the internet sales," Mary's owner, Michel Boey, says.
"We began selling via the internet in 2001 and, from zero, exports are now about 15 per cent of our sales." For big factory producers like Guylian, the figures are even higher.
The firm, which began 46 years ago as a family chocolatier in Antwerp, is now based at a high-tech plant turning out around 70 tons of chocolate a day.
Its managing director, Carl Krefting, says Guylian products are "not the most expensive and not the cheapest," a formula which brought about growth of more than 14 per cent in 2005.
Belgium's love affair with chocolate dates from 1857 when Jean Neuhaus left his native Switzerland to set up shop in Brussels.
His grandson, also known as Jean Neuhaus, created the first filled chocolate, which he named 'praline', and his wife invented the type of box, or ballotin, in which Belgian chocolate is still sold.
Chocolate-making really took off in the late nineteenth century, aided by Belgium's acquisition of the Congo which gave easy access to African cocoa fields.
But perhaps more important than history is the Belgian national obsession with good food and willingness to pay for it.
"The Belgians are bon viveurs," says Ms Macq.
"We love Belgian cuisine and here there is a lot of competition. If there are 20 other chocolatiers, everyone wants to be better than the other."
Meanwhile, in all areas of food, affluent consumers in rich countries want to eat less but better.
The onus is on "quality rather than quantity in the post-Atkins [diet] world," says Mr Krefting.
Nowhere is this more the case than in Britain, Guylian's biggest market.
Here big producers have dominated the market and "Cadbury's Dairy Milk and Black Magic was all we knew about," Mr Krefting says.
Now all that is changing.
Guylian is flying off the shelves of British supermarkets; Mr Boey lists the UK as one of his growing export markets; and Ms Macq even dreams of opening a small shop in London.
She thinks it would do well despite her prices.
After all, she says, "Chocolate is a little bit of magic."
- INDEPENDENT