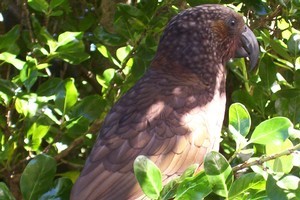 A brownish-green kaka sneaks up and darts off with the last chocolate I had been saving in its hooked beak: Birds 1, Tourists 0.
For more than 80 years Kapiti Island has been home to a little-known resort whose mysterious wild coastline and remote character form an irresistible lure.
Peaceful and barely commercial, the Department of Conservation's predecessors swathed the area in its protective mantle more than a century ago. Declared a bird and nature sanctuary, it is free of predators, and DoC allows only 50 people to visit each day.
The numerous colourful and cheeky native birds strut around, flit from tree to tree, and tease tourists freely and confidently. I was entranced, although I am not a twitcher or greeny at heart.
Local inhabitants have found Kapiti captivating for hundreds of years. Maori believed the island was a divine Stargate where a warrior could develop spiritual healing.
The island provides a rare chance to see flora and fauna in pretty much the same state it was centuries ago.
To get there, we boarded the MV Te Aihe at Paraparaumu beach after the requisite luggage check for stray rats or mice. My son wondered whether his toy crocodile should be allowed.
A huge orange and yellow tractor on wheels like high stilts towed us into the surf. Huddled on our seats, we gazed at the series of peaked pyramids that formed the landmass in the distance, as we progressed across the 5km strip of water dividing the mainland from the island.
Our companions included a French mother with her adult son who, on seeing the rocky beach which awaited us, voiced a collective disappointment, "Ou est le sable?" (Where is the sand?).
Once ashore we trudged up to our bottle-green bunkroom which blended well with its leafy surroundings.
A pair of deep-blue takahe with huge red webbed feet and gigantic hooked red beaks stalked around the corner of the lodge. Two fat green kereru pigeons with puffed out white chests chased each other in the trees.
A kaka with its owlish tiled feathers perched inquisitively on a table then landed on the shoulder of our guide John Barrett.
Barrett, whose family has lived on the island and run the lodge for more than 80 years, explained that the sanctuary was originally named Motu-rongonui and was highly prized by Maori, probably because of its commanding position at the entry to Cook Strait. The island is about 2000ha, roughly 10km long and 2km wide.
Though peaceful today, Kapiti has had a turbulent history, with many battles fought on its soil. Most famously, nearly 200 years ago the fearsome warrior Te Rauparaha conquered the surrounding area and crossed the straits every year to snare paradise ducks and other waterfowl.
Legend claims his body has been buried in one of the many coastal caves, and that his restless spirit haunts the island today.
A group of us tramped up the steep Wilkinson Track to a clifftop viewing point, pausing to listen for birdcalls.
As Maori legends tell of people's ability to transform into birds at will, I perched on the edge of the cliff and spread my arms like seagull wings. I was at the edge of the world, and could soar gracefully over the bay. One quick look down at the foam-furled rocks and I thought again.
I had seen photographs of intense, fiery orange sunsets taken from there, but today the weather looked grey and stormy so dinner back at the lodge beckoned.
We gathered under umbrellas on the lodge's wooden deck to savour freshly baked bread, crayfish and mussels. Conversation with our fellow guests flowed late into the evening and the mainland seemed distant.
Cheeky kaka hopped on our heads and ran off with bottle tops, pieces of bread and hair ties, especially if they were shiny.
Kaka have always been inquisitive and covetous. Maori legend says the kaka tricked his cousin, the prettier, brighter-coloured kakariki, by telling him he would catch more insects and thrive if he were not so bright. So the kakariki gave the kaka his brilliant red feathers, now displayed under the kaka's wings.
We fell asleep to the sound of our co-travellers rustling in the forest, searching for nocturnal brown kiwi, and woke to a dawn chorus of hundreds of shrill birdcalls.
Sunday was lazy and relaxed. After a buffet breakfast with our kaka friends, we walked along steep and dangerous cliff edges to the south. Remains of old, cast-iron whaling pots looked like ancient witch's cauldrons.
My son and husband swam in the eerily clear water. Small fish swirled around my son's legs and he nearly stepped on an enormous white stingray and several opaque jellyfish.
Back at the lodge, one group had been weaving delicate, round flax flowers and plaited baskets on the deck. Others had kayaked around the edges of the island, and told of caves, rocks layered like geological trifles and little blue penguins.
I snapped pictures of black tui with billowy white beards on tall flax flowers, kaka perched with their heads cocked quizzically.
Takahe strutted with their peacock-coloured wings unfurled and a cornflower blue kokako stalked along a branch.
I pondered the island's legendary connection with the supernatural world and the spiritual strength a person can gain by visiting.
My soul certainly seemed to laugh and sing with the nearby tui, as we watched the world on the mainland together from our birds' paradise.
Checklist
KAPITI ISLAND

Getting there
Allow 45-60 minutes to drive from Wellington. Arrive at Kapiti Boating Club, Paraparaumu Beach, by 8.40am for a 9am launch departure, 3pm return. Licensed launch services are Kapiti Marine Charter phone (04) 297 2585, 025 424 850, 0800 433 779, or Kapiti Tours Ltd 0800 527 484. Cost: $35 adults, $20 children, under 5s free.
Access, permits and fees
A landing permit must be obtained from the Department of Conservation. Permits are not issued more than three months in advance. Permits cost $9 an adult and $4.50 a child. Only 50 permits a day are issued for the nature reserve, plus 18 a day for Kapiti Island Alive Lodge. Permits are arranged by Kapiti Island Alive for those staying overnight at the lodge. Day visitors should contact the Department of Conservation at (04) 472 7356.
Facilities
Department of Conservation is upgrading tracks on the northern end and building a paua-shaped shelter and toilets. A good-quality, easy-grade loop track is being built, plus a coastal track which will be open from April to the end of October.
Accommodation
Kapiti Island Alive Nature Lodge, contact John Barrett at (06) 364 8818, 025 288 3771.
Kayaking
Sea-Kayak Kapiti Island offers guided kayak trips for $125. Phone (04) 801 7549.
When to go
All year. In autumn and winter birds are not nesting so there is a better chance of seeing a wider range.