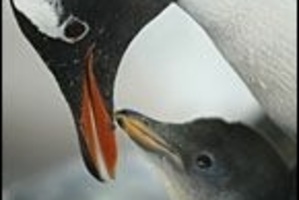 Penguins look very suave as they waddle round in their dinner jackets and polished black shoes. But I've always wondered whether their manners were equally refined.
It turns out that, yes, on the whole they are. Watch them being fed at Kelly Tarlton's Antarctic Encounter and you'll see that they swallow their fish with the greatest elegance, especially considering they've got no hands.
Rochelle Dean, the bird curator, gives her king and gentoo penguins whole fish several times a day and reckons you can tell a lot about the individual birds from the way they dine.
"They all eat very tidily. Some of them gulp the fish straight down. Others like to take their time and enjoy the taste. It all depends on their personalities. They're all different."
Walk out on to the icy enclosure with her and it quickly becomes apparent that the penguins do indeed have very distinct personalities.
As soon as we climbed on to the frozen surface we were greeted by a curvaceous king penguin called Fatboy who approached with what could only be described as a sensual wiggle of the torso.
"He's sort of flirting with you," explained Dean.
"He's very interested in anyone new and it's his way of attracting attention. King penguins are very promiscuous and this is how they signal they're available."
Fatboy evidently thought I wasn't taking his undoubted charms seriously enough because he thrust his beak straight up into the air and gave a deep, sensual yowl.
"Are you singing for us, Fatboy?" asked Dean. "That's very beautiful."
Before I could indicate to Fatboy that, much as I liked his singing, he just wasn't my type, I was distracted by a sharp prod in the calf from a young gentoo penguin.
"That's Bubba," said Dean. "She's very naughty. I think she's got ADHD. She does bad things just for the sake of it."
She wagged her finger at Bubba, who continued to poke my leg with her beak, and told her, "That's very naughty, Bubba. Don't do that."
This reprimand was received with a notable lack of grace. Bubba snapped her beak grumpily at Dean's extended finger, but stopped prodding my leg.
Meanwhile our photographer was being prodded by another gentoo who seemed determined to attract his attention.
"That's Squirt. She appeared on Squirt [a Saturday morning children's programme on TV2] as a cousin of Spike T. Penguin the presenter. As a result whenever a camera appears she thinks it should be pointed at her and she gets upset if it isn't."
On the other side of the ice other less publicity conscious penguins were busy with the task of raising youngsters.
Most of the gentoo couples were taking turns sitting on their fluffy grey chicks to keep them warm (there are 20 this year, making it the best season ever).
The exception was Daisy who was still hatching her two eggs. "She's always last," says Dean. "I think she just does it to annoy me. She's due any day now but with her you never know when the chicks will arrive."
The kings, by contrast, were just at the beginning of the cycle and their eggs were only just starting to arrive.
When I visited, only Millie and Shack - short for Shackleton - had laid eggs.
"Millie's okay but Shack is a ditz," says Dean, indicating a glamorous bird standing with the rigidity peculiar to a penguin holding an egg on her feet.
"I'm blonde and I have to say she's a real blonde. She plays the field, has eggs with different guys, and you never know what she's going to do next."
All these fascinating personality traits aren't necessarily obvious to anyone doing Kelly Tarlton's Antarctic Encounter which involves driving past the penguin colony in a replica Snowcat. But Dean has just started daily televised penguin talks which allow her to introduce the individual penguins and answer questions from visitors through a video link.
"I'm really excited about it," she says.
"They're amazing animals and I just love being able to talk to people about them."
The penguin talks are part of a growing trend for visitors to wildlife parks to get face-to-face with animals rather than just look at them.
About a year ago Kelly Tarlton's introduced the Shark Survival experience so qualified scuba divers could dive in the shark tank with the feared monsters of the deep.
More recently it started the Stingray Splash so non-divers could walk into the stingray enclosure and see rays, kingfish and kahawai close at hand.
The latest, which started last week, is the Snorkel Safari where anyone who can swim will be able to snorkel across the main tank and see the 40 different species, from moray eels to schools of blue maomao, close up.
Operations manager Andrew Baker says the aim is to "move Kelly Tarlton's on from being a static display where people just look at the fish - wonderful though that is - to becoming a total experience where they can interact with them and find out about them at first hand.
"It's very much an educational thing, allowing people to see for themselves that sharks aren't just vicious killers, and stingrays aren't deadly monsters, but they're all part of the eco-system and necessary for it to flourish."
* Kelly Tarlton's is on the seafront at 23 Tamaki Drive, Orakei, Auckland. Phone 0800 805050.