Jim Eagles is stranded in Arabia's forbidding desert, but lives to tell the tale.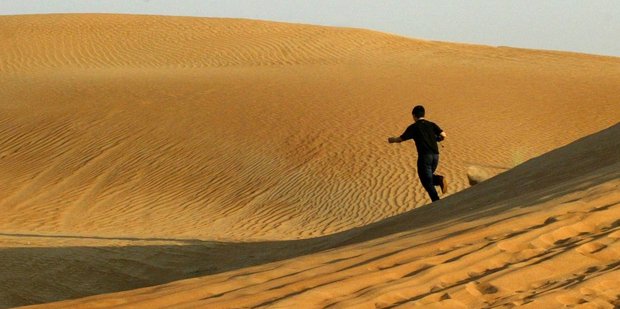 We were well into the Arabian Desert when the radiator hose came off our four-wheel-drive and the water trickled into the sands. It wasn't as scary as the time when I took a cut-price safari in Zimbabwe and the vehicle broke down in a tsetse fly-infested swamp.
That was definitely more worrying because we were on our own, tsetse flies have nasty bites, ignore insect repellent, and one in 16 carries sleeping sickness.
But having your radiator run dry in the middle of the desert still has an interesting ring to it.
As it happens, we were well within mobile reception and there were other safari vehicles all over the place, so within minutes our vehicle was surrounded by other drivers offering advice.
After half an hour of shouting, gesticulating, climbing under the bonnet and then under the vehicle, it was all as good as new.
All available water was poured into the radiator - including my drink bottle, which I had foolishly left on the seat - and we were off again.
The desert safari is a fun thing to do if you have a stopover in Dubai. Yes, it's corny and kitsch and all those things, but it's also highly entertaining.
It starts with a 4WD drive into the desert, where you'll see a few camels and lots of rich young Arabs zooming around the sand on their motorbikes and quads.
Suddenly we're doing the same, our 4WDs racing up giant sandhills, leaping over the top, swooping round the slippery sides and diving into the valleys.
The effect is rather like going on a roller-coaster ride, producing plenty of shrieks and even a few startled obscenities from the unlucky passenger in the front seat.
Our driver joins in the entertainment with jolly little comments. "Oh dear, I'm very sorry, what do I do? This is only my second day on the job ... Oh no, more sand, how do we get out of here."
From time to time a miscalculation means a vehicle needs to be dug out and towed free - losing the radiator hose is a bit unusual - but that all adds to the fun.
After an hour or so we pause for the spectacular desert sunset, then head in the almost instant dark to a tourist camp, our jolly driver asking plaintively, "Oh, I'm lost. Does anyone know the way?"
At the camp you can enjoy the Arab version of a Maori experience in Rotorua.
You can ride a camel - mine nearly threw me off by suddenly dropping on to its front knees - let a falcon perch on your arm, get a henna tattoo, have your photo taken in full desert regalia, listen to Arab music, watch a bellydancer, see displays of craftwork and enjoy a traditional feast. And when it's all over you've got some interesting photos ... and, if you're as lucky as I was, a great story of how your vehicle died of thirst in the Great Sahara Desert.
CHECKLIST
Visas: Dubai's visa requirements are flexible. If you are having a stopover of fewer than 96 hours you may get a visa at no charge. For longer stays, you may have to pay 100dm for a tourist visa.
Currency: United Arab Emirates, of which Dubai is a member, uses the dirham, which is divided into fils. The dirham is pegged to the United States dollar. Credit cards and travellers cheques are widely accepted.
Tipping: Mercifully, tipping is not as prevalent as in other Arab countries although waiters, hotel porters and tour guides like to be tipped.
Getting there: United Travel has flights from Auckland to Dubai.
Getting around: Ancient Kingdoms Holidays has a Best of Dubai package, available through United Travel.
Jim Eagles and Alan Gibson travelled as guests of United Travel and Ancient Kingdoms Holidays.