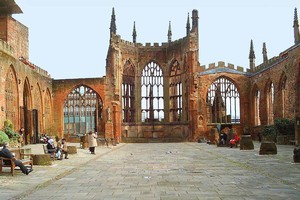 I've always found ancient places of worship to be strangely moving. Probably it's because the dominant role of organised religion in bygone times meant the greatest talents of the age were harnessed to make these churches, temples and mosques masterpieces of human achievement. Maybe, too, centuries of worship create some sort of spiritual aura.
Many years ago I visited St Paul's Cathedral in London when the choir was practising Evensong. It was so beautiful that my aggressively atheist companion said in awe, "It's almost enough to make you religious". And it was.
But of all the grand buildings I've admired over the years none is more moving than the unique Coventry Cathedral which combines the ruins of the 700-year-old Gothic church destroyed by the Luftwaffe in 1940 and a modern building designed by Sir Basil Spence - the architect who sketched the concept of our Beehive - consecrated in 1962.
Its mix of past and present, with the roofless shell of the medieval church forming a garden of remembrance linked to the modernist new cathedral - and its emphasis on reconciliation, including a Chapel of Unity open to folk of all faiths - saw Coventry Cathedral chosen by the British people as their favourite 20th century building.
I mention this for two reasons. Partly because Coventry Cathedral is a good reason to visit a city which is probably not at the top of most travel lists.
But mainly because as Canterbury starts to think of rebuilding after its earthquakes Coventry may provide a model for what to do with the shattered remains of Christchurch Cathedral.
The cathedral and its surrounding square have been the focal point of Christchurch since its early days and regardless of their religious beliefs Cantabrians will doubtless want that to continue.
Christchurch Mayor Bob Parker has already observed of the cathedral that, "There is some discussion that that is a building we could rebuild brick by brick, stone by stone. We need to find some symbols like that."
Rebuilding stone by stone is obviously an option. But the example of Coventry shows that there is an alternative.
The shell of the old cathedral could instead be developed as a memorial to the victims of the earthquake - including those who died inside its precincts - with a new cathedral rising beside it as a symbol of the new Christchurch which will emerge from the ruins we see today.
A Christchurch Cathedral built in that style could, like the new Coventry Cathedral, become even more of an emblem of its city than the much-loved old cathedral destroyed by the power of the earth.