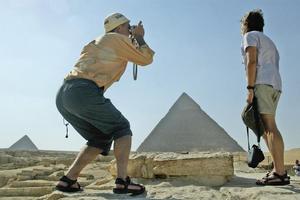 I've long suspected that old fogies like me are more adventurous than today's young whippersnappers and now a survey has come out which confirms it.
Online travel company Expedia.co.nz questioned 1000 Australians and 500 New Zealanders - weighted to provide a cross-section of the population - about their travel tastes.
It found that us older Kiwis are raring to head for Eastern Europe, South America, Africa or Asia. Nearly half of those in in the 55-59 years age bracket said they were keen to travel to exotic places.
But most of those in their twenties apparently dream only of trips to the standard destinations like Fiji, Rarotonga and Australia. Less than a third of those aged 25-29 were interested in going somewhere more adventurous.
Not that there's anything wrong with Fiji, Rarotonga or Australia - I've had some great times in all three - but there's more to the world than our neighbours.
Sure, there are times when you just want to go somewhere warm, comfortable and relaxing. But don't you also feel a curiosity about other lands and cultures, a wish to see places where the great events of history occurred or the sights that have inspired men and women down the generations, a desire to see the finest examples of art and architecture, a longing to watch lions hunt and condors soar?
I certainly do, and it seems lots of fellow baby-boomers do, too. Not so the mass of Generation Y.
As Expedia's local marketing manager Louise Crompton puts it, "These survey findings fly in the face of conventional thought that 20-somethings are open-minded to new and different experiences.
"The findings that New Zealanders of the baby-boomer generation are more up to veering off the well-beaten travel path is ... an indication that people are more intrigued by lesser-known destinations as they get older."
Of course the big question is why? Part of the answer is no doubt that with their children now grown up baby-boomers now have the time and often the money to be able to travel far afield. But I wonder if it's also because when we were young New Zealand was a very small, isolated place so you almost had to leave if you wanted to expand your horizons.
Maybe these days, with the world on sale in every store, pouring down the internet and broadcasting from every satellite there's less compulsion to see the real thing.