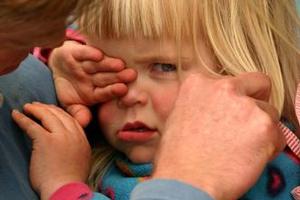 Taking young children on a flight can be stressful for parents but it can also be difficult for other passengers.
A couple of years ago I flew from Auckland to Los Angeles seated in the same row as a crying baby and two pre-schoolers who fought, shouted and kicked the entire way. I felt sorry for their mother, who simply couldn't cope, but I felt sorry for myself too.
After suffering 12 hours where sleep, reading a book, watching a film or any other kind of relaxation was impossible I heaved a sigh of relief - and I'm sure other passengers nearby did the same - when it emerged that the family was not continuing on to Heathrow.
On the other hand, one of our daughters recently brought the newest member of the family over from Australia to meet Grandma and Grandad.
I don't know how the flights went - though I gather young Molly was well-behaved - but even if she did squawk a bit I'm selfishly delighted she made the journey.
If one consequence of living in this global age is that families are now scattered around the world instead of staying close to home, at least there's the consolation that it's easier to to get together.
Some years ago we even celebrated our first grandchild's first birthday - complete with cake and candles - at Auckland Airport, because that was the easiest place for everyone to get together.
For all the difficulties that such gatherings can create I still believe there's nothing like holding the new arrival in your arms, smelling its scent, touching its soft skin and marvelling at how it has your eyes.
But I appreciate that not everyone agrees with that viewpoint.
In fact one reader, Michael Flyger, has been sufficiently stirred by by our recent articles on travelling with children to issue a clarion call to new parents to stay at home. When," he asks, "is it really necessary - I mean really necessary - to take a baby on a long-haul flight?
"I'd wager a significant sum that the vast majority of these trips are simply so the proud new parents can show off their new son or daughter to teary-eyed grandparents.
"Once this has been done, and let's be honest, it takes about 10 minutes, then baby is plopped into a cot, where it sleeps for the rest of the holiday.
"If parents had any sense they'd save themselves thousands of dollars simply by emailing a photo - and it could be any photo of any baby ever born - and waiting until the child is old enough to watch Ratatouille and play Tetris on the in-flight system rather than spending 11 hours impersonating Joe Cocker at the end of A Little Help from my Friends.
"This has the added bonus that when the child gets to meet the rest of its family, it can actually interact with them, rather than gazing cutely at Granny then vomiting all over her ... and screaming."
I know what he means - but I'm afraid it isn't going to stop me stumping up for the grandkids to fly in for a visit now and again.
Pictured above: Earplugs can be a godsend to travel with.
- Jim Eagles