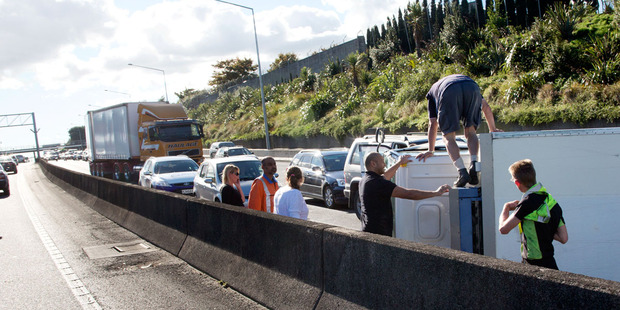 Traffic is flowing normally again following three crashes in Auckland and Wellington that caused commuter chaos this afternoon.
Motorists faced long delays on Auckland's Southern Motorway after a truck, filled with bags of ice rolled in the southbound lane just south of Market Road about 2.40pm.
Traffic was backed up as the scene was cleared, Inspector Chris Robinson of northern police communications said.
The traffic had returned to normal levels by 7pm.
A nose-to-tail collision in the Dome Valley north of Auckland also caused long delays for motorists travelling in both directions.
The crash happened about 3pm at the site of a stop/go sign where roadworks were taking place, Mr Robinson said.
There were already delays as a result of the roadworks, which were compounded by the nose-to-tail crash, he said. ``It was down to one lane anyway.''
While no one was injured, delays lasted about two hours, with queues extending to Wellsford and Warkworth.
Also this afternoon, an elderly couple died after they were hit by a car while crossing a Taranaki highway.
St John Central Region district operations manager Ian May said the couple were hit at 2pm today while crossing State Highway 3 near Tongaporutu, a settlement north of New Plymouth.
A passing emergency department doctor was almost immediately on scene and the Taranaki Community Rescue Helicopter attended with two St John intensive care paramedics.
The couple died at the scene.
And in Wellington, a car which broke down in one of Ngauranga Gorge's northbound lanes mid-afternoon also caused problems.
The car blocked the centre lane between Tyers Road and the top of the Gorge.
There were short delays in the area, and the scene was now cleared, Wellington police said.
Update: Traffic down to 1 lane on the Sthn Mwy sthbnd due to a crash. Congestion back to CBD [PIC] ^LT pic.twitter.com/K850YJfznf

— NZTA Akld & Nthlnd (@NZTAAkl) May 1, 2014
- APNZ