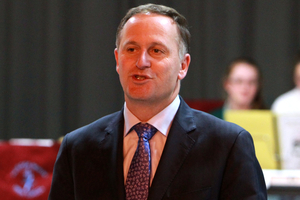 It takes a special class of sleep-deprived conspiracist to imagine that John Key would have welcomed, let alone engineered, the Aaron Gilmore brouhaha of the last week. But as long as The Gilmore Show (or txtg8, if you prefer) played out, with all its dickheads, and Batman, and f - tards, it did the Government at least one favour: distracting attention from legislation that will change and expand the powers of the Government Communications Security Bureau.
The bill, which is being ushered through the legislative process as swiftly as a backbench list MP from licensed premises, will enable the GCSB to spy on New Zealanders on behalf of domestic agencies. It has attracted considerably less attention than it did when first outlined a month ago. Then, there was much more vocal disbelief at the prospect of the GCSB's flouting of its own legislation being remedied by, you know, changing the legislation so it would be flouting it no more.
Everyone agrees that the role of our intelligence agencies is of paramount importance. So it's reasonable to ask why this bill would be raced through Parliament under urgency. No one has properly explained why rush should trump reflection.
It is a Polyfilla bill.
And anyone who believes that the New Zealand Parliament is all gay rainbows and Pokarekare Ana should fire up YouTube and watch the debate on the first reading of the GCSB bill. Only a handful of government MPs turned up. The minister in charge of the GCSB, Prime Minister Key, was absent. A succession of low-ranking flunkeys took the call, having clearly been instructed to deliver trace-papered versions of Judith Collins' opening speech.
And they all stuck squarely to the Justice Minister's script, insisting, over and over, that the GCSB changes "do not represent an extension of powers" but were clarifying them. All, that is, except poor old Tim Macindoe, who committed the gravest of political gaffes - he told the plain truth. "Yes, there are some extensions of power here," said nice but dim Tim. "But that is because they are needed."
When it came to debating the motion to truncate the period of submissions and committee-stage scrutiny, no government MP rose to speak in its defence. Not one. What a bizarre and bitter irony: that the bill intended to beef up the scrutiny and oversight of the spooks is having its own period of scrutiny and oversight cut short.
As Winston Peters argues, the bill leaves the door dangerously open to the extension of these powers to unspecified "other agencies". It provides potential for mission creep. It makes it easier to spy on New Zealanders, tap our phones, read our emails.
It's not as though the existing legislation is adequate; it did and does need overhaul. And it's not as though the new bill is without merit. There's a good argument for using the GCSB inventory of surveillance tools in domestic situations. Oversight undoubtedly needs beefing up. But this is no way to do it. The sensible, responsible approach is a comprehensive review of NZ's spy agencies.
Just look at the genesis of the current bill: a report by Rebecca Kitteridge which identified dozens of cases of spying that were almost certainly unlawful. That in turn was triggered by the revelations of illegal spying on Kim Dotcom. There would be no bill were it not for the frankly freakish news eruption that followed the arrest of an idiosyncratic internet entrepreneur. Given the illegality and ineptitude subsequently exposed at the GCSB, it's impossible to be confident - in the absence of a full inquiry - that the same thing isn't rife at the domestic agency, the SIS.
A full inquiry, modelled on similar exercises in Australia, should be tasked with a first-principles assessment of the kind of national intelligence agencies fit for modern New Zealand. Post-cold-war, post-9/11, in an information age, and all that.
An inquiry would address the crucial balance between security and civil liberties. It would ask - in part in confidential sessions, of course - whether the GCSB feed into Echelon, the US-led five-nations spy network, is in our best interests, and how we can protect residents' details being shared with spy-pals like pictures of kittens.
It would consider how the best oversight structure would be built starting from scratch, rather than tweaking what's already there. It would ask whether agencies' cultures are right, whether they're being adequately resourced.
The current legislation is wallpaper, hung hastily over broken masonry. And no one has offered anything like a satisfactory argument for rushing it through.
While a largely irrelevant backbench MP can be certain today that we all know who he is, the intelligence agencies will presumably be delighted that we show so little interest in knowing what they do.