Julie Andrews is all class even with wise cracks and the odd barbed comment.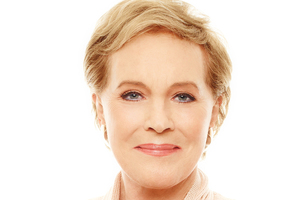 Move over, One Direction: Nearly 50 years since Mary Poppins and The Sound of Music, a 77-year-old great-grandmother last night commanded a standing ovation and screams of delight just by stepping onstage.
The self-confessed Beyonce fan was perhaps too perfectly presented, polished and diplomatic for us to get much of a sense of the "real" Julie Andrews - too "squeaky clean", despite her protests - but we got some great anecdotes.
She got her own back on My Fair Lady's Rex ("either she goes, or I go") Harrison. Apparently he was "a very windy gentleman" - she couldn't keep a straight face when singing "my reverberating friend" to him after he just "let fly with a machine gun volley". Her interviewer, Nicholas Hammond (Friedrich von Trapp) responded: "Julie Andrews is the only person who can tell that story and not say the word 'fart'."
She began with a couple of scripted wise cracks about rugby, golf and Peter Dunne - points for topicality - before giving us a lecture (discreetly teleprompted) about her life. The format - literally keeping the audience at a distance, behind a lectern behind a flower arrangement - was surprisingly formal, and the theme of "travel" was laboured.
But highlights included the exceptionally heartfelt memorial montage for her "honeybun" husband of 41 years (and "main squeeze and anchor" for 44 years), filmmaker Blake Edwards, who died in 2010. "I miss him so much," Dame Julie said. "The sandbox we were privileged to play in ... left me with an abundance of joy and laughter."
Edwards used to direct Andrews in love scenes and stop her to say, "That's fine darling, but I know you can do it better." The photos showed a stunning couple - the older debonair sophisticate and the beautiful infatuated star.
After intermission, Dame Julie swapped a silver top and silver heels for a sleeker black velvet smoking jacket, white scarf and satin pants - shades of Victor Victoria instead of Mary and Maria. Glimpses of an Andrews imp could be caught; she admitted to wishing "open-heart surgery through her feet" for one gossip columnist.
And yes, in spite of the botched 1997 throat operation, she sang - briefly, along with the audience. It was a poignant Edelweiss; low, but stronger than might be expected.


Review
What: An Evening with Julie Andrews
Where: Civic Theatre, The Edge