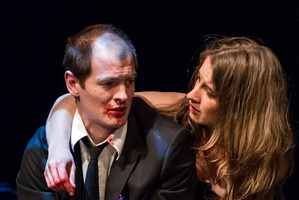 By hitching rising-star playwright Eli Kent to their high-powered production wagon, Auckland Theatre Company have created an intense, atmospheric theatrical experience, absorbing for literary types and theatre newcomers alike.
The theme of death threads through naturalistic slacker comedy, supernatural whodunit and overtly clichéd family melodrama. The title refers to ash, and also to a rather artificial device: the fictional, occasionally fatal black-powder drug which young "loafish loafer" Siggie (Kip Chapman, appropriately low-key) pedals for his deadbeat uncle Ray (Edwin Wright). Other characters include a playfully predatory Haitian voodoo spirit - a wonderfully grotesque Keith Adams - who highlights the psychological link between sex and death.
The design, both sympathetic and full of panache, presents a suitably ashy, grubby blackness: Robert Larsen's intricate yet messy scene-changing projections flow over John Parker's well-conceived costumes and jagged, spiky set (complete with black hole centre stage).
The effect is both claustrophobic and vertigo edgy.
Kent uses spot-on natural conversations - full of hesitations, niggling and boys-will-be-boys crassness - to reveal the tectonic creaks and groans of human relationships underneath. Other scenes are leavened with humorously surreal, articulate metaphors: an authority type - Adam Gardiner, in fine physical comedy fettle - tells the permanently confused Siggie that he's to be expelled from university like "a bag of astronaut urine jettisoned into space".
Such verbal pyrotechnics, knowing observations and subtle scholarly allusion (both named and unnamed - Siggie's situation shares elements with Hamlet's) are marvellously supported by a great cast of seven (including the magnetic Virginia Frankovich) and fantastic direction.
Director Andrew Foster pulls some swift theatrical illusions and overlaps the beginnings and endings of short scenes - a relief given the two hour running time - which adds to the deliberate, mild disorientation of the audience, similar to the characters' drug fug.
It's not perfect - the last quarter both disintegrates and feels too resolved, while the messages aren't particularly well tied to the action - but this is remarkably intelligent and entertaining. The wunderkind playwright is the real deal.
What: Black Confetti
Where: Herald Theatre, Aotea Centre, to July 28