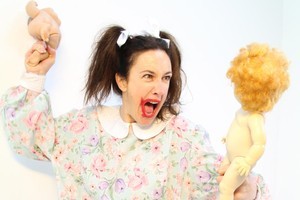 A premiere of work by Stephen Sinclair is always eagerly anticipated and the two short plays presented at Devonport's Victoria Theatre reveal an intriguing new direction while confirming Sinclair's reputation for provocative writing that is finely attuned to the quirkiness of the Kiwi psyche.
A residency with the innovative Outbox Theatre has Sinclair in experimental mode as he toys with theatrical conventions and blurs the boundaries between reality and virtuality.
The first offering, Sweet Thing, presents a sharply drawn portrait of a middle-aged woman trapped in a vortex of neurotic self-obsession. But the familiar treatment of middle-class domestic dysfunction is enlivened by a surprising and highly amusing incursion in the world of virtual reality.
Family members have been replaced by clones and these simulacrums remain ingratiatingly submissive as the protagonist admonishes them for failing to understand her, dredges up childhood traumas and wallows in self pity.
Toby Leach gives a wonderfully unsettling performance as he switches between the enraged hostility of the real world brother and an agreeable clone with the eerily robotic quality of a Stepford wife.
Yvette Parsons displays immaculate comic timing playing a sugary-sweet maternal figure with a platitude for every occasion and Micheala Rooney brings a nicely deranged edge to her portrayal of self-sustaining neurosis.
The second play I'd Rather Be The Pope is even more boldly experimental.
A compelling vision of the Inquisition against the Cathar heresy in 14th century Languedoc is intercut with scenes of a hardcore gamer unwillingly submitting to therapy for his gaming addiction.
The surreal juxtaposition is arrestingly weird but the two worlds never quite mesh and the contemporary story struggles to hold its own against the blistering intensity of the historical drama.
Leighton Cardno convincingly evokes the surly emotional blankness of a troubled gamer but is given little opportunity to establish a credible motive for his psychopathic tendencies.
David Berresford gives a moving account of the anguish felt by a victim of the Inquisition and his gentle affirmation of religious mysticism provides an optimistic antidote to the bleakness of a world where human relationships have been reduced to manipulative game-playing.
What: Intimacies
Where: Victoria Theatre, Devonport
When: Until Sunday