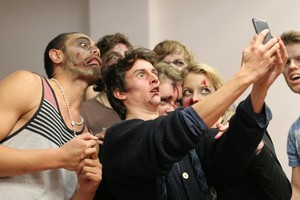 This medley of three one-hour plays, giving stage experience and mentoring to (mostly Pakeha) 16- to 25-year-olds, makes for an evening of two unequal halves.
First up are Cow - a surreal, biting comedy by Jo Randerson - and the naturalistic, heavy-hitting Tigerplay by Gary Henderson. Both are excellent, thoughtful and risk-taking productions; these types of shows are what make going to the theatre enjoyable. They contrast in style for variety, but thematically they illuminate each other in satisfying ways.
The third and only new play, Disorder, is an overlong, paint-by-numbers zombie genre piece by Thomas Sainsbury. It is as thin as a gauze bandage, with little to recommend it apart from fabulously gross and gory make-up and the cast's gusto and determination to literally throw themselves into their parts.
Meanwhile, Cow presents the different conforming pressures on young life as a group of narcissistic city slickers swoop down on a creative country lass - a satisfying breach of the "city = freedom from rural conservatism" stereotype.
The cast is great, as are Maika Nguyen's costumes, and director Abigail Greenwood knows how to orchestrate a large number of bodies across a wide, shallow stage. The script doesn't have the strongest ending (whereas Tigerplay's ending is too neat), but the lighting surprises and an all-cast cow dance at the start set the absurd tone nicely.
Remarkably authentic and (at first) humorous, Tigerplay examines what happens to young lives if they resist those same conforming pressures by doing nothing. It turns out tiger behaviour - conserving energy for the kill - is depressive behaviour in humans. Directed by Jackie Van Beek, Kayleigh Haworth is particularly riveting as the girl who never gets out of bed (a mattress on the kitchen floor) until afternoon.
The set designer for all three plays, Jessika Verryt, shows notable versatility and inventiveness, from Cow's perspective-defying 1970s photo pastiche cover-all, to Tigerplay's recreation of a grotty K Rd flat, so genuine I nearly put my sushi box into their overflowing rubbish bin.
What: Young and Hungry
Where: Basement, Greys Ave
When: Until August 6
$20 for one show, or $48 for all three.