Actor Laurel Devenie inhabits the world of one of New Zealand's earliest female pioneers in a play inspired by her memoirs. Dionne Christian reports.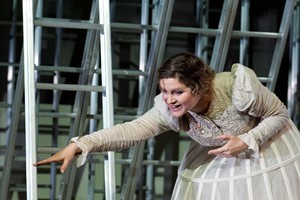 Laurel Devenie stands in the middle of a Glenfield factory and hurls a fistful of cutlery round the room. Ordinarily the room is empty but given that Devenie is surrounded by a forest of aluminium ladders, the spoons, forks and knives strike rungs and the floor with enough clatter to temporarily drown out the rain on the roof and the hum of a band saw next door.
The 28-year-old actor doesn't come across as one given to tantrums - nor does the woman she portrays in the Auckland Theatre Company-commissioned play On the Upside Down of the World.
Devenie plays Lady Ann Martin, who arrived in New Zealand in 1842 as the wife of New Zealand's first Chief Justice, Sir William Martin. A semi-invalid, she was determined to bring Christianity to England's most distant colony and its inhabitants.
The scene Devenie rehearses shows Lady Martin in what seems to be a very rare moment when she's briefly not sure she can triumph over considerable adversity.
The multitude of aluminium ladders which comprise the set are important, and with their own story. Shortly before production designer Tony Rabbit was asked to devise the set, he happened across a picture of hakari towers in a New Zealand history book.
These wooden towers were enormous temporary structures used by Maori for storing and displaying food before a feast.
Rabbit was so taken with them, he took a photo of the page on his mobile phone. It was one of the first things he thought of when approached to work on On the Upside Down of the World.
While the ladders form a sort of hakari tower, they also symbolise England's industrial might at the time Lady Martin left for New Zealand. And while ladders are familiar objects, grouped together like this they look anything but ordinary.
"They look totally alien, which represents the landscape Lady Martin came to," says Devenie.
"I want the audience to feel something equivalent to that sense of dislocation and confusion when they walk into the Concert Chamber and experience the set for the first time.
"Here is an enormous structure confronting them and they are forced to think, 'what is that?"'
While she may have been a "stranger in a strange land", Lady Martin was determined to make it her home.
She quickly established herself as a teacher and community leader, setting up a hospital and dispensary for Maori at Judges Bay (Taurarua) near what became Parnell.
She witnessed events such as the Feast of Remuera and the impact of the Waikato Land Wars before returning to England in 1878.
Back home, she wrote her memoirs and exposed herself as a liberal thinker who held remarkably progressive views. She called her book Our Maoris, which today seems a patronising and anachronistic title.
But as director Colin McColl points out, language is fluid and when Lady Martin used the term it was with affection and respect.
Now she has made the journey from book to stage courtesy of playwright/actor Arthur Meek who found a copy of Our Maoris at a second-hand bookstall a couple of summers back.
Meek says its provocative title coupled with its cover picture of "the most depressed looking kuia ever" meant he had to buy it. He expected it would be a dry and possibly depressing read, but instead he found an uplifting story which revealed one of the great pioneers of our colonial history. His play first received a work-shopped reading at ATC's Next Stage series of new plays last year, with positive audience feedback.
Winning a summer residency at the Michael King Writers' Centre in Devonport this year, Meek was able to devote several months to refining the story.
That the writers' centre looks across the Waitemata Harbour to Lady Martin's old stamping ground at Judges Bay was an inspiration.
"It was well received at the Next Stage so we knew we had a strong story. Editing it became about building her journey and I wanted to be confident that we served her well; that she would jump out of her diaries and on to the stage as a fun, motivated and highly able person who rose to any challenge. I wanted - want - audiences to have a sense of her as an original Kiwi battler.
"I'm looking at how our contemporary cultural values and Pakeha identity were born out of the transformative experiences of English settlers coming to a new country and encountering Maori.
"This woman, from 160 years ago, has something to tell us about how we adapt, how we settle and how we become who we are."
Devenie says Lady Martin's humour and warmth shine through Our Maoris and On the Upside Down of the World. Indeed, she agrees with Meek that Lady Martin seemed to thrive, probably helped by her faith, which imbued her with a sense that what she was doing was a calling.
"I can't believe she was only 24 when she arrived in New Zealand and started building a hospital, engaging with a whole new community of people she had never met and doing it all so confidently," says Devenie.
Despite her contributions to Auckland especially, Lady Martin isn't a household name. McColl hopes Meek's play will spark a greater interest in New Zealand history, early settlers and politics.
It's a hope shared by historian Megan Hutching, whose work includes studies into pioneer women which culminated in the book Over the Wide and Trackless Sea: The Pioneer Women and Girls of New Zealand.
Hutching says New Zealand has some incredible people in its past.
"You don't have to look too far to find their stories, either.
"There are all sorts of magnificent archives throughout the country crying out to be used but with history, it needs to be personal because it's not about dates and events.
"It's about the people who were involved in these events.
"If we can interest people in a person's life and their experiences, that's the way of developing a wider interest in history."
Of pioneers such as Lady Martin, Hutching says it is difficult for us - surrounded by modern-day comforts - to appreciate how difficult life could be.
"The sheer physical labour that was involved with daily life was quite incredible. I have huge admiration for the women of those times when even existing from day to day must have been a real effort."
Hutching is delighted someone has written about Lady Martin and, like McColl, hopeful it could be a sign of things to come as we develop a greater interest in local history and look inwards, rather than to distant shores, for stories about ourselves.
As for Meek, if anyone ever tries to tell him New Zealand is too new to have its own complex and rich histories peopled by lively characters, he's got a simple retort: "Come and see my play."
Performance
What: On The Upside Down of the World
Where and when: Auckland Town Hall Concert Chamber, to July 16