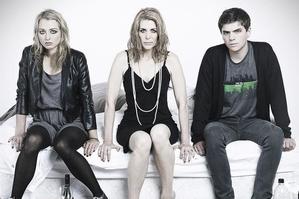 Looming large, the Boy Scouts founder Lord Robert Baden-Powell looks down in consternation from the wall of a central city scout hall at the scene below: a young woman lies unconscious with horrible injuries inflicted by two teenage girls who peer over her.
One seems perplexed, almost remorseful - but not quite; the other keen to escape to a bar and toast their exploits. Confused and nervy, a teenage boy hovers close by. Society was never prepared for young people like these but you should meet the mother: a chain-smoking, pill-popping alcoholic fixated on her teenage son. As for the father, he's an investment banker in Hong Kong who adheres to the idea that out of sight is out of mind.
Silo Theatre artistic director Shane Bosher watches the same scene with equal intensity at rehearsals for Silo Theatre's first play of the year, That Face.
The kids, of course, are actors and not kids at all but they are relative newcomers when it comes to the do-or-die environment of live theatre - and the troubling world created by precociously young English playwright Polly Stenham.
Chelsie Preston Crayford, 22, plays Mia, kicked out of boarding school for her role in a sadistic initiation ritual which leaves a younger girl, Alice (played by Edith Poor) severely injured. It is Preston Crayford's biggest stage role to date, although she appeared as Czech supermodel Zoya in last year's Ruben Guthrie.
In many respects, that role was easier. As Preston Crayford says, she was an overt character with "tits out, high heels on" whereas Mia requires a more nuanced performance and deeper understanding. "Mia is really just a vulnerable kid, although she tries to layer maturity on to that."
Rose McIver, 21, most recently seen in the film The Lovely Bones, says she is playing against type as Mia's devilish best friend, Izzy. Suggest Izzy seems a tad psychotic and McIver feigns mock indignation, then smiles.
"You might be right. She is pretty mixed up. She is a very different role to the ones I have played before. I never get cast in parts like this because, well, I've got the face of an 8-year-old. I'm really enjoying this experience but, like I say, it is very foreign to me."
Dan Weekes, 22, is fresh out of Toi Whakaari - the New Zealand Drama School. He graduated late last year and has worked with Capital E children's theatre in Wellington. Now he plays Henry, who drops out of school to care for his manipulative mother Martha (played by Jennifer Ward-Lealand).
Wild and unpredictable, Martha seems to have "a thing" for Henry, which gives That Face an oedipal glow but there's more to it than that, say the cast. There is no sole protagonist, rather a whole family in desperate need of a make-over.
"But it's not didactic," adds Weekes. "It doesn't say this is dysfunction and this is how you fix it."
Casting the young actors challenged director Bosher. Originally he intended to cast teenagers but gradually realised after numerous auditions that it was too big an ask for adolescents. He researched overseas productions and on discovering they used actors just into their 20s, decided to do likewise.
"So we've got adults playing teenagers playing at being adults. I think when you turn 18 and leave school, those first couple of years out in the 'real world' age you by about five years in terms of worldliness.
"It's interesting working with these three because they have to curb their adult instincts and revisit what it means to be a teenager wanting to be perceived as an adult."
The need to cast actors in their 20s is ironic considering Polly Stenham was just 19 when That Face debuted at London's Royal Court Theatre. The following year, she became the youngest playwright to have her work transferred to the West End. Not surprisingly, she won just about every award going, for a work most assumed was autobiographical. Stenham is adamant it is not, although her experiences as a boarding school pupil must have given her insight into a world simultaneously privileged but poor.
Daily Telegraph critic Charles Spencer noted Stenham's "sharp eye and ear for upper middle-class manners and speech patterns" and stated the play usefully reminds us that "despair and misfortune are no respecters of an individual's bank balance".
Bosher says That Face yanks back the curtain on upper middle-class life, revealing a world of neglect and abuse where Mia and Henry have been forced to parent their mother, Martha. When Mia is sent packing from her posh boarding school, Dad (played by Andrew Grainger) comes rushing home from Hong Kong to fix his family by flipping out his gold card. "I think it shows you can't just throw money at a problem," says Bosher.
"Or drugs," adds Preston Crayford. "One of the most important things to me about this play is the messages it contains about mental illness. Martha starts off with post natal depression, becomes manic depressive and tries to self-medicate with disastrous and far-reaching results. You can't just throw drugs at an issue, either."
PERFORMANCE
What: That Face
Where and when: Herald Theatre, March 19-April 10