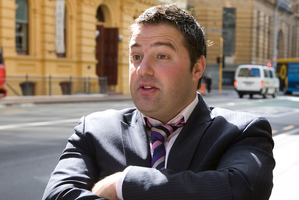 He says he wants synthetic cannabis removed from our dairy shelves ahead of their ban in August, so why is Duncan Garner taking the stuff and getting stoned on air?
The drive host will take a form of synthetic cannabis before his RadioLive show tomorrow to test the effects of the legal high, but he told The Diary he'll have a doctor on hand and a colleague on standby to take over the broadcast if the stunt turns pear-shaped.
"I've been campaigning for the last two weeks to get rid of this crap. The Government needs to act more urgently, not waste time getting more tests. I've spoken to parents who have kids checked into mental health units after experiencing psychotic episodes on this stuff. It's bad."
An American scientist behind synthetic cannabis said this week the products should "not be used for recreational use". Emeritus Professor John Huffman said "the effects in humans have not been studied and they could very well have toxic effects".
That's not stopping Garner. "I'm broadcasting under the influence," he told The Diary excitedly. "Who knows if there'll even be a show! It could all turn to custard."
Garner says he was advised to try a cannabinoid pill. "Grant Hall, the general manager of Star Trust, which represents the majority of manufacturers of synthetic cannabis in New Zealand, suggested a pill over the smokes because they're a softer option and I'm less likely to lose the plot."
Under the Temporary Class Drug Notice, the Government has moved to ban two more substances found in samples of K2 synthetic cannabis which comes into effect tomorrow. In August, the Psychoactive Substances Bill is set to become law which will only allow the sale of psychotic substances that can meet safety and manufacturing requirements.
RadioLive said a doctor will provide cognitive tests on Garner to measure the effects of the drugs, while colleague Andrew Patterson will be prepared to host the show if it has a negative effect on his ability to broadcast.
That's the least of Garner's worries. "Actually, I'm worried that after trying this ... it'll be my best show ever. How do I keep that up?".
Hayes boosts thrill factor
She debuts tonight on TV3's 3rd Degree, but Sam Hayes, who's new to long-form current affairs, displays another surprising card: an action role she says stems from her childhood.
Hayes has interviewed her uncle, legendary helicopter pilot Richard "Hannibal" Hayes, and the pair caught up in Fiordland and Antarctica, where he leads search and rescue operations.
Hayes Sr, who owns Southern Lakes Helicopters, had clocked up 30,000 flying hours and was in the Antarctic region by chance at the same time as his 29-year-old niece, a committed environmentalist.
"I wasn't always an environmentalist," Hayes told The Diary. "I remember when I was about 8 years old, Uncle Hannibal choppered me, dad and my brother Clinton and dropped us in the middle of Fiordland. We followed dad while he shot a deer. I still remember helping haul the deer on to dad's back. The body was still warm and bloody ... Actually, I think that's when I became a vegetarian."
Hayes grew up in a small South Island town "wearing gumboots and a Swanny". She's an accomplished horsewoman and not bad with the rod, too. She caught a fish during a break in that 3rd Degree story. "It was a blue cod in Breaksea Sound," she says.
Evidently, Hayes is the Lara Croft of TV3. Yesterday she went skydiving. "It was for an upcoming story," she explains, but you get the feeling if a story screamed fearless and fun, Hayes would put her hand up.
It was bandaged on her trip to Antarctica. She had broken her arm after slipping on rocks at Piha. "I begged the woman at A+E to take the cast off and put it in a splint. I was worried, otherwise I might not be able to go".
Hayes has come a long way from the world of designer dresses and TV news presenting. She walked away from her role as anchor on Nightline (some viewers did too) and later from 3 News to accept a new challenge and she wants to be taken seriously.
"To be honest, it's all a bit daunting. It's scary and I'm really nervous about how my first story will be received. I'm learning a whole lot of new skills and really appreciating what makes a good story."
What's in a judge's name
Celebrities often adopt clandestine aliases when they want to travel incognito or escape their fans. Kate Beckinsale uses "Sigourney Beaver". Ozzy Osbourne has hidden out under the names "Prince Albert" and "Harry Bollocks". Johnny Depp uses "Mr Donkey".
Angelina Jolie prefers "Miss Lollipop" while Brad Pitt assumes the moniker "Carl Con Carne". At a Palm Springs hotel they went by "Bruce and Jasmine Pilaf".
Even our X Factor judges are not above using fake names for secrecy - and presumably a whiff of contrived on-air mystique.
Producers say it's been necessary to keep the locations of the judges' retreats - both local and international - a closely guarded secret.
Turns out, the subterfuge only exposed a penchant for 80s spoof film This is Spinal Tap.
Natasha Bedingfield, who's a guest mentor for her big brother Daniel on the girls group, travelled to their retreat on the pseudonym "Bobbi Flekman". Daniel went as "David St Hubbins". Mel Blatt used "Jeanine Pettibone" and Stan Walker checked in as "Derek Smalls".
Leave it to little Ruby Frost to step out of the mockumentary box. Turns out her predilection for the saccharine extends, too, to 80s films. Evidently a fan of Dirty Dancing, Frost, the youngest and least experienced on the judging panel, used the alias Franny Houseman and with that issued an oblique warning: nobody puts baby in the corner.