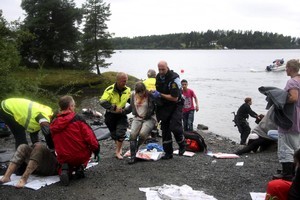 Norwegian students in Auckland huddled together last night in a Queen St bar, wanting to feel closer to their home country as it suffered through tragedy.
Of about 80 Norwegian students in New Zealand, almost 30 turned up to Brooklyn Bar for comfort and support.
Third-year communications student Pernille Skaare Lier said she still found it hard to believe what had happened.
She was woken up by her roommate in Auckland, who is also from Norway, at 3am on Saturday morning.
The roommate had been unable to sleep - and was still awake when news broke of the bomb blast in Oslo.
"We were just shocked. It was just horrible. It made you speechless," Ms Lier said.
"I immediately text my sister and best friends."
Ms Lier's sister had been on a subway with her 1-year-old daughter when the bomb exploded - and she could hear it from underground.
She ran off the train in fear, to emerge among smoke and casualties.
Ms Lier heard soon after about the massacre on the island of Utoya, just off the coast from the capital city.
Again, she frantically called friends and family.
The consulate here has told Ms Lier that no immediate relatives of students in Auckland had been affected.
"But Norway is such a small country. It's such a small society. So it affects everyone."
The gunman had been living in Ms Lier's hometown - a small town of just 2000 people.
Her friends had cut his hair and served him hamburgers; everyone knew of him and had said he was "really, really creepy".
Many of the students gathered last night said they did not plan to talk about the killings.
They had just come to be with each other and feel closer to home, they said.