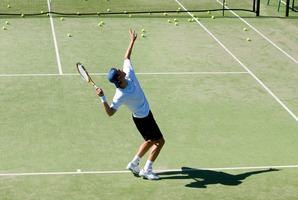 Matt Simpson has been drafted into a weakened New Zealand Davis Cup team to take on Lebanon in next weekend's Asia/Oceania Group II tie at North Harbour.

Simpson, who is son of former New Zealand professional Jeff Simpson and ranked 1566 in singles, is joined by Dan King-Turner (ranked 375), Artem Sitak (553) and Marcus Daniell (693).

New Zealand are without No 1 Rubin Statham (345), who pulled out of the tie in protest at the way the country's players are being treated by the sport's national body. He doesn't think Tennis New Zealand are doing enough to raise the standard of tennis in this country.

Michael Venus (514) will also miss the tie, preferring to chase ranking points at two Challenger events in Australia instead.

New Zealand were relegated from Asia/Oceania Group I last year and will want to bounce back in 2013. The winner of next weekend's tie will take on either Pakistan or Sri Lanka in April.

New Zealand will start as favourites with none of the Lebanon players - Karim Alayli, Patrick Chucri, Ibrahim Abou-Chahine and Michael Massih - currently having an ATP singles rankings.

The tie was originally meant to be held in Beirut, but then moved to a neutral venue (Cairo) before being transferred to North Harbour because of player safety concerns.

The New Zealand team will be captained by Alistair Hunt, who played Davis Cup for New Zealand 19 times in the 1990s and climbed into the world's top 200.

"I'm pretty excited and thrilled to be in the role,'' Hunt said. "It's something I've wanted to do for a long time. I want to do a good job and instil my brand of captaincy on the team, so we can aim to make it back to the strong Asia/Oceania Group I as soon as possible.

"It's a tie we have to win and expect to win.
We're playing at home at North Harbour and we know the courts very well. We expect to play well and all of the players have some form leading up to the tie with the [New Zealand] Residentials, Heineken Open and Australian Tennis League.

"I'm very happy with the team, led by Dan King-Turner and Artem Sitak, while Marcus Daniell has been in good form of late and has been in the team on a number of occasions previously. I've brought Matt Simpson into the side as he has experience at Davis Cup and experience in Futures events, too. He's played a lot of German club tennis in the past 12 months and knows what to do in a Davis Cup environment.''
- APNZ