Federer not yet ready to give up mantle but admits Serbian is in pole position.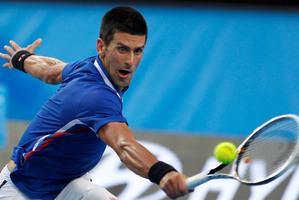 He's not done himself yet, but Roger Federer admits Novak Djokovic is primed to achieve a Grand Slam feat at the Australian Open that not even the great Swiss can boast.
Having wrested back the top ranking from Federer in November, Serbian Djokovic will try to become the first man in the 45-year professional era to land a hat-trick of Open crowns when the biggest and richest event on the Australian sporting calendar starts on Monday.
"It's a huge challenge," said Djokovic after rounding out his build-up with victory over Tommy Haas at the Hopman Cup in Perth.
"I love the Australian Open. That court brings back the best memories of my career. I like the hard court, I like the conditions and I'm going to go for the trophy of course. I have high ambitions."
Djokovic can also join Federer and Andre Agassi as the only men to win four Open titles after thwarting Federer's own quest for a historic three in a row in the 2008 semi-finals and then downing Jo-Wilfried Tsonga to claim his maiden major in Melbourne.
Five years on and the second-ranked Federer hopes to turn the tables, but says Djokovic remains the man to beat.
"Novak is the favourite going into Australia. He's been the best hardcourt player in the world for the last couple of years," said Federer.
"Andy Murray is playing great and only going to get stronger in the next couple of years.
"Unfortunately, Rafa [Nadal] is not going to be there."
With Nadal not sufficiently fit to contest the Open after missing the second half of last season with knee tendinitis, the onus is on Federer to try to prevent Djokovic and Murray from completing a changing of the guard at the head of men's tennis.
Not since November 2003 have neither Federer nor Nadal occupied a top-two place in the world rankings.
If Murray can follow up his US Open triumph with back-to-back grand slam successes, the Scot will be within striking distance of Federer's No2 rankings spot.
Murray's spectacular 2012 also featured an Olympic final revenge over Federer at the All England Club just a month after losing the Wimbledon decider to the Swiss. Now he is hoping to go one better than defeats in the 2010 and 2011 Australian Open title matches.
But the Swiss father-of-two, 31, isn't ready to yield to his youthful rivals just yet. "I love the pressure of playing and, with the new generation coming up, I have to work harder to stay at the top with the best," Federer said. "Everyone has to fade away eventually, but I'm not 89 yet."
- AAP