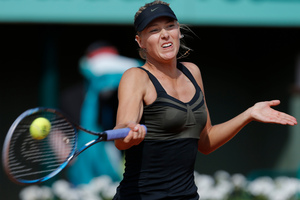 Maria Sharapova makes no apology for her relentless march through the French Open draw as she single-mindedly pursues the only Grand Slam title that is still eluding her.
Sharapova plays unseeded Czech Klara Zakapolova tomorrow for a quarter-final berth, having conceded just five games in her first three matches at Roland Garros.
The ruthless Russian has spent less than three hours on court.
But she couldn't care less when asked if she might be short-changing the paying public after a 6-2, 6-1 third-round destruction of China's Peng Shuai yesterday.
"The last thing that's on my mind when I'm going out on to the court is thinking about who paid for a ticket and how long they're going to watch my match for," said the second-seeded title favourite.
"I mean, I'm not sure if that's selfish or not, but my job is to go out on the court and to try to win.
"Whether it's 6-0 6-0, whether it's a tough three-set match, you're trying to do what you have to do and play as well as you can.
"Things can change, but that's not my goal."
Sharapova is continuing on in Paris where she left off in Rome, but says her nine-match hot streak will count for nothing against the 44th-ranked Zakapolova.
"In the next round, it starts from 0-0," said the world No 2.
"Whoever you're playing, you have to go and try and do the same thing.
"There are a lot more rounds to go.
"It just gets tougher from this point and you hope, as the tournament goes on, that you raise your level.
"You're going to be facing tougher opponents."
But not former champion Francesca Schiavone or former world No 1 Caroline Wozniacki, who fell by the wayside yesterday to further open up Sharapova's bottom half of the draw.
Wozniacki called the officiating a "disgrace" after losing to Kaia Kanepi of Estonia 6-1, 6-7 (3), 6-3.
The former top-ranked Dane argued several line calls, including a ball that was judged to have hit the baseline early in the second set.
"It's a disgrace that mistakes like this are made," Wozniacki said.
"It wasn't even like, 'Could have been in, could have been out'.
"It was clearly out."
The call came at 1-1 in the second set with Kanepi holding a break point. Wozniacki argued with chair umpire Poncho Ayala of Spain, who agreed with the original call that the ball hit the line.
"How can you sit there and be so arrogant?" Wozniacki said to Ayala. "Have you gone to school?"
After coming back to win the second set, Wozniacki again argued a line call in the third.
Kanepi, who finally won on her fifth match point despite being broken four times while serving for the match, said she hadn't been affected by the uproar.
Schiavone, who ambushed Samantha Stosur in the 2010 final and lost last year's decider to Li Na, crashed to a 3-6, 6-3, 8-6 defeat to Uzbekistan-born American Varvara Lepchenko.
Schiavone had been the oldest player left in the tournament at 31 and will relinquish her place in the world's top 20.
But Lepchenko can look forward to a shot at Wimbledon champion Petra Kvitova tomorrow after the fourth-seeded Czech accounted for Russian Nina Bratchikova 6-2, 4-6, 6-1.
- AAP