New Aussie comedy drama has fathers tackling full-time child care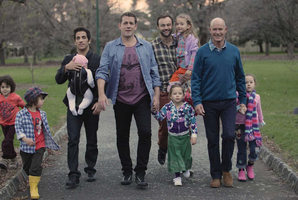 The blokes are calling the shots, and not always correctly, on the home front on the new series House Husbands.
The show, premiering on TV One on Sunday, has four men with different backgrounds and different attitudes raising the kids, cooking the meals and taking care of all matters domestic while their significant others are working nine to five.
It's a learning curve for Justin (Firass Dirani), Kane (Gyton Grantley), Mark (Rhys Muldoon) and Lewis (Gary Sweet), with some taking to it better than others.
But if they have each other's backing, there's a chance they just might get it right in the end ... despite a few snags along the way.
The unofficial alpha male is Sweet's Lewis, a successful builder who expected to settle down with his long-time partner Gemma (Julia Morris) and their 5-year-old daughter Matilda after selling his business. But not only is Gemma unwilling to leave her rewarding job as a nurse, she welcomes the opportunity to take on more responsibilities at work, confident (well, sort of) that Lewis can handle things at home.
The only thing is, says Sweet, Lewis is good at the big picture but not so hot when it comes to the details. And being a house husband ... well, that's all details, all the time.
"He often gets tripped up by the little things," Sweet says.
Sweet has also enjoyed getting to know Morris.
"She is an absolute gem. When she was cast I wasn't apprehensive but I also wasn't familiar with her as an actress. But she's amazing - she's a very hard worker and she's got maybe the quickest brain of anyone I've encountered.
"They say elite athletes have certain fibres in their muscles making them faster; I reckon she's got those in her brain. I think people are going to be very surprised by the calibre of her acting."
Sweet calls the relationship between the two loving but occasionally combative.
"I think Gemma is very long-suffering," he smiles. "Lewis is a bloke with big plans - he's a bit of a dreamer - and Gemma provides the voice of reason. She's got a very dry sense of humour and she doesn't mind taking the piss out of Lewis. She's very forgiving of his mistakes but she can fire up."
And joining forces with Mark, Kane and Justin gives Lewis the chance to make the odd mistake.
"We get into some situations that blokes will definitely be able to relate to and that will have women shaking their heads," Sweet says.
"Lewis tries to run the show and he's not happy if he gets outfoxed. He's pretty clever, though - he's on the ball. So he might let the others think they've got one over on him but he usually has an ace up his sleeve and he's happy to pull it out when he needs it."
Sweet believes the show's talented cast has made the most of its honest, heartfelt storylines.
"It's a character-driven show, with four strong male characters and four equally strong female characters," he said. "That made it interesting to me.
"The by-play, the situations these people find themselves in - they all feel to me like they're based in truth. There are dramatic situations but there's a lot of humour."
TV preview
What: New Australian series House Husbands
When and where: Starts Sunday, 9.30pm on TV One
- AAP